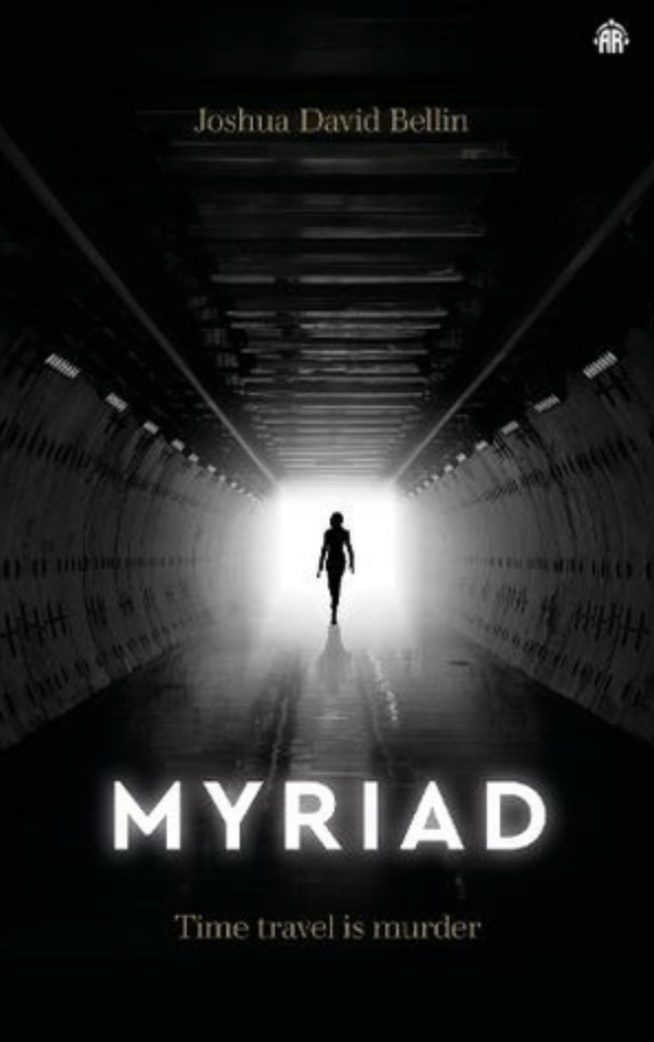 Rating: 9/10
Synopsis
Miriam Randle works for LifeTime, a private law enforcement agency that uses short-term time travel to prevent crimes from happening.
Though a seasoned time traveller, she is continually haunted by the death of her twin brother, whose murder remains unsolved years later.
When a routine assignment ends in tragedy by Miriam's hand, she finds herself mixed up in a conspiracy involving the highest levels of LifeTime. Forced to flee into the past with her partner Vax, Miriam races to unravel the truth before it's too late.
But the past is filled with horrors Miriam would rather forget… including her brother's killer.
Review
Myriad is a relentless time-twisting thriller filled with surprises, invention, and a killer ending. It's the wildest of wild rides, and lovers of time travel are going to want to strap themselves in for this one.
Miriam, AKA Myriad, is a funny, flawed, fantastic protagonist. She's broken, but she uses humour to deflect her grief rather than face it. I laughed through the story because of her tongue-in-cheek, irreverent antics. But underneath all the humour, she's nursing trauma, and the book doesn't shy away from exploring it.
In fact, one of the strongest aspects of the book is how it treats the key event in Miriam's life — the death of her twin brother when she was six. Snapshots keep returning us to the moment it happened, grounding the story and maintaining a sense of purpose and drive — reminding us that answers are coming, and that this story is about something more than just the flashy depiction of a future in which time travel is possible.
The mechanics of time travel make total sense here, and it all adds to the claustrophobic atmosphere of the book. There are consequences for travelling through time — not just the temporal fallout, but the physical toll it takes on a person. And that places a limit on how far back and how often a person can travel. It feels like there's a countdown as Miriam needs to figure out the secrets of the book before the toll is too much for her.
The pulse-pounding pace of the writing makes this a definite page-turner. I found myself unable to look away, and the cliffhangers never let up. Surprises abound, and they keep getting bigger and bigger at each turn, so even the most outlandish guesses at what's coming next are likely to be nowhere near as crazy as how it all unfolds. But that's part of the satisfaction — the glorious feeling of being in the middle of a story which really could go anywhere.
The relationships between the characters are nuanced and complex. There's nothing simple about this book, and it's all the more rewarding for it.
In terms of comparisons, it begins with a Minority Report type of vibe, but morphs into something which is more like Predestination (the movie from 2014) in that it's an intricately crafted, cerebral, emotive experience that'll get you thinking and then keep you thinking.
Ultimately, it's all about grief. How do we process it? How do we move on? Is that even possible? When the book tackles its themes head-on, it really shines. Despite all the humour, it takes grief seriously, and it doesn't trivialise trauma. There's a lot to admire here, and the use of time travel feels absolutely justified and essential when it comes to the story that's being told. Its final moments got me in the heart in a way I didn't expect, and if I could go back in time and read it all over again, I totally would.
Myriad is clever, carefully constructed, and a complete triumph. If you're looking for a new take on time travel, I can give you a myriad reasons why this is the book for you.