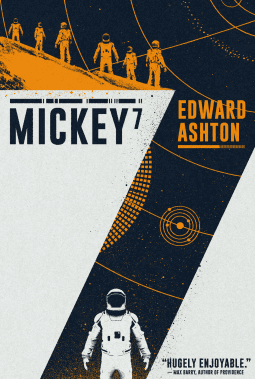 Rating: 9.0/10
Synopsis
Dying isn't any fun… but at least it's a living.
Mickey7 is an Expendable: a disposable employee on a human expedition sent to colonise the ice world of Niflheim. Whenever there's a mission that's too dangerous – even suicidal – the crew turns to Mickey. After one iteration dies, a new body is regenerated with most of his memories intact. Mickey signed on to escape from both bad debts and boredom on Midgard.
After six deaths, Mickey7 understands the terms of his deal… and why it was the only colonial position unfilled when he took it.
When he goes missing and is presumed dead at the hands of deadly indigenous creatures, Mickey8 reports for duty, and their troubles really begin.
Review
If Kurt Vonnegut and Michael Crichton had ever started a band, Mickey7 would have been their first album. It strikes the perfect balance between bonkers and believable, and succeeds in being both uproariously acerbic and scientifically plausible. There's something joyous about the fact that it doesn't take itself too seriously, and yet it poses questions like 'what is life, and are any of us really living it?' It's this blend of whimsical speculation that makes Mickey7 such a pleasure to read.
I loved the concept of the book. The fact multiple versions of Mickey exist at the same time never feels confusing. It's written in such a way that all the complications this weird scenario brings are explored fully, without there being any point where I felt lost.
The structure of the book is excellent. In the main, it alternates between the problems the colony is facing in the present, and what led up to Mickey taking on the mission as an Expendable in the past, as well as what he remembers of his various iterations until now. This back and forth creates a complete world, and I admired the way the universe took on so much scope.
What surprised me most about the book was how high the stakes felt for a character who can die one minute, and potentially wake up in a freshly grown body the next. The fact that I felt any kind of threat to Mickey7 is a testament to the writing skill on display here. But what impressed me most was the lightness of touch the author showed in how they tackled colossal themes. The messages of the book, ranging from how we view ourselves to how we view others, from communication to religion to identity, never feel heavy-handed or forced. It works as a fun, entertaining read that leaves you with plenty to think about.
Mickey7 is a book with a lot to say, but it does so with a smile. Come for the laughs, stay for the existential angst. You'll be left valuing life just that little bit more. This is a book you'll want to keep close to your heart. Mickey might be an Expendable, yet his story is anything but.
Release date: 17 February 2022
Publisher: Rebellion, Solaris