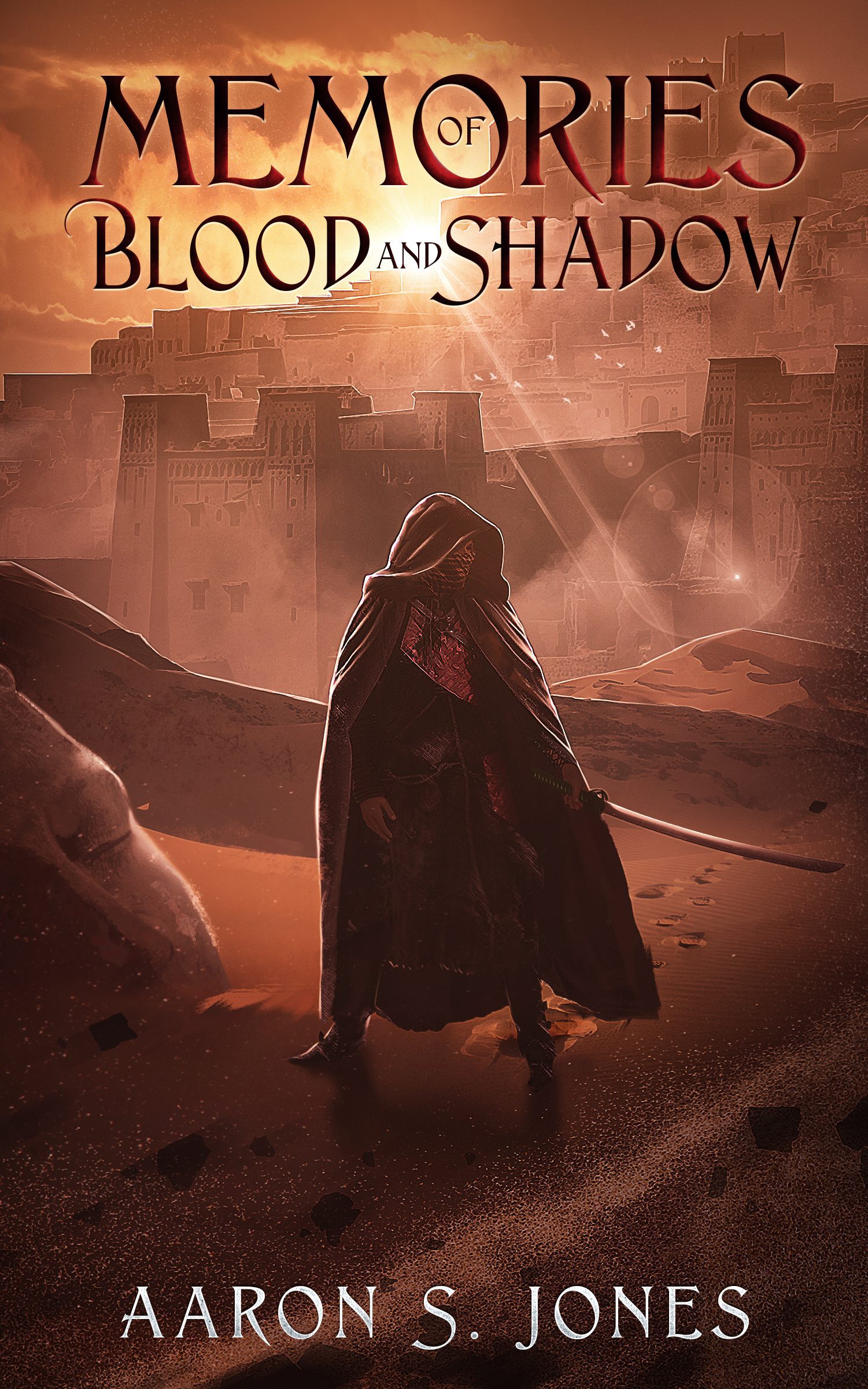 Rating: 9.5/10
Synopsis
Guilt cuts sharper than the deadliest of blades.
Tavar Farwan lives alone past the Undying Sands. During a violent storm, he is attacked by two young warriors claiming a need for vengeance for pain from ages past. Tavar defends himself, killing one of the intruders and leaving the other to bleed on the floor. Weary and filled with regret, Tavar offers to tell the young man his story: a story of how, in a world of Naviqings, Leviathans, and Shadow Warriors; a poor, nomadic orphan rose to inspire a kingdom, and kill a God.
Welcome to the world of blood and shadow…
Review
I received a copy of an arc for this book a couple months ago after Aaron tweeted asking if anyone was interested in a copy for an honest review. Just based off the blurb above and the amazing cover art I readily said yes, only to then hear that Escapist Book Tours was planning a tour. Already having the book I said I wanted to join in and here I am! And I'm just blown away by how much I enjoyed this book!
Aaron S. Jones is a brilliant writer. I've yet to read his The Broken Gods trilogy but after reading Memories of Blood and Shadow I've already found myself looking at them on amazon at least twice and will probably lose my self restraint soon and purchase them haha.
Memories is a world class fantasy that I can guarantee will rise towards the forefront of the genre like a wildfire. My only complaint is the sequels aren't out yet so now I'm stuck waiting on what comes next! While I continue to wait impatiently here are a few of my thoughts on my this book is so great.
A 'few' years ago a popular book came out that I won't mention the name of, it has something to do with the wind and what the wind's name is but that's all I'll tell you, which has almost become a cult classic to the fantasy world. I want to argue to you now that Memories of Blood and Shadow has the potential of taking this books place. Let me explain. I won't give aways anything because that's not my style of review but the beginnings of these two books are very similar yet taking off in two totally different directions. I also have decided in my own head that where the book that shall not be named fails in, you'll find this book does not. I think you'll see what I mean when you read it. All that to say, if you dicyphered my impossible clues and enjoyed the book I am referring to I think you'll really love Aaron's novel. (Ratrick Pothfuss is the last minor clue I'm giving you.)
When it comes to world building the overall world itself is only minorly discussed. Where the story focuses on is the city fo Alfara. I really liked the way Aaron was able to show the grandeur of the city without overly giving detail. I was a little nervous seeing the size of this book at almost 650 pages, thinking there would be a lot of description but was happy to discover that this wasn't the case and this novel is definitely character driven with just enough world building to help pull you into the world.
I loved the characters of this story. I easily grew to enjoy the banter and dialogue between Tavar and his friends plus the enemies he developed throughout the story. The dialogue flowed seamlessly. I can't even think of a moment where it felt forced or unnatural. Not to mention the diversity built within his cast of characters that just makes sense. Almost any individual will find a characters they love and can relate to. This is a single person POV if you were wondering that as well. Yet, the other characters play primary roles so it doesn't really feel that way in much of it.
When it comes to the plot of the story, this definitely is the beginning episode of the growth and development of Tavar. While I hesitate to relate it to something like the structure of a manga, there is certainly a steady pace being set of watching him learn and grow stronger over time. The story itself progresses a little slowly but there are plenty of action filled moments that keep it from being bogged down with the slower progression. I really enjoyed the story and honestly can't wait for book 2.
Some of the major themes of this novel are things like friendship, love, betrayal, revenge, family, brotherhood, and rebellion. You'll find big questions being asked such as is it better for their to be peace across the land by means of force under one nation? Or should people have the choice of how they want to be ruled? What truly separates the upper class from the lower class? What would you be willing to do to avenge your family and defend your friends? How should we treat others no matter how they treat us? And many many more.
If you couldn't tell, I really enjoyed Aaron Jones' Memories of Blood and Shadow. This book was a welcome read in the middle of a busy season of life for me. This was a brilliant first installment of a new series that I believe you won't regret starting. Give it a read!
P.S. thanks again to Escapist Book Tours (@Escapist_Tours) and Aaron S. Jones (@HereticASJones) for sending me a copy of this book and allowing me to participate in this book tour. It was a true pleasure!
Author Bio & Information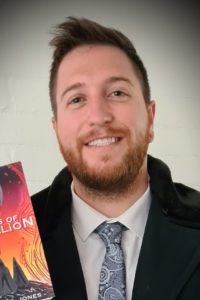 Aaron S. Jones was born in the area of Birmingham that helped inspire Tolkien's Middle Earth. He is the author of The Broken Gods trilogy. He is Head of English at a school in Kent, UK and when he is not tearing his hair out at students struggling with their, they're, and there, he is tearing his hair out as he dies for the thousandth time on Demon's Souls. You can find him on Twitter @HereticASjones where he is most likely procrastinating for hours at a time instead of focusing on his Orc murder mystery.
Website: www.aaronsjones.com
Goodreads: https://www.goodreads.com/author/show/19762202.Aaron_S_Jones