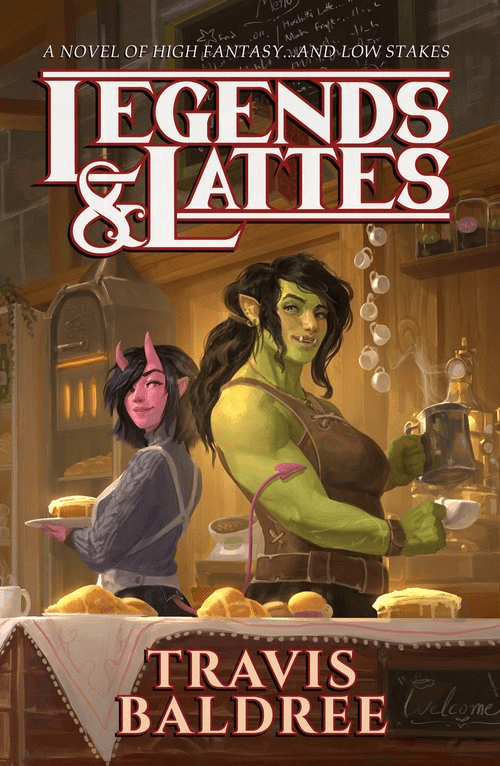 Rating: 8/10
Synopsis
Retiring from a life of adventuring, especially when you're an orc with a greatsword called "Blackblood", is never easy. But setting up your own coffee shop in a town that has never even heard of the stuff? Still, Viv has a magical stone and a dream, as well as a succubus for an assistant manager, and no gangsters, cinnamon bun shortages or ward-casting academics will stop her from bringing coffee to Thune.
Review
Much like a strong esspresso, I found that Legends and Lattes was a perfect cure for a recent hangover, an audibook one that is. You see, I just finished The Lord of the Rings audiobooks and I needed something that wasn't literal days long to unwind with. Step forward Legends and Lattes then.
It's entirely possible you have heard of this title already. Travis Baldree's slice-of-life, low stakes, cosy fantasy has been such a successful indie title that it is now crossing over into traditional publishing with Tor taking it on. While it isn't the only slice-of-life brewed in recent times I was interested to know what the fuss was about. Would I love it a latte or would I think it's a load of crappuccino? … I'm not done with the coffee puns and references yet, sorry. Let's aeropress on.
Barbarians and Baristas
Viv is a typically-powerful Orc barbarian. Think your classic brutish and bone-breaking battle-happy guts go slip-slappy fantasy tropes here. Except when she hangs up her hefty blade and immediately quits the adventuring game to open up her own coffee shop, we know we're in for something a little less skull crushing and a little more slow brew.
Baldree opts for a simple mediaeval fantasy setting steeped in characters a well-experienced audiobook narrator can have some fun with. And fun is definitely what Baldree had in putting this book together.
I really got behind Viv's dream to bring coffee to a town that hasn't even heard of the stuff. From her early dealings in finding a premises, hiring Calamity the hob (Cal for short), finding her assistant, Tandry, to actually opening the shop is both endearing and captivating. But this is just the crema of the story. The body of the book is the delightful dialogue and how greatly the characters differ from each other. Thune is a fairly cosmopolitan place where Viv sees little trouble other than the local heavies looking to bring her into the extortion racket.
It's this low stakes feel that made the book compelling for me. I loved how Viv and Tandry learned more about bringing coffee to the people of Thune. I liked how they recruited Thimble the ratkin to bake cinnamon buns, thimblits (biscotti I'm guessing) and fold-overs. I liked how Tandry updated the menu and this was read aloud each time. I grinned at every one of Cal's considered and expressive utterances of "Hmm" throughout the story.
This book is, at the end of it all, like a written relaxing afternoon in a coffee shop. It's charming and it's fun. I loved all the little coffee references Baldree sprinkles throughout the book (i.e., letting an idea "percolate"). It's a very tightly-written book from start to finish.
Deserving of the Hype
Truth is, it's easy to get jaded from back-to-back epic fantasy novels. There's a real time and a place for Legends and Lattes and I'm really glad I found it. I think the book deserves the hype and it's a great way to get into a genre of fantasy that is accessible and dreamy. You could say that the audiobook had a great mouthfeel. Alright alright, that's the last of the coffee references.