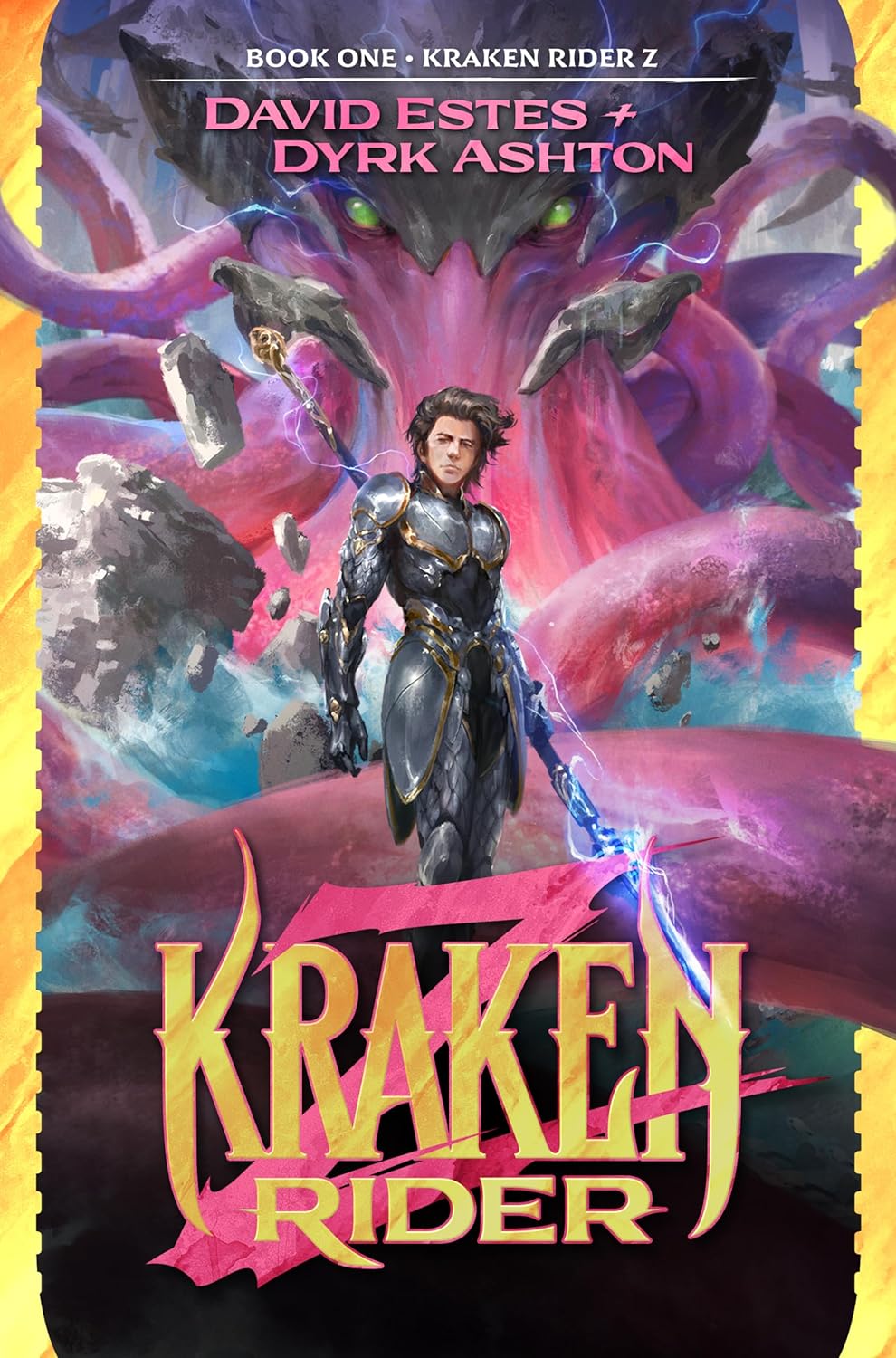 Rating: 8.5/10
TL;DR Review
A wonderfully fresh, upbeat, and enjoyable entrant into the world of progression fantasy. Compelling yet easy reading from start to finish.
Synopsis
If there's one thing dragons fear, it's a kraken.
Even lowly hull-scrubber Zee Tarrow knows that. Like everyone on the island kingdom of Tosh, he grew up frightened by fables and horrible tales of the great beasts of the deep. It seems an odd thing to impress upon the children of the realm, because–luckily for the dragons and their riders–no one has seen a kraken in a thousand years.
Then again, Tosh's lifeblood is the sea. Royal Dragon Knights guard the king's ships from the constant threat of pirates, hostile empires, and the monstrous horrors that dwell beneath the waves. It makes sense that the people would fear krakens, even after generations of Knights graduate and take flight from the ramparts of Triumf's Citadel, the country's most elite–and therefore also exclusive–military academy. A school that Zee, who has barely ever had more than two copper pennies to rub together, should have no chance of getting into.
Thing is…Zee has a secret. He's not only seen a kraken…
He saved its life.
When that truth gets out, will Zee be hunted by the Dragon Knights he has always envied and admired, or will he become the first Kraken Rider in history?
From the minds of David Estes and Dyrk Ashton, authors of Fatemarked and The Paternus Trilogy, comes a series perfect for fans of Iron Prince, Mage Errant, and Ascendant. Kraken Rider Z is an action-packed fantasy series with lots of heart, and the kind of unbreakable bond between man and beast that hasn't existed for centuries. Start your adventure today!
Full Review
I got my hands on an ARC copy of this book, and I'm so glad I did. After immensely enjoying a few progression fantasy staples—including Cradle, Iron Prince, and Bastion—Kraken Rider Z felt like a fun and fresh addition to the genre.
The concept is established effectively and thoroughly within the opening chapters. A world where the bond between dragons and their human riders bestows upon both immense powers and continent-shattering abilities, and where every young man and woman dreams of growing up to become a dragon-rider.
For young Zee Tarrow, there are two significant deterrents: first, it's rare for the poor to have access to the prestigious Academy, much less come close to dragons; and second, he's far too sickly and weak to be a warrior or knight.
But all that changes when he discovers a strange-looking creature stranded on the beach. Rescuing the odd little thing, he finds himself beginning on a journey that will lead him to being something different—and possibly even greater—than a dragon rider.
He will be a KRAKEN RIDER.
The Characters
Zee Tarrow is everything you'd expect from a progression fantasy hero. Driven, determined, and relentless, you can feel his desire to grow stronger and will let nothing stand in his way.
But where he differs as a character is in his temperament. Though he's lived a hard life—serving aboard a ship as little more than a hull-scrubber, beaten, and abused—it hasn't soured his spirit or left him bitter. He's relentlessly upbeat and positive, a trait that I absolutely admire and very much appreciate.
Tonally, though the book has the potential to go dark, it always stays optimistic and "bright". Zee never lets his hard life or the abuse he's suffered to drag on him. It's simply a motivator to challenge him to do better and become more, but his spirit is wonderfully free of shadows. In a genre often consumed by brooding heroes and a more "grimdark" flavor, it's a refreshing addition.
Zee's kraken, Jessup, is an absolute delight. And not just the ridiculously amusing—and appropriate—name. From the first moment we see him as a baby kraken first learning to swim and talk with Zee, he's the most adorable thing ever. Baby dragons, move over; baby krakens are where it's at now!
And as he grows, he never stops being the Jessup we meet in the beginning, even through all his ordeals. He develops his own unique, wonderfully complex personality, but he's always there as Zee's best friend, companion, emotional support, and comedic foil.
The World
The world is basically what you'd expect when you mash up the "dragon rider" concept with progression fantasy.
The Academy is where all young prospective dragons and their human riders go to train. Interestingly, the dragons are also undergoing a lot of the military-style physical and magical conditioning that their human counterparts go through, even before they're bonded. I found that a wonderfully unique twist on the dragon rider trope. While the dragons are still innately powerful creatures, they have to develop their abilities just like the human riders. This increases the "leveling up" feel nicely.
Most of the world we see is confined to Zee's little city, the ship he sails on, and the island where the Academy is housed. There's not a whole lot of complicated worldbuilding to get lost in, which makes it an easy, straightforward read. However, everywhere we visit in the world feels nicely fleshed out and real. In that sense, it's as well-developed as a doorstopper epic with hundreds of pages of setting descriptions.
Final Thoughts
My previous dalliances in the progression fantasy genre have given me an appreciation for the structure and near-obsessive focus on training. And, like so many of its predecessors—including Iron Prince, Cradle, and Bastion—Kraken Rider Z takes a familiar and enjoyable concept and does something unique with it.
Zee and Jessup are a pairing that had me hooked from their first interactions, and kept me fascinated with their strange abilities, unlimited potential, but most of all, their optimistic and cheerful natures in a world filled with so many selfish and self-centered people.
There is no doubt in my mind that Kraken Rider Z has firmly established itself as one of the best entrants in the progression fantasy genre, and one I look forward to reading for as many books as Dyrk and David intend to write.