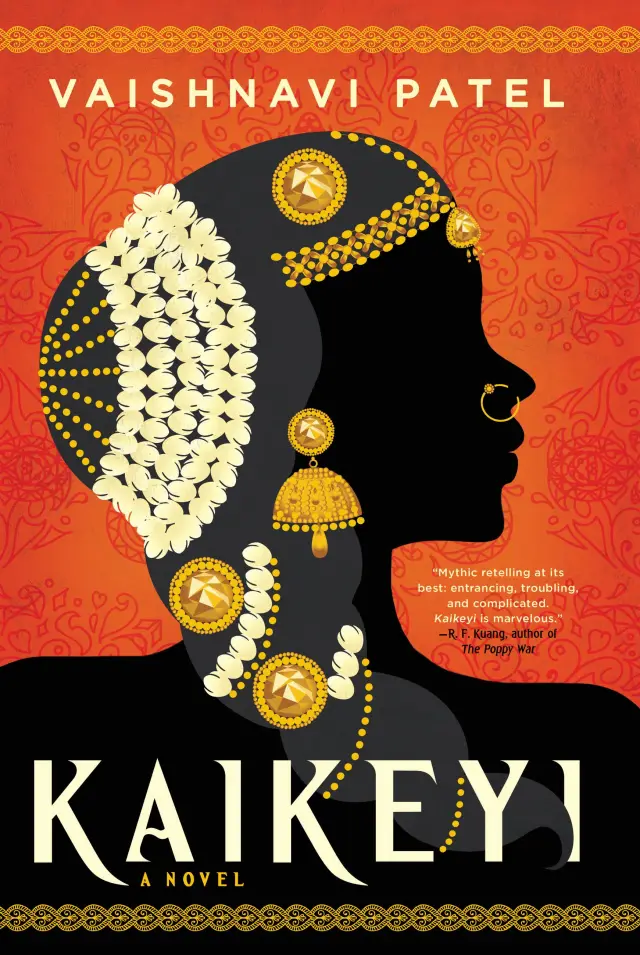 Rating: 10/10
Synopsis:

"I was born on the full moon under an auspicious constellation, the holiest of positions—much good it did me."
So begins Kaikeyi's story. The only daughter of the kingdom of Kekaya, she is raised on tales of the gods: how they churned the vast ocean to obtain the nectar of immortality, how they vanquish evil and ensure the land of Bharat prospers, and how they offer powerful boons to the devout and the wise. Yet she watches as her father unceremoniously banishes her mother, listens as her own worth is reduced to how great a marriage alliance she can secure. And when she calls upon the gods for help, they never seem to hear.
Desperate for some measure of independence, she turns to the texts she once read with her mother and discovers a magic that is hers alone. With this power, Kaikeyi transforms herself from an overlooked princess into a warrior, diplomat, and most favored queen, determined to carve a better world for herself and the women around her.
But as the evil from her childhood stories threatens the cosmic order, the path she has forged clashes with the destiny the gods have chosen for her family. And Kaikeyi must decide if resistance is worth the destruction it will wreak—and what legacy she intends to leave behind.
A stunning debut from a powerful new voice, Kaikeyi reimagines the life of the infamous queen from the Indian epic the Ramayana, weaving a tale of fate, family, courage, and heartbreak—of an extraordinary woman determined to leave her mark in a world where gods and men dictate the shape of things to come.
Review:
What a fantastic book! Anyone who knows me, knows I'm a big mythology fan. In high school, I chose mythology as one of my electives. At one point, we studied the Ramayana and Hindu mythology. I remember some aspects, though the details were fuzzy. I am so glad that this book came across my radar, because I thoroughly enjoyed this retelling and revisiting this.
Kaikeyi was one of three wives of King Dasharatha. She was the most influential of his wives, even though she was not the first.
If you know me, you also know that I'm a big fan of retellings, especially ones that reclaim the stories of women in mythology. They are so often made villainous and we are rarely given as much info as we get on the men in mythology. This is the era in which we are making sure these women get full-fledged identities.
The three wives in this tale and in this book aren't in competition with one another. They're all so supportive and they raise each of their children together. In the original text, she is a jealous wife. In this book, she wants to raise up other women and she is part founder of a woman's council. She's kind but strong. She's brave, able to fight with her words and wit, as well as with her physical abilities, but she's empathetic. If you're familiar with Kaikeyi's story, you know where it goes. This gives some backstory on how she got the reputation for being ruthless, on why she banished the King's favored son and ultimately broke her husband's heart and trust. We get to see the humanity in her decisions.
Our author, Vaishnavi Patel, weaves a beautiful story and I enjoyed every step of the journey, even the sorrowful parts. I was captivated from start to finish. When I read the last words, I wanted to weep at the masterful storytelling. Every small story told by Kaikeyi along the way added to the larger story overall. We get to know Kaikeyi, the other wives, and her sons intimately. We rejoice with her and mourn with her. I felt such complete satisfaction from reading this book. Finishing this novel was a mix of adrenaline and peace; it was one of those times you finish a book and although everything did not turn out "okay" for all the characters, I was so content to have read such a stunning novel.
Thank you to Orbit/Redhook for the review copy. I was also gifted audio from this novel via Hachette audio. Soneela Nankani did a gorgeous narration of Kaikeyi. It was absolute perfection and heightened my enjoyment of an already flawless experience.