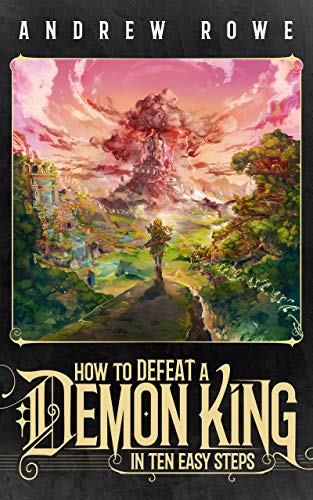 Rating: 8/10
Synopsis
For thousands of years, there has been a cycle: a Demon King rises and conquers, and a Hero is reborn a hundred years later to defeat him. Each time, civilizations are ground to dust beneath the Demon King's hordes, but humanity has remained secure in the belief that a Hero of legend will always save them. There's just one slight problem. It's only been 23 years since the Demon King's latest rise, and this time, he's already conquered more than half the world. If humanity simply waits for the Hero's return, there may be no world left for him to save.

And so, Yui Shaw sets out with an ambitious plan. A 10-step plan.

She'll find a way to obtain the Hero's legendary sword. She'll earn obscure classes, gain levels, and increase her skills. She'll travel to the meticulously-crafted dungeons that seem designed for one specific Hero to complete. And, if she's truly (un)fortunate, she might even find a fairy.

She might not be a Hero—but if she can fake it long enough, she might still be able to save the world.

***
This book is an affectionate parody of classic Japanese games like The Legend of Zelda, Final Fantasy, and Dragon Quest. It's also a work in the LitRPG/GameLit subgenres. Game mechanics exist in the world of the story and characters are aware of their existence.
Review
What a delightful read! One that had me laughing quietly from the get go and till the last page. Immensely satisfying book that lifted me from a reading slump.
Note: Don't be put off by presence of some game elements like classes and levels. They are kept to a bare minimum and more for fun than actual game progression.

Our protagonist Yui is born in a world where a Demon King arises and begins to conquer to world only for a Hero to be reborn every hundred years to put a stop to it. Rinse and repeat. But things have changed this cycle and the Demon Kings is conquering faster than before and she is not happy to wait for the hero to be reborn decades down the line (as it isn't hundred years yet). Unfortunately for her, she really isn't a hero class, so comes across with a ten step process to change that. What follows is her adventure and we get to follow her on her journey towards destiny!

The plot starts off from get go and we are made part of Yui's journey from Page 1. The pace never slacks off and it was so immersive, that I felt a part of the party taking part in the adventure. The highlight of this books is the sheer number of tropes that the author manages to spoof the heck out of. Pretty much every single, hero, demon, sidekick, quest tropes are shredded so deliciously that I really couldn't help laughing all my way through the book!

The cast of characters get bigger as the world unfolds but this is done very organically and every character makes their mark. I really can't think of a single paragraph where some facet or other of fantasy books aren't made fun of. Yui and her sidekick Ken are delightfully naïve and endearing to the most that we just can't help root for them. From slimes to dragon, all kings of races and monsters are thrown into the mix that every page and chapter is delightfully refreshing and I really couldn't help binge read to finish this.

At about 160+ pages, this is not a long read, but one I really enjoyed to the fullest. If you like a well written spoof type book with enjoyable characters and engaging prose, this should be a must read.