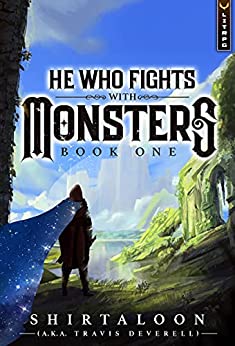 Rating: 9/10
Synopsis (Book 1):
Jason wakes up in a mysterious world of magic and monsters.

It's not easy making the career jump from office-supplies-store middle manager to heroic interdimensional adventurer. At least, Jason tries to be heroic, but it's hard to be good when all your powers are evil.

He'll face off against cannibals, cultists, wizards, monsters…and that's just on the first day. He's going to need courage, he's going to need wit, and he's going to need some magic powers of his own. But first, he's going to need pants.
After cementing itself as one of the best-rated serial novels on Royal Road with an astonishing 13 million views, He Who Fights with Monsters is now available on Kindle.
About the series: Experience an isekai culture clash as a laid-back Australian finds himself in a very serious world. See him gain suspiciously evil powers through a unique progression system combining cultivation and traditional LitRPG elements. Enjoy a weak-to-strong story with a main character who earns his power without overshadowing everyone around him, with plenty of loot, adventurers, gods and magic. Rich characters and world-building offer humor, political intrigue and slice-of-life elements alongside lots of monster fighting and adventure.
Review:
One of the best series, I've ever read irrespective of genre! And one of my most re-read series too! I simply cannot wax eloquent anymore regarding this series. It's simply brilliance in bound words!

Note: Though this book is advertised as LitRPG and has "some" game elements, I believe this leans more towards Progression Fantasy. The game elements are kept to bare minimum and specific to it's purpose and we are not subject to detailed and repeated descriptions of random skills and spells that MC rarely/never uses.

Jason gets magically transported into a magical realm with magic and monsters for reasons he can't ascertain. How he adapts and preservers bringing his own style and views to a new society that isn't as accepting while trying to finding a way back (and trying to reconcile with himself on whether he wants to go back) makes the plot. Along the way he finds out he was (and still is) a pawn in a game played at level he can't even see far less understand throws a spanner in his plans.

it just is such a fun book to read. The plot starts off a bit slow and slightly trope-y, but within couple dozen pages, it sets itself apart. From then on it along at a brisk pace, there's lots of humour and enough action to keep fans entertained. The plot just broadens in scope organically as we move from a villa owned by cannibalistic cabal to cities, linked dimensions and entire worlds. The sheer potential to the scope if just breathtaking. The plot is quite intriguing too. Though we follow Jason mostly, we get the see the different threads built up nicely and tied up well at the end, whilst leaving enough to keep me hooked to the next book. The world is rich and diverse and so interesting, that I won't mind being transported there magically myself.

Jason is such a awesome character, equal parts funny and annoying. It certainly is a pleasure to see him face off against ridiculous odds with a mix of humour, sarcasm, false bravado and true grit. It's amazing how often I alternated between cheering him on and wanting to rub his smug persona into the dirt! The supporting cast is stellar too. Even those who do not play a major part (yet) still make a impression.

Now this is a true "epic" LitRPG in truest sense as we get a bit of everything. There's PvP battles, magic schools and training montages, political manipulations, good old fashioned mysteries all rolled into one. What makes everything come together is a blend of humour and satire and some absolutely superb writing that kept me hooked for 4 books back-to-back and still left me screaming for the next one.

There's a bit of liberal anti-authoritarian message the MC Jason cascades often when he rails against societal structure, religion etc. Now, I found this fascinating though a (very) slightly heavy handed, but still fitting within the theme and not detrimental to the plot.

And after reading first 3 books, the moment I assumed I had a handle on the plot direction, author just uproots everything and sent me in a direction that I genuinely didn't see coming. Overall this is something I really enjoyed and am eagerly awaiting the next installment!