Synopsis:
For one to rule, the other must die.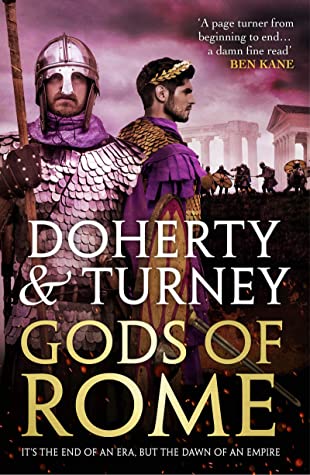 Rating: 10/10
312 AD is a year of horrific and brutal warfare. Constantine's northern army is a small force, plagued by religious rivalries, but seemingly unstoppable as they invade Maxentius' Italian heartlands. These relentless clashes, incidents of treachery and twists of fortune see Maxentius' armies driven back to Rome.
Constantine has his prize in sight, yet his army is diminished and on the verge of revolt. Maxentius meanwhile works to calm a restive and dissenting Roman populace. When the two forces clash in the Battle of the Milvian Bridge, there are factors at work beyond their control and soon they are left with carnage.
There is only one way Constantine and Maxentius' rivalry will end. With one on a bloodied sword and the other the sole ruler of Rome…
Review:
Gods of Rome are the thrilling climactic finale of the Rise of Emperors trilogy. Chronicling an epic series overseeing the fall of Rome's Pagan Religion to the dominant Rise of Christianity. This climatic book focuses on the final battle that decides the fate of Western Europe for centuries to come. There were jaw-dropping battle sequences, you could feel the grittiness of each battle, soldiers fighting for the standards of their Emperor, and you could feel that Rome inevitably, will never avoid civil war. Even during its decline, it will have fights of a colossal scale that will weaken the Empire.
The dialogue is extremely well written, and the world-building has been so meticulously researched that I was immersed. Very well written. I was in the world of Ancient Rome. It's that immersive. And would I stand with Maxentius or Constantine? I would stand with Maxentius. Constantine may have converted to Christianity to merge his power however, I completely disagree with Constantine's actions. There are many emotional scenes within this novel, and there is triumph, loss, betrayal and action. This is a book where religion and power are at the forefront. Soldiers worshipping Christ vs Soldiers worshipping Mars and Apollo. It is an epic series that would be perfect for a Netflix or BBC TV series. It's that epic. Throughout this novel, I was more sympathetic towards Maxentius and hated the people surrounding him. They were unloyal to him, while Constantine had more loyal men to him. I felt Maxentius's fate was like the Noble Hector. I hope Constantine feels regret for the rest of his life, and the saddest part was watching two friends become two enemies fighting for the heart of Rome. It was a battle that should never have been fought. But as with many Roman Emperors that were often assassinated throughout history, many deserving ones have perished while many unsuited for the role have taken the throne.
As always, the characters are extremely relatable. I like the choice of having both emperors explain their viewpoints in the first person. In some parts, I felt the pacing was a little slow. Other scenes could have been shorter paced. But it is a book of sieges. Lots of them. Assaults? Certainly. It is a fantastic novel chronicling the most important battle of Roman history, one that will decide the fate of Europe for centuries to come. This is a 10/10 from me!