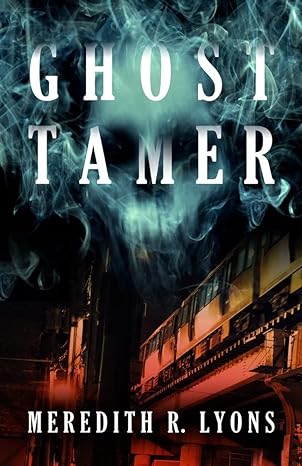 Rating: 8/10
Synopsis:
Death is one thing, it's what you do afterward that matters. Aspiring comedian Raely is the sole survivor of a disastrous train wreck.
While faced with the intense grief of losing her best friend, she realizes that someone is following her―and has been following her all her life. Trouble is, no one else can see him. For a ghostly tag-along, Casper's not so bad. He might even be the partner Raely needs to fight the evil spirit hell-bent on destroying her. Raely and her friend must learn why this demonic spirit is haunting Raely and how she can stop him before he destroys her life―and her soul. Which, much to her chagrin, means she needs the help of a psychic (although she's sure they are all charlatans) and must rid herself of the pesky ghost hunter who's interested in exploiting her new abilities. For readers who enjoy Leigh Bardugo's Ninth House and Clay McLeod Chapman's Ghost Eaters .
Review:
Hello again dear reader or listener, the consensus seems to be that spooky season is on the horizon, and while I struggle to truly get into that mindset just yet as I am still near the beach here in Greece, I am getting into my spooky reads well and proper.
So, with a big thank you to the CamCat team who offered an eArc in the hopes of an honest review, let me intrigue you with a debut that pulls on more than a few hearth strings while also gifting tons of paranormal fun.
Lyons pulls no punches in this emotional and heart-filled debut, and you know me, dear reader, I love me a character driven novel! Also be warned, if you're the type of person who cries with books, you'll probably need tissues. Lots of them. The portrayal of grief, survivor's guilt, and depression in this novel is raw and not pretty, which not only added realism but shone a truthful light on what it can all do to a person, even the sunnier among us. However, it also does a grand job at highlighting the necessity of picking yourself up and allowing yourself to keep feeling shitty but still trying your best to get better, maybe reach out for help if you can and need it. That it's ok to let your loved ones help even when you feel like all you can do is push them away.
Another thing that Lyons truly got perfectly was writing the platonic dynamic between the two protags, Raely and her ghost friend Casper. Their ongoing banter as well as the soft moments between them were endlessly entertaining as well as getting you right in the feels. For those of us who've got older siblings it has an added touch of making you feel seen and called out at the same time because of how familiar it feels.
Lyons' storytelling unfolds at a great pace, allowing time for the reader to gather all the details and see it all come together as the mystery of the demonic spirit comes to light; while at the same time giving you space to be surprised by the plot twists even though they make perfect sense and feel like natural developments to the story. Her side characters each have their moments to shine, with key traits being all you need to get a sense of each of them right away, adding all their different flavors to the story, enriching the overall effect. But I especially enjoyed the way the author wove in the ambiance of each scene's setting, creating the perfect vibe for what she was going for in each moment, in order to complement her characters' antics or the building dread and anxiety the demonic spirit would carry with him.
Raely was such a great protagonist to follow, both for her general attitude and her inner turmoil feeling so real and understandable, while also very obviously needing to change some things in order to heal. Her wit and aggravation were truly so much fun to read and I can never have enough of characters like her. She recognized whenever her behavior was self- destructive and yet allowed herself to feel all the things and push through in order to come out of it stronger in the end. There was a lot of nuance to her that I appreciated for all those reasons and at the same time could see myself into – perhaps a little too close for comfort at times but hey, that's what good books will inevitably do to you once in a while. I will admit this story brought up a lot of complicated feelings on my part but that's not really relevant here as is the ability of the author to touch on harsh/difficult topics with a certain grace that takes in account all sides of a situation and has the sensitivity and emotional intelligence to realize it cannot always be clear cut and pretty.
Special mention also goes to our snarky cinnamon roll of a ghost Casper because he is a precious being that deserves all the hugs and that's all I'll say.
My only real qualms with this book overall, were a few questions left unanswered for me but they were pretty minor and perhaps I'll find the answers on a second reading in the future. That, and a slight meandering in the way some of the magic within was explored while Raely was trying to figure it out. It also fell a bit at odds with how often we were told Casper had no idea about his situation and how to function as a ghost but then at the next turn he was a de facto expert in all the kinds of spiritual entities that Raely might encounter. I wouldn't call them so much plot holes as a plot oversights though.
So then, dear reader or listener, if you're looking for an at times eerie but not too much read to ease you into spooky season, while also giving you all the feels of a solid character driven novel that wraps up satisfyingly but leaving that little something bothering your eye, then Ghost Tamer by Meredith R. Lyons is the next book for you!
Ghost Tamer comes out tomorrow, Sep 19th, and you can find it at all the links above!
Until next time,
Eleni A. E.