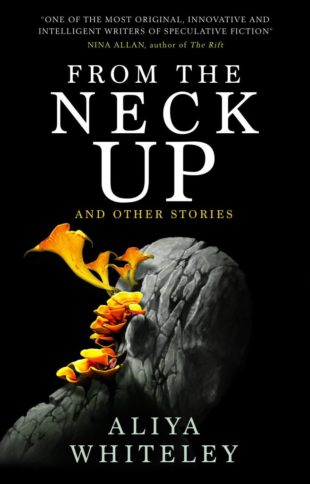 Rating: 9.5/10
Synopsis:
The new collection of beautiful, strange and disarming short stories from the award-winning Aliya Whiteley, deftly unpeels the strangeness of everyday life with her trademark wit. Witness the future of farming in a new Ice Age, or the artist bringing life to glass; the many-eyed monsters we carry and the secret cities inside our bodies.

Fascinating, and unlike any other writer working today.
Review:
I received a copy of this book in exchange for an honest review.
I adore Aliya Whiteley's writing. I knew it from the moment I read and loved Skyward Inn and From The Neck Up just cemented this. Each and every story stands out and there isn't a single story that is weaker than the others. Whiteley is a power house in spec fic writing and you just need to start reading her works if you haven't already.
This is the type of collection where when you flick back to stories you remember them and what was going on. I could have read all of them as full-length stories, but Whiteley manages to pack in the perfect amount of plot and character development. They range from 80 pages to as short at 10 pages, but yet they are all as strong as each other. It's incredibly hard for me to pick a favourite from the collection.
Whiteley explores a whole range of situations, and all of them are set in our recognisable worlds. From what happens in a new Ice Age, to rainbows filled with human faces, and a vengeful Ancient Egyptian priestess. There is a huge variety within this collection but it forms a perfectly cohesive book that you will find hard to put down.
Honestly, I absolutely loved this. Whiteley is top of her game and her works are unlike anything else.