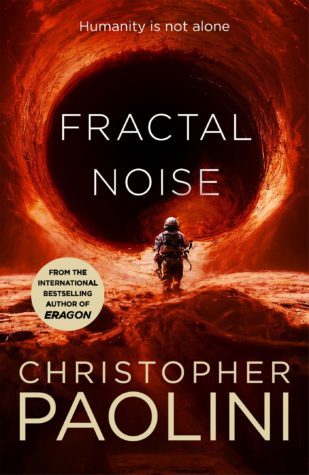 Rating: 10/10
Synopsis:
July 25th, 2234: The crew of the Adamura discovers the Anomaly.
On the seemingly uninhabited planet Talos VII:a circular pit, 50 kilometers wide.
Its curve not of nature, but design.
Now, a small team must land and journey on foot across the surface to learn who built the hole and why.
But they all carry the burdens of lives carved out on disparate colonies in the cruel cold of space.
For some the mission is the dream of the lifetime, for others a risk not worth taking, and for one it is a desperate attempt to find meaning in an uncaring universe.
Each step they take toward the mysterious abyss is more punishing than the last.
And the ghosts of their past follow.
Review:
Thank you Black Crow PR & Tor for sending me a copy to review.
To Sleep in a Sea of Stars is possibly my favourite book of all time, and I've been (im)patiently waiting for the next Fractalverse book ever since. I'm very happy to say that Fractal Noise lived up to my expectations and I'm so excited that it's setting up for the next book in the series!
Fractal Noise is #0.5 in the Fractalverse series, and is completely standalone. You don't need to have read To Sleep in a Sea of Stars to read this, if anything it's a great way to dip your toe in if you're intimidated by the length of TSIASOS.
Fractal Noise is less about action and more about the journey. When a giant hole is discovered on Talos VII, a team is sent to investigate, except they can't land close to the hole because it's giving off some kind of pulse. So they land on the outskirts and the book follows their journey towards to hole itself. It's far more about the effects of this journey and the almost existential crisis' they all begin to experience. Don't come looking for answers, come to experience this journey with the team.
A lot of the book is punctuated by thumps, which slowly permeate the book more and more. By the end it had my heart racing as it interrupts every moment. Paolini uses this to really build up to the climax of the book without the need for conflict. I raced through the last quarter as I needed to know what they were going to find.
I think the Fractalverse is one of the most exciting series going right now. It feels limitless in what Paolini can do with it, as it's less about a linear series and more about exploring the universe he has created. I'm sure things are all interlinked somehow but Fractal Noise shows that Paolini has so much to explore and so many places to go.
I now feel the need to re-read TSIASOS…