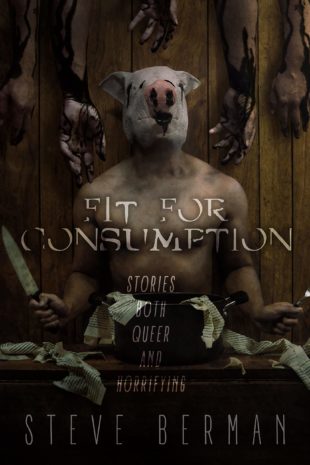 Rating: 6/10
Synopsis:
In Berman's newest short story collection, the phrase "you are what you eat" is taken to heart; these are stories of men facing strange appetites within their own physicality, within a lover or, perhaps, a stranger's hungers. A young athlete attends an exclusive wrestling camp, but some of the campers are more focused on the unwelcome boys they claim lurk inside their bellies. A fixit man on a mission to retrieve a runaway finds himself forced into impersonating a pulp hero by her captor. Life as a pledge at a New Orleans fraternity is made all the worse when a magical–perhaps cursed?–flask that fills with whatever the bearer desires, yet also causes the drinker to desire the pledge. With stories inspired by Edgar Allan Poe, H.P. Lovecraft, and Ramsey Campbell, the menu has thirteen tales that range from the weird to the humour noir to the monstrous. No digestif is necessary.
Review:
Thank you to the author for sending me a copy of the book for review.
As we get into the spooky season I always love trying to pick up some horror. It's a genre I sometimes crave randomly in the year but it's always fun to dig right in during October. Fit for Consumption comes out this October, so it's perfect timing if you're looking to add a short story collection to your Halloween reads.
Fit for Consumption contains 13 tales – I hope that number was deliberate. They are all genuinely short stories, usually coming in somewhere around the 10 – 15 page mark, with just one story reaching 40 pages. It's refreshing as sometimes with short story collections you get one really long (for a short story) tale that seems out of place. Not here. They're all the perfect length that each time you pick the book up you'll find yourself finishing at least one of the stories.
The stories vary in narrative voice. The very first tale – In Summer Broken – is told in a wall of text, no paragraphs. I have to admit it's a strange way to begin the collection as it is so different from the rest of the stories. I'm someone who gets confused with names easily so this one was a struggle just because the formatting didn't suit my reading style. However, every other tale was easier for me to follow, so please don't let yourself be put off by this, or if you've picked it up, the first tale in the collection. As with all good short story collections there are links between each tale. Wether it's names or events there seems to be nods to other stories and it's always fun to see.
Every tale in this collection is a queer story. This leads to a lot of sexual tension and a decent amount of sexual content. Some of it uncomfortable & some of it not. It is a collection of horror stories, so the content is as expected. The descriptions aren't graphic or unnecessary, sexual content isn't used as a horror trope as such, which is great as it allows the horror content of the stories to not just focus on the sexual nature.
If you're looking for a good short story collection for this Halloween, this is worth looking into. Some stories are a lot creepier than others, but you'll find a tale that resonates with you in this collection.