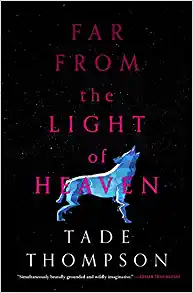 Rating: 5.5/10
Synopsis
The colony ship Ragtime docks in the Lagos system, having traveled light-years to bring one thousand sleeping souls to a new home among the stars. But when first mate Michelle Campion rouses, she discovers some of the sleepers will never wake.
Answering Campion's distress call, investigator Rasheed Fin is tasked with finding out who is responsible for these deaths. Soon a sinister mystery unfolds aboard the gigantic vessel, one that will have repercussions for the entire system—from the scheming politicians of Lagos station, to the colony planet Bloodroot, to other far-flung systems, and indeed to Earth itself.
Review
Far from the Light of Heaven is the latest release for noted SciFi author Tade Thompson (also known for The Wormwood Trilogy and the Molly Southborne series, among many others). This book is about a space mission gone awry. It is very murdery and includes rogue AI plus aliens. I was not the biggest fan of how everything was put together, but read on: this may be the very kind of book you connect with.

I have to say that I really liked the idea of this book. In the prologue the author mentions wanting to write an escape-room type of book, but on a spaceship. Because so much can go wrong in space, and one really has to be resourceful and adept at solving problems. There were definitely some successful elements in this story that come through. Campion really defines that role, as the captain of a spaceship who is able to work through conflict in an attempt to find a solution. Really valuable in an emergency. There is a bit of found family in the story, too, as Fin, Joke, and Salvo (among others) also bring various skills and come through in a pinch.

That set of characters is pretty diverse, also, as Campion and Fin are humans (though, Fin is from another planet), Joke is an alien being, and Salvo is a robot. The story is told from all of their perspectives, and the varying points of view is interesting.

The other aspect of this book I liked are the themes of colonialism, capitalism, and exploitation. These themes are not subtle and are a big part of the narrative. When stories that are told address these issues, in my opinion it makes them even more relevant to our current state of affairs and institutions. The more we think about social concepts in any form, the more they come to the forefront of our minds. This may result in action on our part or the parts of others or even just changing the way we think about a subject.

With that being said, I honestly had a lot of trouble getting into this book. I did not feel as though the author gave me much reason to care about what happened to the characters. The connection just was not there. I also thought, for a relatively short book, it tried to be too much. There was not enough of one identity for it to seem coherent in structure or story, and I was not always sure where to put my focus. I thought much of the background stories and planetary events could have been cut out, as well. This would have made a really good 150-page novella. The characters and events felt random at times to me, and I felt like I was watching an episode of American Dad set in space. I have never been a fan of that show.

In the end, I came to the conclusion that, even though there were things I liked about it, this book on the whole was not for me. But, honestly, if you are a fan of American Dad or that style of show (something akin to The Orville, at least in tone), you might want to give Far from the Light of Heaven a shot.