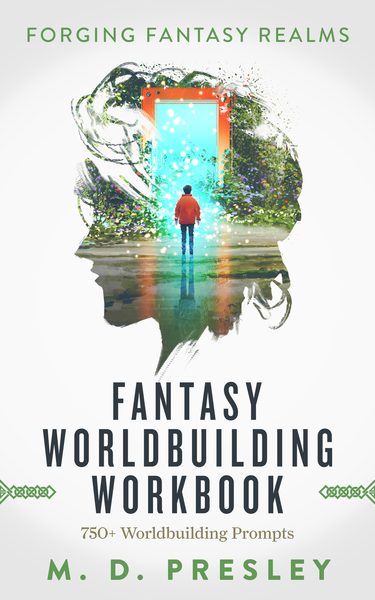 Rating: /10
Synopsis
This book is a collection of essays based on the author's vast knowledge and appreciation for worldbuilding in fantasy. Also contained with are sources for worldbuilding prompts and diagrams to make this not only a useful guide to any writer, but also to foster an appreciation in the reader for the sheer colossal task authors have in setting out their fictional worlds.
Review
Two disclaimers. One, I received an e-ARC copy from the author although this has in no way influenced this review. Two, I have been using this book to help plan for our FanFiAddict D&D group as I feel a guidebook like this needs to be "playtested" for any review to be genuine. On we go …
M.D. Presley is, in his own words, our worldbuilding travel agent. The purpose of this book is, through a series of essays on the facets of worldbuilding and an extensive set of worldbuilding prompts, to help guide the writer, reader, and gamer build better, richer worlds in their stories. It sounds simple, right? Wrong.
Presley has taken great care in diligently examining the art of worldbuilding under a microscope. The book revolves around the core assumption that there are two major worldbuilding strategies: top-down (everything is intricately planned well in advance, allowing for every possible detail to be thought out) and bottom-up (us pantsers who just write and let the world flow). What makes the book particularly useful is how Presley's examination of his research on worldbuilding is juxtaposed by examples from multiple fantasy worlds and authors. It makes the great stream of information a lot easier to digest.
A huge takeaway for me was Presley's statement: "Anecdotally, worldbuilding is known as an iceberg because you only use 10% of the information in your story itself." It shows that there is more to any story than what we consume on the page or screen.
This won't be a book you sit and read in one go; that's not what it's for. It's a useful worldbuilding bible, which, incidentally, is the most useful chapter I found in the book. Presley writes of creating bibles that note every imaginable detail of your world. The extensive list of worldbuilding prompts that follow helps to create your own fantasy world bible and a richer world to explore. This is an invaluable skill and one Presley imparts on the reader well.
Fantasy Worldbuilding Workbook will help you to create a more interesting and diverse world in your writing and storytelling, without question. It's not something you'll read by the pool on holiday but fans will certainly find an appreciation for the worldbuilding of their favourite authors after reading the book.
At the price listed on Kindle for this one, it's an absolute steal.