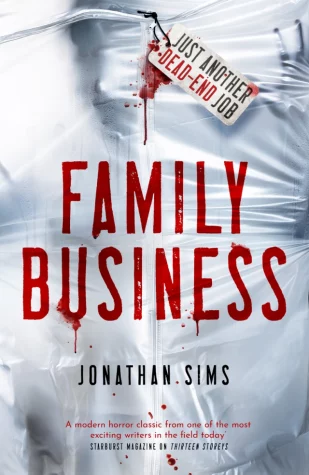 Rating: 8.5/10
Synopsis:
When Diya Burman's best friend dies, her life falls apart. She loses everything.
But then she gets a new job: working at Slough & Sons, cleaning up after the recently deceased.
Clearing away the remains of lost lives, Diya begins to see things. Horrible things, that can't be written off as imagination. Nothing is as it seems with the Sloughs.
It's a dirty business, cleaning up after the dead, and if Diya's not careful she might end up getting buried under the family tree.
Review:
Thank you, Gollancz, for sending me a review copy of Family Business!
Family Business is the first book I've read by Jonathan Sims, and it definitely won't be my last. I went in not sure what to expect and at no point did I realise just how creepy, and insane, the plot would become. The creep-factor is cranked up so expertly that you don't notice what's going on until our main character, Diya, is right in the middle of everything.
Coming in at just over 300 pages this is the perfect book to binge over a weekend, and I highly recommend carving out time to get completely lost in the story. It all starts out somewhat normal as Diya gets a new job at a family firm that cleans up after the recently deceased. After that Sims just piles on the weirdness, but like Diya you're caught unawares by how strange things have become until it's too late. I can't put into words just how cleverly written Family Business is. It completely blew me away.
With just a small cast of characters you quickly become acquainted with everyone and the isolation of working in a family business really helps to set the scene. You know there's something up, but you can never quite put your finger on what. I don't want to give away any of the plot, as I really think this book is best read with no idea of what's going to happen.
Grab a copy and spend a weekend wrapped up in Family Business. You'll end up completely wrapped up in this chilling tale.