Rating: 9.75/10
Synopsis
The Arthur C. Clarke award-winning author of Children of Time brings us the second novel in an extraordinary space opera trilogy about humanity on the brink of extinction, and how one man's discovery will save or destroy us all.
After eighty years of fragile peace, the Architects are back, wreaking havoc as they consume entire planets. In the past, Originator artefacts – vestiges of a long-vanished civilization – could save a world from annihilation. This time, the Architects have discovered a way to circumvent these protective relics. Suddenly, no planet is safe.

Facing impending extinction, the Human Colonies are in turmoil. While some believe a unified front is the only way to stop the Architects, others insist humanity should fight alone. And there are those who would seek to benefit from the fractured politics of war – even as the Architects loom ever closer.

Idris, who has spent decades running from the horrors of his past, finds himself thrust back onto the battlefront. As an Intermediary, he could be one of the few to turn the tide of war. With a handful of allies, he searches for a weapon that could push back the Architects and save the galaxy. But to do so, he must return to the nightmarish unspace, where his mind was broken and remade.

What Idris discovers there will change everything.
---
Thank you to Orbit Books for sending me an ARC of this book for review consideration. This does not influence my thoughts or opinions.
---
Review
A stunning continuation of The Final Architecture series, where the vastness of a galaxy at war is grounded in empathetic characters.
Many sci-fi fans speak of the Golden Age of Science Fiction as something that has long since passed. Whether it's the 1930's, '40s or '50s, the days of Asimovs, Heinleins, "Doc" Smiths, Bradburys and more are a forlorn memory… right? From my perspective, the answer is "Hell no!" The last decade or two has seen a stunning resurgence of sci-fi and space opera that recaptures the magic of far-flung galaxies, grand ideas, scientific marvels, strange aliens and more, but at the same time delivering fast-paced, engaging narratives and characters who are actually relatable. One author who stands at the forefront of this modern movement is Adrian Tchaikovsky.
Tchaikovsky showed his natural talent for the genre with the 2015 novel Children of Time. Since then, he has honed his craft with every release (and he releases a lot of books with unbelievable frequency), and his new series The Final Architecture, starting with last year's Shards of Earth, is space opera at its very best.
Shards established a fascinating universe, with humans and aliens melding together on a galactic chessboard rife with political strife, racism, indoctrination and in-fighting. Plus, it presents one of the coolest foes I have seen in science fiction in a long time: the Architects. This race of moon-sized, crystalline beings literally makes art out of planets, reshaping them at the molecular level to create twisted, abstract planet-level sculptures (decimating millions of lives in the process). It's such an awesome idea—but more on the Architects in a bit.
Beyond a fabulous foe, the world of The Final Architecture is simply stunning, and so richly detailed with various alien races and factions, humans that have branched off from one another and are at odds in their ideals, religious beliefs and more. Then there are the physics of the world. With FTL travel, for example, it comes in the form of a straightforward, wormhole-type highway system called throughways, which are safe crossing through the strange depths known as unspace. Even better, this interconnected, galactic web of throughways is directly tied into the lore of the universe, having been leftover by a mysterious, ancient race dubbed the "Originators."
Everything in this world and its history feels purposeful and interwoven. Tchaikovsky did an excellent job establishing everything in Shards of Earth, all the while ramping up the stakes for a broader conflict. Book two, Eyes of the Void, continues that escalation with astounding confidence. In Shards, the Architects returned after decades of absence to wreak havoc on populated worlds, everyone woken from their complacent slumbers and once again faced with an inexplicable threat. That book showed that Architects can be beat, but at great cost. These are truly monumental enemies, able to rip apart a planet in ways that science can't even begin to explain. But what is more compelling is why they do what they do, and Eyes of the Void is centered around that quest to know why.
That's where the amazing cast of characters comes in. In Shards, I loved how Tchaikovsky brought together a ragtag crew of unique individuals and smushed them together on a confined ship. (It reminds me a lot of Firefly, or the Mass Effect series.) On the shabby vessel called the Vulture God, there are different races represented, each crew member with distinct talents and personality. There's also believable tension, emotion, friendship building and more, such that I got really invested in characters like Idris, Solace, Kris, Olli and so on. Despite the galactic scale of worldbuilding and politics on display here, this series is grounded in the best possible way by these characters.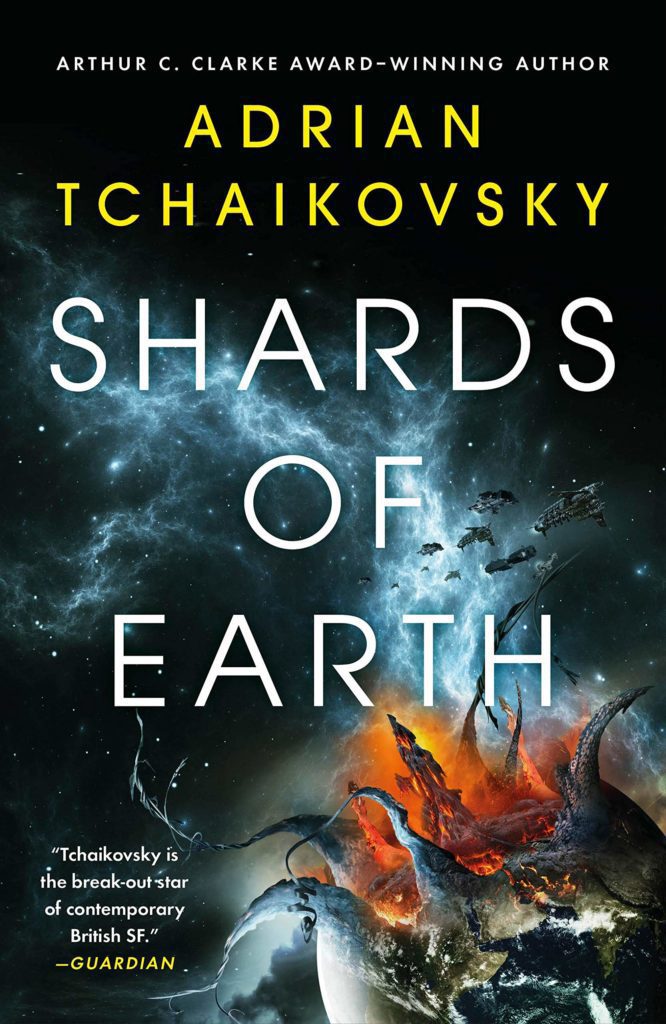 They also serve as windows into the broader world, many having POV chapters that flesh out their history, all the while giving a glimpse into how they perceive things. It works well, because one character might be prejudiced toward a certain race (such as Olli's aversion to the clam-like deities known as the Essiel), whereas another, like Idris, is an Intermediary who has the unique ability to navigate unspace—and he can also use that ability to enter into the minds of Architects and convince them to politely "fuck off" and not destroy a planet, please and thank you.
Tchaikovsky strikes a fine balance between engaging character development with massive stakes on a galactic level. And with the looming questions of where the Architects came from, why they do what they do, etc., the core cast is the key to unraveling the many mysteries this series has presented.
Eyes of the Void certainly answers some of the questions set up in Shards of Earth, but it also presents many more. What it does so brilliantly, especially as a second book in a trilogy, is to build upon and surpass the successes of its predecessor, all the while paving the way for the final book. This book is not perfect, mind you—there are a couple of action scenes which are written in a way that is sometimes confusing and hard to follow—but the world is dense and fascinating, the pace is quick but just right, the characters are full of charm and humor and intelligence and emotional depth, and there is just so much imagination candy with neat tech, weird aliens and more.
Shards of Earth was a stellar novel, but Adrian Tchaikovsky took it up a notch with Eyes of the Void. He has me well-and-fully hooked with this space opera epic, and I am aching to submerge myself deeper and deeper into the unspace of The Final Architecture. This series will go down as some of the best modern sci-fi, period, and there is no doubt in my mind that he will knock it out of the park with next year's Lords of Uncreation. We are living through the Golden Age of Sci-Fi, right now, and Adrian Tchaikovsky is one of its greatest champions.