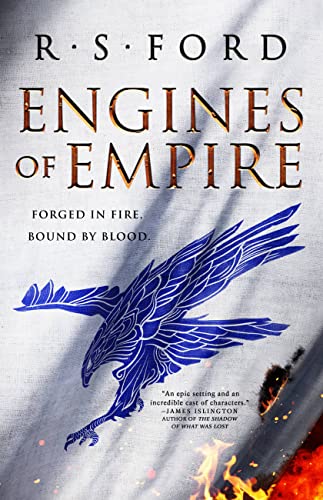 Rating: 9.25/10
Synopsis
"An excellent start to a new series: fast-paced and engaging, with a properly epic setting and a cast of characters I look forward to seeing more of." –James Islington, author of The Shadow of What Was Lost
"Epic fantasy fans listen up: This is the good stuff. Highly recommended." —Kirkus (starred review)

From an unmissable voice in epic fantasy comes a sweeping tale of clashing guilds, magic-fueled machines, and revolution.

The nation of Torwyn is run on the power of industry, and industry is run by the Guilds. Chief among them are the Hawkspurs, whose responsibility it is to keep the gears of the empire turning. That's exactly why matriarch Rosomon Hawkspur sends each of her heirs to the far reaches of the nation.
Conall, the eldest son, is sent to the distant frontier to earn his stripes in the military. It is here that he faces a threat he could have never seen coming: the first rumblings of revolution.
Tyreta is a sorceress with the ability to channel the power of pyrestone, the magical resource that fuels the empire's machines. She is sent to the mines to learn more about how pyrsetone is harvested – but instead, she finds the dark horrors of industry that the empire would prefer to keep hidden.
The youngest, Fulren, is a talented artificer and finds himself acting as a guide to a mysterious foreign emissary. Soon after, he is framed for a crime he never committed. A crime that could start a war.
As the Hawkspurs grapple with the many threats that face the nation within and without, they must finally prove themselves worthy–or their empire will fall apart.

"A heady blend of action, arcana, and intrigue." —Gareth Hanrahan, author of The Gutter Prayer
Review
Thanks to the publisher for an advance listening copy of Engines of Empire (The Age of Uprising #1) for review consideration. This did not influence my thoughts or opinions.
Engines of Empire is proper epic fantasy; a world chock-full of monsters, magic, political machinations and a wonderful array of characters. If the world asked for a steampunk Elder Scrolls laced with Matthew Ward's Legacy trilogy, Engines of Empire would be the result. Definitely going to be on my Best of 2022 list.
This was my first foray into Ford's work and made me an instantaneous fan. In fact, I went out and bought everything he'd ever written that was available online (including an unreleased novel for joining his newsletter – which you can join by clicking here). I even listened to this book twice over the course of two days. That's 44+ hours of audio, y'all. Not an easy feat with a full-time job and a kiddo.
I believe what really boosted my enjoyment of the novel was the full cast audiobook. Narration by Alison Campbell, Ciaran Saward, Phoebe McIntosh, Ewan Goddard, Andrew Kingston, Martin Reeve & Stephen Perring really brought this story to fruition and nailed every single voice. As a daily listener of audiobooks, having one (1) narrator cover multiple POVs can be jarring – especially if you are constantly redirecting your attention elsewhere. While, of course, multiple narrators for every multi-POV audiobook out there is impossible, having one every now and again is awesome.
With regard to the story itself, it did take some getting used to in the beginning. Like a vast majority of series "firsts", you are thrown into a brand-new world and have to work fairly quickly to acclimate yourself in order to feel comfortable in your knowledge of what is going on. It was a bit of a slow start this go-round, but dadgum if Ford didn't hammer down the gas pedal a few chapters in and never let off. This story flies by as you become enamored with each individual member of Hawkspurs as they venture on their own (whether voluntarily or not) and have to fully realize who they are and what they want from life.
Tied in with these stories is a frame job that sends massive ripples into the heart of the Hawkspur lineage, a revolution from without the nation of Torwyn that moves ever closer, and creatures either thought fable or underestimated. Ford intertwines all of these individual threads so well, which lead to a climactic ending and a leave a lovely little morsel at the end that will have you begging for Book 2.
Engines of Empire is a definite recommend.