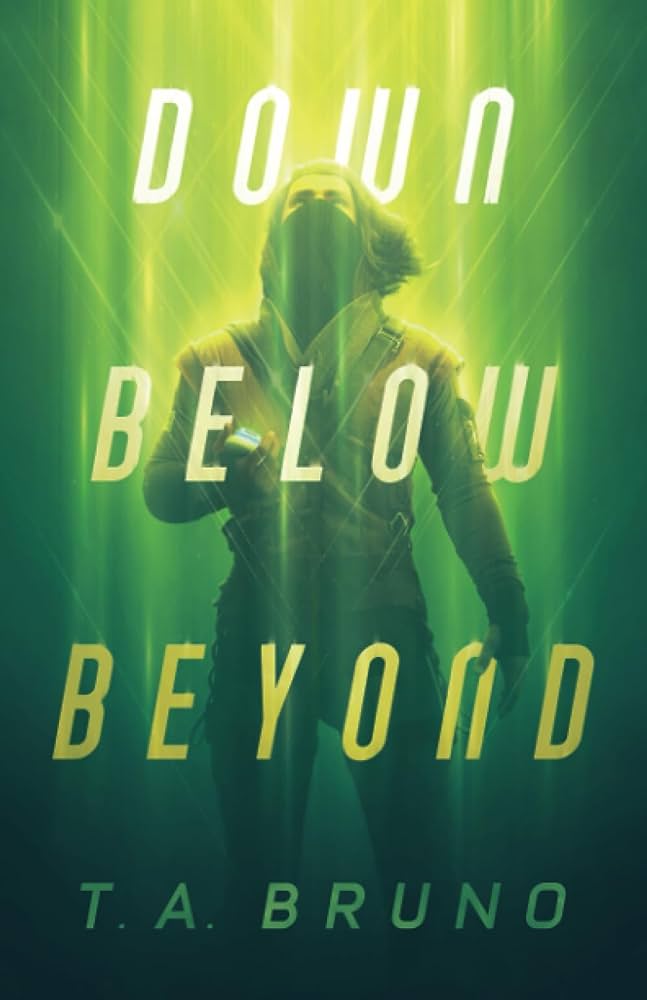 Rating: 7/10
Synopsis
Levort Aatra is a prospector on the planet Tayoxe. While scavenging the wastes of the abandoned world, he discovers a mysterious starship and stakes his claim on it.
Little does he know, he just put a big target on his back.
DOWN BELOW BEYOND is a sprawling sci-fi fantasy adventure filled with aliens, planets, and portals set in a universe crafted by T. A. Bruno, author of the award-winning Song of Kamaria trilogy.
Review
Thank you to the publisher for approving my NetGalley eArc request. My thoughts remain honest.
Hello again dear reader or listener, today I have for you a fun sci-fi adventure reminiscent of old Cartoon Network cartoons from the 90s-early 2000s golden years. The Samurai Jack vibes and ambiance were truly unparalleled.
This is my first book from this author and is one I felt could've done perhaps better as a duology instead of being just a standalone, but I'll get to that in a moment. I really enjoyed that we get character illustrations throughout as well, as it really helped bring all the different species to life. Moreover Bruno's prose throughout is fast paced and flowing, light and simple, but especially evocative.
This book is full of colorful characters, found family and old relationships turning sour tropes, with an added dose of fake history into the mix, however where it shone the most for me was in its world building and scene setting. Bruno's storytelling brings his world to life in a special way that allows the reader to feel immersed in the different worlds and places the characters find themselves in. It made for an imaginative and fun ride that often gave me a chuckle and piqued my curiosity enough to keep on reading one more chapter than I'd planed that given day.
So in a way I'd say it felt like neither a plot driven nor a character driven story but more of a setting and vibes driven novel. However, I'm pretty sure that wasn't the intended feeling, and don't get me wrong I don't mean that there's not good enough character work or the plot isn't interesting enough. As I said, there's an array of colorful creatures and humans and beings coming together to fight the enemy, as well as the groundwork for a really solid character corruption arc. But it was all done way too fast and with several time skips that never quite allowed all the things the author introduced, to land quite properly. At least for me, it felt kind of empty because of it.
Another way to put it is to say that I was shown and told I ought to feel a certain way both in a good or bad context from various events or exchanges but I was never given the opportunity to actually do so on my own. For instance, we're shown the community Levort builds with his newfound allies and friends but the stakes of them separating never quite felt real to me as I was just seeing them get acquainted in one chapter and told they'd become inseparable the next. Sometimes mid way through one at that… The corruption arc was done slightly better in that regard though and I did get to feel the frustration of the initial misunderstanding building and building until the point of no return but, again, towards the end when it ought to have had a bittersweet resolution, I sadly didn't feel that invested because the motivations behind it were just put out there without any previous evidence etc that would justify a lot of it.
I'm a little disappointed from this overall as the groundwork for a lot of what I love in such a story is all right there, but it just didn't go far enough to meet the expectations it set for me for those few things I mentioned. If you don't overly mind a speedy run through some fun shenanigans paired with space world adventures, an interesting prison break paired with amusing characters that, albeit not given their full time to shine, still remain memorable, this is still an enjoyable book to get through over a weekend or at the beach.
Until next time,
Eleni A. E.