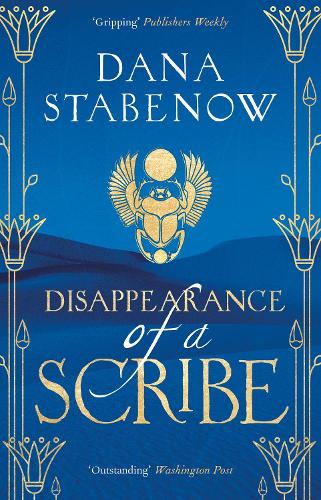 Rating: 9/10
'Stabenow brings Alexandria's Hellenistic period to life… She is now as much at home in ancient Egypt as she is in the Alaskan wilderness' Publishers Weekly ALEXANDRIA, 47 BC.
Cleopatra – seventh of her name, avatar of the goddess Isis, ruler of the Kingdom of Egypt – watches over her city. The war is over, but Alexandria, that once great beacon of learning and commerce, has suffered in its wake. Caesar has returned to Rome, and the queen must restore her city and her kingdom to their former greatness.
But now a body has been found floating upright at the bottom of the sea, anchored in place by a cement weight around its feet. It's the second corpse to be found this way in two years, and the queen is concerned.
With a city to rebuild and a kingdom to keep in line, Cleopatra cannot allow any more murders to interfere. So she sets Tetisheri – her Eye, her closest confidant and personal investigator – to make things right. As she delves deeper into the mystery, Tetisheri will discover secrets, conspiracy and danger far beyond her ken…
'Stabenow is blessed with a rich prose style and a fine eye for detail. Outstanding' Washington Post
'A first-rate talent… offering fine writing and keen humour' Booklist
'Gripping and adrenaline-charged… Surprising twists all delivered with Stabenow's razor-sharp suspense and gritty prose' Publishers Weekly
Review:
The disappearance of a Scribe is a vivid insight into the story of the Eye of Cleopatra, Tetisheri investigating the missing body of a young man, a scribe perhaps that had potential. Who or what this man was, I shall leave it to you to figure out. This is a fantastic book for worldbuilding in many ways, as it brings alive the Hellenistic World in a way that is often left out to mainstream readers. Alexandria in Cleopatra's time was one of the most vibrant cities of all time and was a cultural gateway connecting Romans, Greeks and other neighbours from different kingdoms. It was also the time of political warfare, espionage and Roman incursion that was ever-increasing into the Ptolemaic Kingdom as of this time.
You will experience a totally different world and through the eyes of Tetisheri, you will meet characters that although maybe thousands of years old to us, are actually just as common as those of us that live in the 21st century. Many times I was taken back by the vivid description of the Alexandrian city, as it provides much of the backdrop of the story. Tetisheri has to deal with many vibrant characters, some that are jealous, some that are conniving, and some that plan to get rid of her. What she uncovers, is a more sinister plan. Or is it really? Does the pursuit of corruption drive good men and women to cause evil acts? This is also a question worth asking.
I shall not reveal the plot, as this is an investigative crime thriller set in the Ancient World and I welcome such novels! We need more of this, and this book reminds me a lot of Colleen McCullough's novels. Great writing, great delivery, and great score. I really enjoyed my time with this book and can't wait to read more of this wonderful novel.