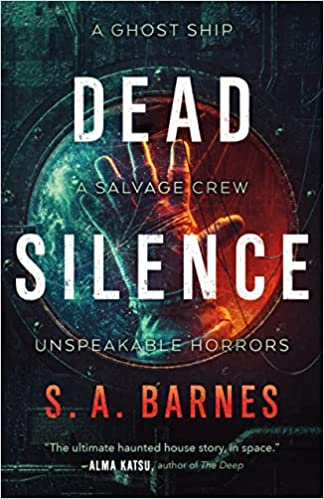 Rating: 9.5/10
Synopsis
A GHOST SHIP.
A SALVAGE CREW.
UNSPEAKABLE HORRORS.
Claire Kovalik is days away from being unemployed—made obsolete—when her beacon repair crew picks up a strange distress signal. With nothing to lose and no desire to return to Earth, Claire and her team decide to investigate.
What they find at the other end of the signal is a shock: the Aurora, a famous luxury space-liner that vanished on its maiden tour of the solar system more than twenty years ago. A salvage claim like this could set Claire and her crew up for life. But a quick trip through the Aurora reveals something isn't right.
Whispers in the dark. Flickers of movement. Words scrawled in blood. Claire must fight to hold onto her sanity and find out what really happened on the Aurora, before she and her crew meet the same ghastly fate.
Review
Dead Silence is author S.A. Barnes' lates release (and the first under that name, though the author has a whole portfolio of titles – mostly YA – under the name Stacey Kade). I thought this was a really good read, and it is exactly as billed: it's the Titanic in space but also murdery with a touch of reality TV vibes.
Space travel is boring. As a commweb maintenance team, we are used to it. A boring day is a good day. Boring is what we strive for. When things are exciting, someone is about to die in some new and horrible way.
This is one of my favorite tropes, and, while it is present in fantasy and other genres, we see it a lot in sci-fi novels especially: we were on an innocuous mission when we stumbled upon a really bad thing and everything went awry. I think this might be because space has been as of yet wholly unexplored and everywhere is so different from Earth that it is easy to imagine horrifying scenarios such as the one described in this book: helpless people trapped, dying in dreadful ways, floating aimlessly in space until someone comes along to find them. The crew that discovers them is not entirely innocent, though, as they make choices early on in the story that put themselves in difficult positions. This is an ongoing theme for the book, and I like the gray area it puts the characters in. It sets the tone early on that nothing in the story is black and white.

Not only is nothing black and white, but things are not really what they appear to be, either. The way the book is written, the sequence of events, history of the characters, and even the setting – it all leads to events and accounts being questioned. Even up until the end, I did not entirely know what was real and what was not. Forget gray, I felt completely in the dark most of the book, skeptical and distrustful of the story as it was being narrated. To be sure, in my opinion, this is a positive for the book. I love it when a book gets my brain spinning and suspends reality and forces me to spend my time reading and trying to puzzle out the truth. I would not say it is a mystery in a traditional sense, because it is not like there are bread crumbs left for the reader to find a killer. It is more about sorting out what is real and what is not, and that is not an easy task.

I absolutely loved some of the descriptions of the scenes, right down to the words scrawled on the walls. The tone was perfect; it felt like it was right out of a horror movie. The ways people died, what being in a spaceship for years has done to the bodies, it was all really interesting. And there is so much science involved regarding whether or not bodies decay and how, what happens to the different environmental areas of the ship, what happens to the food and water. It is all really well thought-out and intriguing. The other contextual piece is that the ghost ship was a luxury liner full of the rich and famous, which adds more layers to the story. The reader gets to see most of them frozen in their last moments, which is like having a lot of little stories within the larger narrative. I enjoyed how much depth was created with these different scenarios.

The other fascinating aspect is Claire's backstory. Claire is the main protagonist, and her history with issues in space permeates every scene. It affects her place and every decision she makes. It also comes into play as the events that took place on the luxury liner are being investigated. Claire is a great main character, and she really makes this story what it is.

This book had me hooked from beginning to end, but there is one thing that has been bothering me since I finished the book. There is an aspect of Claire's character that I do not recall being explained, and it is kind of big(ish) piece. As everything was unraveling and it was all coming to light, I was waiting for the rationale for a certain thing (I cannot tell you what the thing is because spoilers) to be told, and I do not think it ever was.

Dead Silence really wowed me. It is one of those books that gets its hooks in you early and you do not want to ever put it down because you need to know what happened. The writing is fantastic. Sci-fi fans who are not shy about dealing with dead bodies in space are definitely going to want to pick it up.