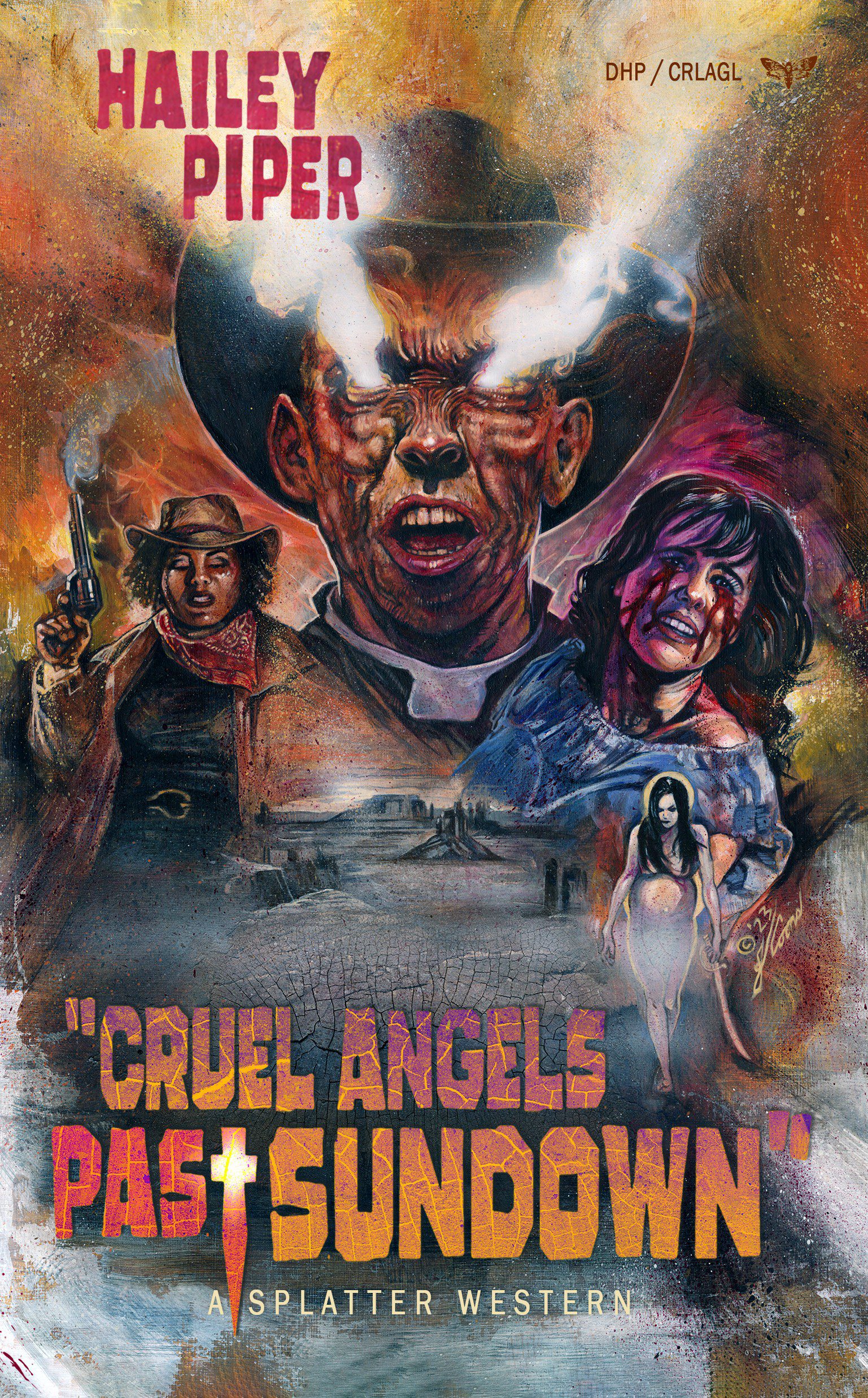 Rating: 8/10
Synopsis
New Mexico Territory, 1882: She comes to the Klein ranch at sunset, a strange naked pregnant woman dragging a cavalry saber. Annette Klein and her husband have built peace between their marriage and secret relations beyond, but their serenity dies in bloodshed tonight through a cannibalistic demon and a mad preacher. Annette barely escapes the bloodbath to the nearby town of Low's Bend, where she might find safety with a shotgun-toting barkeep, two no-nonsense boarding room ladies, and the gunslinging bounty hunter who's captured Annette's heart. But hell is at her heels. If she's going to survive until dawn, she'll have to forget everything she knows about peace and mercy, and face a hollow malevolence more ancient and ruthless than she's ever imagined.
Review
I have a healthy distrust toward a certain brand of religious horror, specifically possession stories and those that paint a cosmic battle between heaven and Hell. The Conjuring, The Omen, Supernatural: all of these come a little too close to the actual beliefs of certain evangelical Christians who speak unironically of "Spiritual Warfare," believe in a demon-haunted world, and see Satan as some mustache twirling villain who must be vanquished by Holy Fire. These stories can feel like the desperate fantasies of people who wish the world would just hurry up and end already.
The Exorcist, the demonic possession book par excellence, gets a pass purely by way of ambiguity, and in the end, that book is less about demonic possession than it is about the nature of belief. It refuses the smug assuredness of so much of its genre.
And at the other end of the spectrum are so many stories that I adore. In Michael Tolkin's 1991 film, The Rapture, Mimi Rogers' Sharon discovers that the biblical story of a cosmic battle is all true, right down to Revelation, and when she is offered her place at God's side, she heroically refuses. A god that would play that particular game is simply not worthy of her worship. Or consider Garth Ennis' Preacher. When the protagonist, Jesse Custer, is filled with a divine spirit, he decides the thing to do with his newfound power is to find God and kill Him.
These stories use the framework of this spiritual warfare to comment upon it, to investigate its assumptions. It also recognizes that true horror might just be waking up in the world imagined by certain brands of American Evangelical Christianity.
Hailey Piper's Cruel Angels Past Sundown (Death's Head Press) is a splatter western that, theologically speaking, would sit very comfortably in this latter group.
In the opening pages, Annette Klein looks up to see a naked, hugely pregnant woman wandering out of the desert. She is unable to speak, dragging a civil war saber after her. She appears to be the epitome of vulnerability, but when she kills Annette's husband and devours his inside with a long, inhuman tongue, that vulnerability appears to be a ruse.
It is not.
Piper's deeply humanistic narrative recognizes that often, those who cause harm are victims themselves, and Saber (as Annetter calls her) appears to have been impregnated by the Holy Spirit and, against her will, she is about to bring about the Second Coming.
At least that's the story according to Saber's father, Balthazar Wilcox, a mad preacher with a rather unique reading of the gospels. Think Judge Holden crossed with Night of the Hunter's Harry Powell. Balthazar brings his apparently deranged brand of Christianity into Slim's Respite, a tavern that acts as sanctuary for those who might not quite fit the territory's expectations. That is, it's a rendezvous point for the small cast of gay and trans characters who populate the story.
Beyond anything else the book goes on to do, this invasion of the Respite by Wilcox's fire and brimstone violence, along with the violent deadnaming of the people he finds there, is poignant and terrifying, but this story has just gotten started.
But there is another horror in that, at the end of the day, it appears that Balthazar might just be right.
Very little in the novel's first half will prepare you for what's in store, but to say it's a kind of mashup of The Dark Tower and Dante's Divine Comedy is no exaggeration.
Without spoiling anything, I will say that the climax, and Annette's absolute refusal to play along with the heavenly machinations, is so human, so life-affirming, and driven by such righteous fury, that it might just be something wonderfully surprising.
I just might be holy.