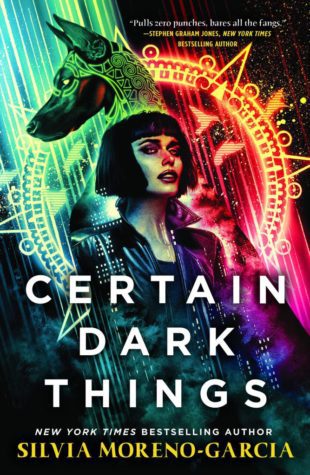 Rating: 8.5/10
Synopsis
Welcome to Mexico City, an oasis in a sea of vampires. Domingo, a lonely garbage-collecting street kid, is just trying to survive its heavily policed streets when a jaded vampire on the run swoops into his life. Atl, the descendant of Aztec blood drinkers, is smart, beautiful, and dangerous. Domingo is mesmerized.
Atl needs to quickly escape the city, far from the rival narco-vampire clan relentlessly pursuing her. Her plan doesn't include Domingo, but little by little, Atl finds herself warming up to the scrappy young man and his undeniable charm. As the trail of corpses stretches behind her, local cops and crime bosses both start closing in.
Vampires, humans, cops, and criminals collide in the dark streets of Mexico City. Do Atl and Domingo even stand a chance of making it out alive? Or will the city devour them all?
Review
Certain Dark Things is the new, sharply set, novel from Silvia Moreno-Garcia; it bares its fangs right away with action scenes in fast beats under the glow of the neon lights. It's what twilight would be if it was dark and riddled with bullet holes, if the vampire families were warring drug cartels, not welcome by the human ones that inhabit, run and rule Mexico City. This alternate reality where ten types of vampires will come for you in the night, or day, is sure to keep you gripped.
I was unsure when I was first presented with this book by the lovely people at Jo Fletcher Books (I mean, thanks a lot goes to Ella and the gang) because urban fantasies set on an alternate Earth aren't usually my jam, but I'm always open to new things where books are concerned. And let me tell you, I was not disappointed in the slightest. Quickly, the plot digs its talons in: we meet Domingo, a trash collector for a rag-and-bone man, who spots a very beautiful girl, with a genetically enhanced Doberman, and is entangled in a drug war/family feud with two great vampire houses.
While the plot is action-packed, intriguing, and full of vampire trivia – that at least applies to Moreno-Garcia's world – it's the characters that make it. Namely, Atl, a vampire girl on the run, and Domingo, the above-mentioned orphan who's almost out of friends and suckered into his chance meeting with a strange girl that likes drinking the blood of the young – though, that doesn't put him off. It's their relationship, from strangers, to vampire and Renfield … and further … that really pulled me into this story. I loved how the young naivety, but ever-intrigued, Domingo contrasted with the old-before-her-time, mature, vampire from a tribe of almost warrior-woman that spun eons. From one, Domingo's POV, you experience vampires as a new, wondrous, and slightly scary element; from Atl's POV you explore what it means to be a vampire, an outcast in a city that doesn't want you, a vampire in the long line of a species that has so much history. I did enjoy meeting them both and was sad to say goodbye. Also, we had Ana, a broke cop; Nick, a stereotypical vampire jackass … and his handler, Rodrigo. An eclectic mix of POV to say the least.
The world itself is startling in its sense of place; this added vampire history to our own world's seems to fit like it's the missing piece to our earthly puzzle as Moreno-Garcia cleverly uses old fables and myth from different cultures to fit the real vampires into their own spaces. We hear about vampires from all over the world, only two in detail – which made me want much more.
Overall, I loved this book and – while I love it enough, I want a sequel that explores other vampire families – thought it ended in the right place, wrapped the storyline up so well I wouldn't want to go back because it might spoil what I experienced. If you like vampires, neon-lights and cityscapes dappled in crime, this is the book for you.