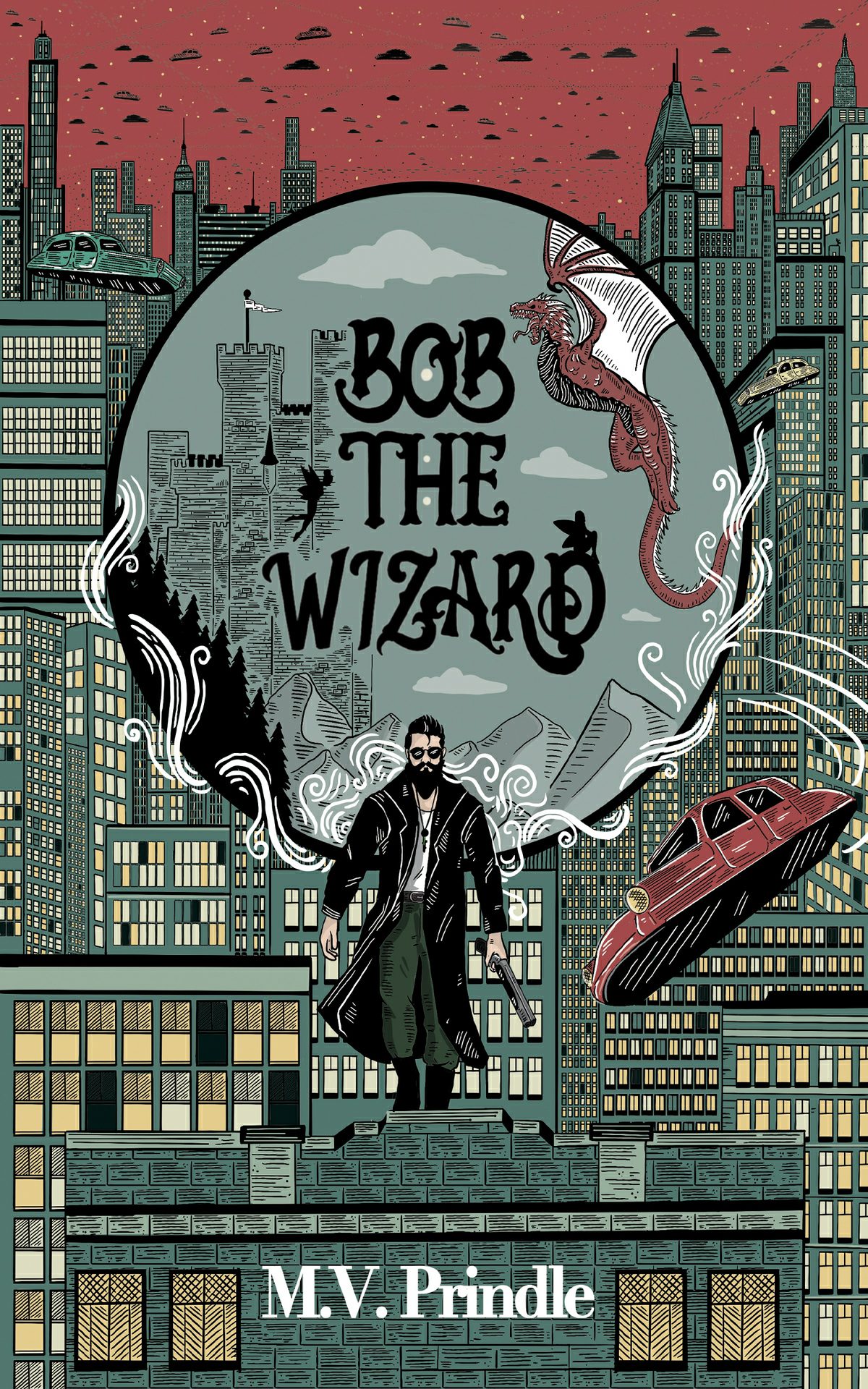 Rating: 9.0/10
Synopsis
Bob, a chain-smoking, foul-mouthed, shotgun-wielding ex-garbage man, chases his family's killer—the gray-skinned Galvidon—through the realms of the mysterious Astraverse. The trail leads him to Hub, a world in turmoil populated by wizards, blue elves, faeries, giants, dragons, and unfortunately, plain old humans. Chained by his addictions and haunted by his past, Bob must find a way through this dark, magical realm and uncover its secrets, or lose all hope of ending Galvidon once and for all.
See through the haze of smoke. Glimpse the dragon. Follow Bob across the Astraverse.
Review
Boom, what a fantastic debut book, Bob the Wizard by M.V. Prindle. Hopefully, this is the start of a new epic series, damn I couldn't get enough. Who wouldn't love to read about a grizzled, ex-garbage collector, chain pipe smoking, shotgun-weilding wizard.
Please, M.V. Prindle, gonna need more of Bob in the very near future. Bob the Wizard is a brilliant mix of sci-fi and fantasy beautifully intwind together to give us one of my favourite books of the year.
The cover of the book hooks you with its magnificents, and let me tell you, the story absolutely lives up to the cover with its amazing worldbuilding, plot, and setting, where our protagonist Bob travels the Astraverse bringing you new adventures across the worlds.
The author introduces you to an array of fantastic mixed diverse characters that you will love and hate. Fast-paced, action-packed full of twists and turns that will keep you turning the pages to find out what happens next.
Bob is a fun character that's full of witty dialogue that will have you laughing out loud. When I picture Bob the Wizard in my head, Billy Butcher from The Boy's series comes to mind and is lodged permanently.
In this book, Bob comes comes home from work to find two supernatural beings in his sitting room, one lying injured and dying the other standing over the bodies of his wife and son. The killer Galvidon suddenly disappears, leaving Bob dumbfounded.
When the dying being Rashindon, offers an explanation of what just happened to his family. He gives him an Astral gate key to go after Galvidon. Loaded with a shot gun, a pack of smokes, and a gate key, Bob sets off across the Astraverse, set on vengeance for his murdered family.
Absolutely awesome. If this sounds like it's right up your alley, then what are you waiting for? Check out this roller coaster of a read, very highly recommended…..😁🔥💀🧚‍♂️🧝‍♂️