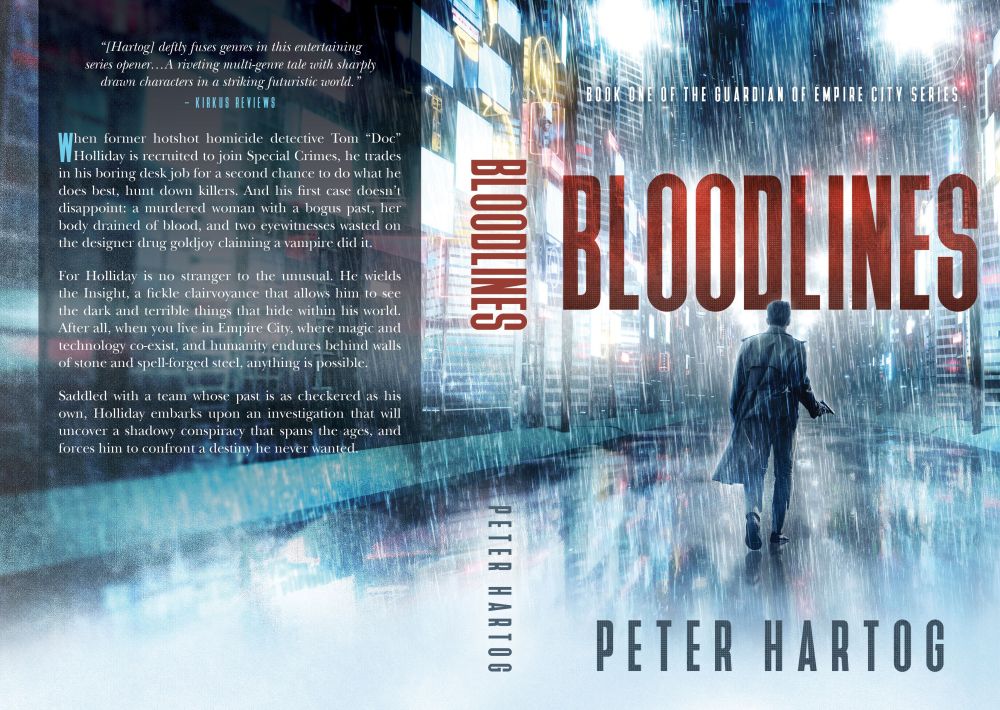 ---
Rating: 8/10
Synopsis
When former hotshot homicide detective Tom "Doc" Holliday is recruited to join Special Crimes, he trades in his boring desk job for a second chance to do what he does best, hunt down killers. And his first case doesn't disappoint: a murdered woman with a bogus past, her body drained of blood, and two eyewitnesses wasted on the designer drug goldjoy claiming a vampire did it.
For Holliday is no stranger to the unusual. He wields the Insight, a fickle clairvoyance that allows him to see the dark and terrible things that hide upon his world. After all, when you live in Empire City, where magic and technology co-exist, and humanity endures behind walls of stone and spell-forged steel, anything is possible.
Saddled with a team whose past is as checkered as his own, Holliday embarks upon an investigation that pits them against bio-engineered vampires, interdimensional parasites and the magical masterminds behind it all.
From nightclubs and skyscrapers, to underground drug labs and coffee shops, Holliday's search for the truth will uncover a shadowy conspiracy that spans the ages, and forces him to confront a destiny he never wanted.
Review
Bloodlines is a fantastic book to read with a coffee and listening to a TV soundtrack like the Expanse. Set in a futuristic Cyberpunk style of New York, it has everything that the reader would want. A gritty murder case set to reveal a disturbing truth, combined with gangsters and vampires. I've played a lot of sci-fi and dystopian video games. The Outer Worlds for one. Cyberpunk 2077. Deus Ex Human Revolution. Every element of this book brings me to that moment. Augmentation. The next evolution in human culture. Bio-engineered Vampires? Or something else? All of these themes are present within this novel. This is a society where cruelty and greed triumph over the greater good in the world that Detective Holliday lives in.
There are many interesting and colourful characters within the book. The world-building is well done and gives a unique perspective on how the normal world came to be this different universe. Nuclear War? Check. Interdimensional Aliens called the Vellans interacting with humanity? Check. Aliens doing weird stuff with Humans? Check. There are tons of moments where we'll be in a night-bar, posh hotels, street alleyways as Holliday tries to navigate this case. He's recruited of course by the Special Crime Unit, and bands up with Leyla, a unique character on her own whose backstory I won't spoil. She's an efficient hacker, a strong lady full of her own opinions, and is almost a daughter-like figure for Holliday. There's a Confederate character, whose name is Deacon and well he's the religious type. They all discover deeply disturbing truths. The book says what it does on the tin. You will be shocked, surprised, and even sometimes mind-boggled with the number of revelations this book offers you. I did not like the character of Besim, even though she is a Vellan helping Holliday out in this case, she's ruthless and is manipulative.
This novel feels like an open-world sci-fi video game. It could do very well as a tabletop campaign if it was ever made into one. There is so much to uncover in this story. I will say this, Holliday is like Detective Miller from the Expanse. Very similar in terms of what they have to face. I just find it like that as a comparison. There's a lot of influence from other sci-fi novels. One of the criticisms I have of this novel is that sometimes the world-building can get in too much. For example, in some scenes, we seemed to be visiting night-bars too often. Some scenes did drag, and some weren't needed. Apart from that, the prose was readable and smooth, easy enough for a reader to get engaged in the story. I also felt that the pacing to the climax felt a little stretched. Some scenes could have been shortened as well. However, for a self-published novel, this is a fantastic read.
I give this an 8/10. Well worth your time!