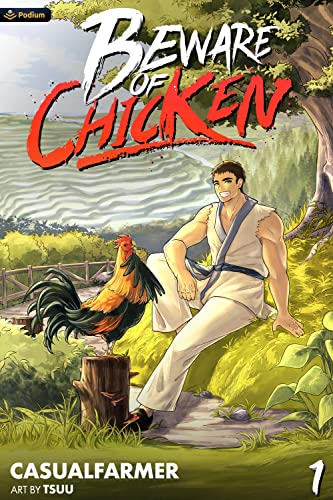 Rating: 8.5/10
Synopsis
Jin Rou was studying to be a powerful cultivator until his ass was beaten and killed by his fellow disciples of the Cloudy Sword Sect. I woke up in Jin's body mid ass-beating. The Before is a long way away but I want nothing to do with all this xianxia stuff.
I'm going to start up my own farm and live a quiet life. I'm real good at growing spiritual herbs and rice … oh and there's this cute girl in the nearby village called Mei Mei.
Yep, it's just me and my animals and –
Cock-a-doddle do!
Yeah, you tell 'em Big D.
Review
Fresh off the back of my slice of life cosy fantasy that was Legends and Lattes, I hopped straight to Beware of Chicken. Given an eBook and audiobook release after a successful run on Royal Road (Home | Royal Road – you're welcome!), Beware of Chicken is riding what seems to be the slice of life wave that's gathering speed.
You Tell 'em Big D
First off, my favourite thing about this book was the shifting between Jin's narrative and that of the Qi-enlightened animals of the farm. While Jin tends to his farm his animals discover their inner Qi and path to cultivation of power. These spirit animals on the farm grow the enlightened cultivation animal roster as the story sprouts and grows with each chapter. It's utterly bizarre but compelling.
Jin's colloquial nicknames (Big D for the rooster, Peppa for his pig etc.) are misinterpreted by the animals themselves into cultivator-appropriate ones like Bi De and Pi Pa. My favourite was the evil Basibushi, a fox Jin dubbed Basil Brush.
Bi De's sections are delightfully intense. His cultivation takes some real heady turns in an epic martial arts storyline. Heart-piercing spurs, moon-charged energy beams and asskicking are just some of the points of his arc. All in service to his great and powerful master, Jin.
Fa Ram
And that leads us to Jin. In a stark contrast to Bi De's story, Jin's sections of the book are Harvest Moon/Stardew Valley-like. Jin is an incredibly powerful hidden master yet finds joy in building his farmhouse and growing his crops. He feels responsible for the spirit animals that awaken under his care and helps them to reach their potential.
His story eases into cosy, slice of life, zen mode and stays there. It's an engaging and a stress-free counterbalance to Bi De's bloody cultivation path.
Jin is a wonderful character. His enthusiasm is infectious and he refuses to take things too seriously. His only focus is on the happiness that his farm gives himself and the other characters. It's so simple but so satisfying to follow him through his first year on the farm.
Beware of Chicken
I liked the way the book oscillated between different styles although this did lead to the book feeling chaotic in places, especially at the start. Bingeing the farm life sections with Jin only to be dropped into a Qi-fuelled rampage early on took some getting used to. Although, true to its farming central theme, the plot took time and allowed me to grow into the story.
But when you're hooked by a book, you're hooked and Beware of Chicken is a charming – while utterly bizzarre – read that you just need to experience to get it.