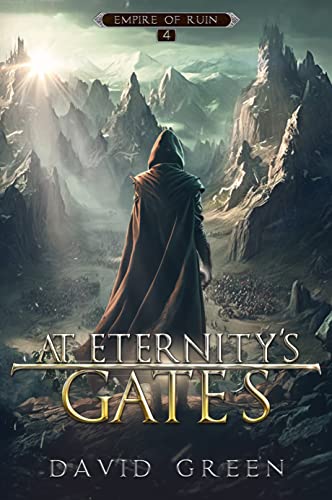 Rating: 9.5/10
Synopsis
THE EPIC CONCLUSION TO THE EMPIRE OF RUIN SERIES As a long-planned endgame begins, the future of Haltveldt balances on the edge of the slimmest of blades. Calene Alpenwood rallies her comrades against the spreading darkness, but faces overwhelming threats from both sides of enemy lines. The entity known as the Corruption, the living culmination of Haltveldt's millennia-long abuse of the Spark, approaches. And it hungers for Calene, dead or alive. Her allies, the former elven-renegade Brina al'Loria and the aged Sparker, Greton Bouseby, scramble to her aid, but Calene's plans for Haltveldt's salvation fracture her assembled friends' wills. Meanwhile, the Follower of the Dawn's mysterious goddess, the Widow emerges, her focus fixed on Calene, revealing her hand at last. But there is a wild card in play. The treacherous Raas has fled from the Banished, and Kade Besem gives chase, desperate to put an end to the conniving ancient's plans. For the Corruption and the Widow aren't the only parties interested in the power Calene Alpenwood wields… Nations unite, armies clash, and the past, present, and future converge in Haltveldt's final stand. Have Calene and her allies learned enough to chart a new path to a brighter existence? Or will it prove impossible to escape the weight of bitter memories and ancient grudges – dooming Haltveldt to descend into complete and utter corrupted darkness? It all ends At Eternity's Gates.
Review
Thiemea, that was droken bloody brilliant. What an ending to an amazing series and one of the best series I've had the pleasure of reading. Thank you, good Sir.
At Eternity's Gates is the fourth and final book from David Empire Of Ruin series. It's fast-paced, action-packed, full of twists and turns, that will leave you turning pages into all hours of the night.
Wow, I'm absolutely blown away, David Green has created a world for his readers to get lost in and emerse themselves in a world even if its the darkest of places, where war, dark magic, shawdows, and death look too consume all in its path.
But in the darkest of worlds, where there is light, there is always another way, love, friendship, and fierce will of determination of hope that will spit in the face of evil and hold back the darkness.
David Green continues to weave his magic with his brilliant prose and amazing storytelling and worldbuilding. The growth of his characters over the series is excellent, Calene, Brina, Kade, and Greton of Willow. Greton has become my absolute favourite character of the whole series, and and a favourite from across all fantasy worlds.
I'm saddened that this is the last book and will miss these wonderful characters immensely. I have loved every minute I have spent and the journey I have taken with them through the horrors, loss, and death they have suffered and witnessed throughout the whole series always with hope that they will prevail.
With devastation and destruction and darkness all across the major cities of Haltveldt, the leader of the Returned, death himself, the Corruption from the underworld has vowed to smother the Orb in shadow and death.
With his his army of shadow and dark mages in their hundred thousand strong, they march south to face a united foe of humans, elves, and the banished who stand in their way and will hold or die trying.
If they have any hope of survival, their leader, and most powerful weapon, Calene Alpenwood must travel north to the peaks of Eternity with a few of her companions to the loadstone, to win she must face the Corruption once and for all, her only hope is to end magic, but at what cost. Read it and find out.
Damn, to all fantasy readers who love dark worlds or just good oul storytelling at its best, then look no further, you will absolutely love David Greens Empire of Ruin series, it has it all. If you haven't checked out David Greens books yet, I very highly recommend that you do…..