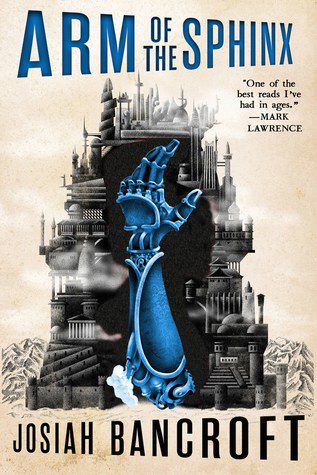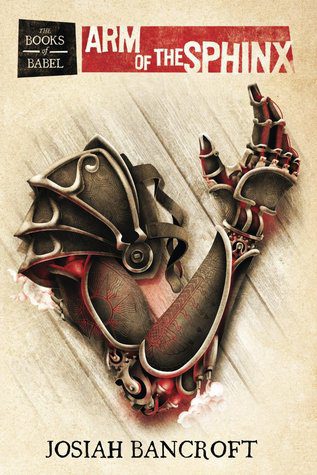 Genre: Fantasy/Steampunk
Publisher: Orbit (03/13/18); Self-Pub (04/09/15)
Paperback: 448 pages
Audiobook: 14 hours and 7 minutes
5/5 Stars
First off, I want to thank Hachette Audio, Libro.fm, the author, and John Banks for a listening copy of 'Arm of the Sphinx' in exchange for an honest review. Receiving this listening copy, in no way, shape, or form, influences my thoughts or opinions on the work.
Having said that, I did listen to this novel, for all intents and purposes, because the author mentioned he would clean my bathtub. I am still awaiting his arrival at my home as I need a tub so clean that I can eat off of it, though the reason behind this is still a mystery.
Beginning where we left off in Book 1, Senlin Ascends, we join Thomas Senlin and his misfit gang of pirates aboard their commandeered ship, The Stone Cloud. Still in search of his beloved Marya, Senlin is on a mission to re-enter the tower and find the next clue that will lead him to his wife. But of course, like in Book 1, there are many obstacles that lie ahead for Senlin and his crew: elaborate and oft-confusing ringdoms, a horde of hods, a persnickety librarian, and a strange individual called the 'Sphinx', known for his "steampunkesque" inventions found throughout the tower and who is, as Senlin understands it, the key to the tower and its secrets.
Though some of what made Senlin Ascends such a captivating read may not be immediately apparent in its sequel, Arm of the Sphinx continues to prove that Bancroft is a name that needs to be on bookshelves across America (and I don't just mean in bookstores or airports). The author has truly created an engaging and thought-provoking series thus far that blossoms with originality and heart. What really stood out for me in AotS was that we, the reader, are given the POVs of multiple characters throughout the story instead of just focusing on Senlin's ascension (see what I did there?). As fascinated as I was in Book 1 with Senlin's worldview and path to success, I was absolutely enamored with these new arrivals (especially Iren).
The world-building continues to be top-notch and the intricacies of each ringdom, no, each ROOM in the tower just explode with color and originality. The only thing I can compare this series to is Bioshock: Infinite mixed with a little Wizard of Oz (I know, that is probably a far-fetched comparison but it makes so much sense to me). There is just nothing out there like it and I simply cannot wait to return to the tower in a few short months.
I cannot end this review without giving a shoutout to John Banks. He truly brought Senlin to life in Book 1 and continues to give him a voice in this volume, not to mention the handful of other characters that he matched perfectly. He pacing is always spot on and I simply can't think of anyone else who could pull it off.
Overall, if you read Senlin Ascends, chances are you have already picked up AotS. If not, I highly recommend you do so. Bancroft is going to be a household name soon, and when he is, you'll be the one to tell everyone "I told you so".
Amazon | Audible | Barnes & Noble | Google Play | Kobo
-Review by David