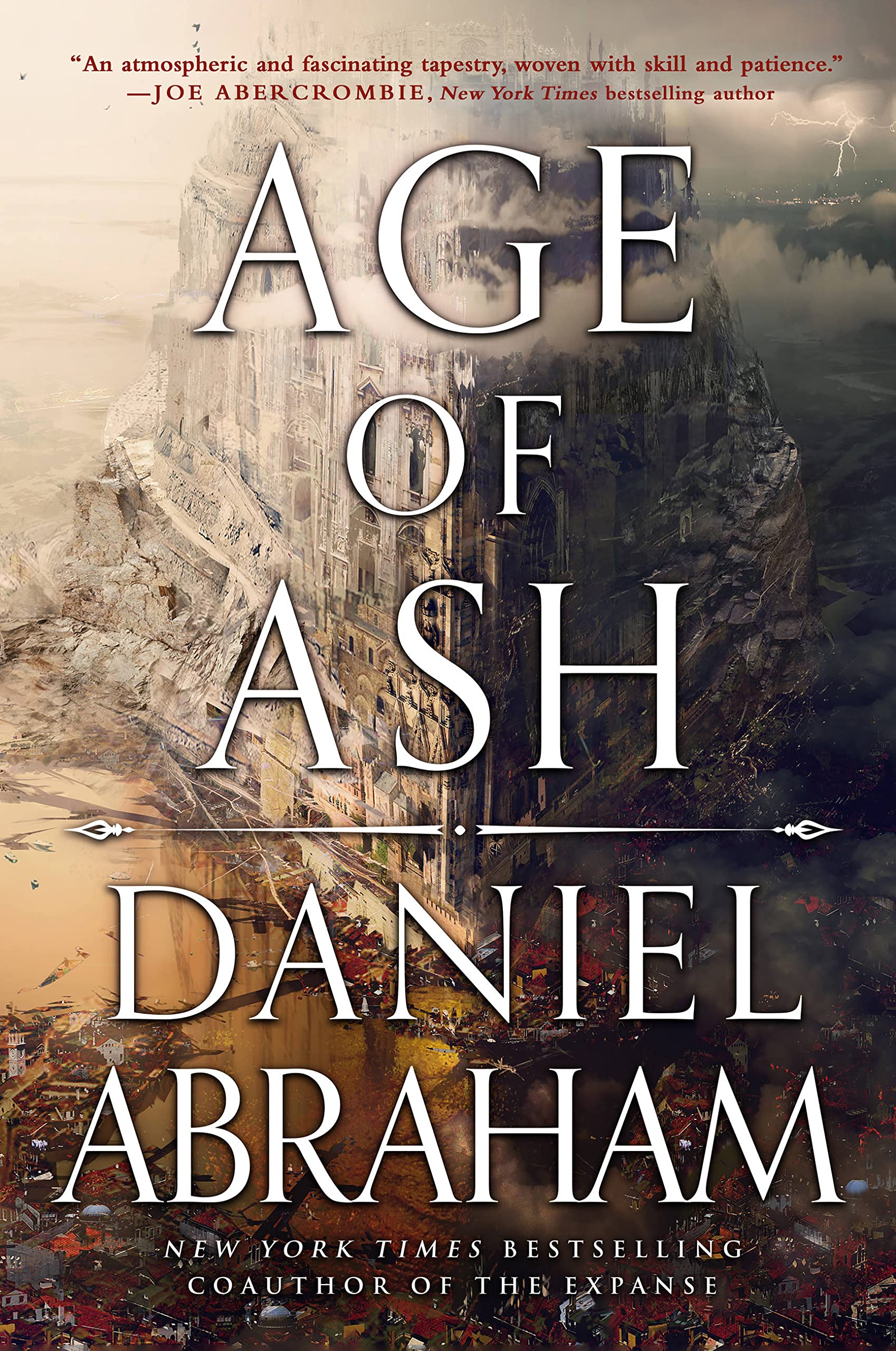 Rating: 9/10
Synopsis
From New York Times bestselling and critically acclaimed author Daniel Abraham, co-author of The Expanse, comes a monumental epic fantasy trilogy that unfolds within the walls of a single great city, over the course of one tumultuous year, where every story matters, and the fate of the city is woven from them all.

Kithamar is a center of trade and wealth, an ancient city with a long, bloody history where countless thousands live and their stories unfold. This is Alys's.

When her brother is murdered, a petty thief from the slums of Longhill sets out to discover who killed him and why. But the more she discovers about him, the more she learns about herself, and the truths she finds are more dangerous than knives.

Swept up in an intrigue as deep as the roots of Kithamar, where the secrets of the lowest born can sometimes topple thrones, the story Alys chooses will have the power to change everything.
---
Thank you to Orbit Books for sending me an ARC of this book for review consideration. This does not influence my thoughts or opinions. Click here to find out more about Daniel and his work, and click here to check out my one-on-one interview with the author.
---
Review
Two lowly thieves struggle amongst powerful factions in the city of Kithamar, as they deal with survival, grief and shadowy rituals.
As a lover of science fiction, I can appreciate the breaking of the status quo. Every so often, genres like cyberpunk or post-apocalyptic fiction came in to stir shit up and make it messier, so to say. But fantasy, I've found, is much more comfortable resting on its laurels—challenges to foundational fantasy conventions have been slower, and few and far between. In the last decade or so, though, the intention from authors to actively challenge fantasy's history has been growing.
Daniel Abraham's newest novel Age of Ash, book one in The Kithamar Trilogy, seems to do just that. It tackles the notion of "epic fantasy," questioning the epic-ness of it all and how big battles and a fast pace have come to dominate that landscape. But beyond that, Age of Ash is a heartfelt story that grounds itself in genuine characters in grim circumstances. What follows is a novel that is epic in its ideas and execution, but relatable in its perspectives and emotions.
At the center of it all are the main point-of-view characters: Alys and Sammish. They live in a destitute neighborhood in the sprawling city of Kithamar. The city is seemingly endless in its alleyways and architectural styles, but it also has divisions and complexities born from cultural and economic differences. Discrimination runs deep, and Alys and Sammish live on the unfortunate shit end of the stick. As a result, they and the people around them in their neighborhood run "pulls," robbing people to survive. These aren't thieves by nature, but rather by necessity. The only other option? Work small hustles for greedy folks, like collecting cans of piss at night for a tanner.
What is great about Age of Ash though, is that it was so down-to-earth in its approach to perspective. Alys and Sammish are scrounging at the bottom, and so too are we as readers—it gives a real bottom-up view of Kithamar. On top of that, both Alys and Sammish have unique personalities and, while both of them were dealt crappy cards in life, they navigate things in different ways.
This is where grief comes into play. Grief is central to their lives, stemming from different sources but hitting just as hard emotionally. I won't spoil anything there, as it provides the main thrust of the novel for both Alys and Sammish, but this believable portrayal of grief made me empathize and connect with the characters in a meaningful manner. I wanted to see how their traumatic spirals played out and I wanted to feel their pain, in a strange way.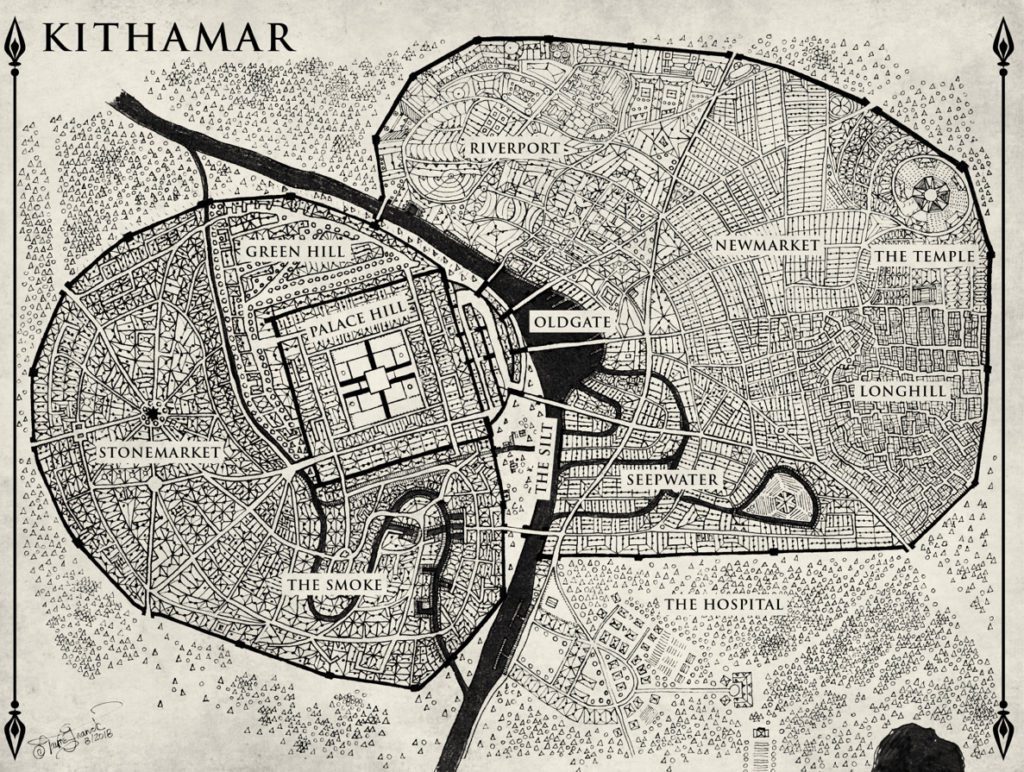 On that note, I will say that Alys' descent into grief was frustrating at times. She is straight up an asshole for a portion of the book, and my empathy for her floundered. It was during those sections that I leaned harder into Sammish. But thinking back on it, I realized that my disdain for what Alys had become was purposeful, and it represented something a lot of people go through when they are grieving: they are detached, unpredictable and often shitty to those who love them most.
Beyond Alys and Sammish, there are a ton of wonderful characters in Age of Ash, but the standout for me is the city of Kithamar itself. The city feels alive, with a rich texture to its organization and districts, cultures and commerce, food and drink. Then there are the politics and history of the matter, with those feeding into the city in a fantastic narrative feedback loop. It is also vital to the plot, which Abraham has deftly woven into the fabric of Alys' and Sammish's lives. There are political maneuvers, shady characters, assassination attempts, shadowy rituals and all manner of appetizing storytelling goodies to savor.
But that brings me to my biggest criticism, which is pacing. The story carries a heavy load, for sure, laying the foundation for an entire trilogy. Yes, Alys and Sammish are front and center, and the characters revolving around them fit well in their orbit, but there are noticeable lags in the flow. I felt myself plodding along during some sections, like the meandering river that flows through Kithamar's heart. But other times I would be thrust along in a beautiful rush of excitement. There was just something off at times with how the story progressed, but thankfully it didn't pull me out of the book or take away entirely from Age of Ash's true successes.
And what a success it is. After more than a decade co-writing the truly epic Expanse series with Ty Franck, Daniel Abraham delivers a powerful new solo work that redefines what epic can mean in the realm of fantasy. The stakes are more localized, and the perspectives intimate, but the potency of them rings true in the legacy of this genre. With a gorgeous and vivid setting, a history layered with darkness and mystery, main characters whose dirty, cold shoes I can and want to put myself in, as well as consequential moments of cutthroat action or violence, Age of Ash marks the start of something special. If Abraham's newest trilogy aims to twist some of the tried-and-true tropes in the fantasy genre, then it's off to a damn good start.