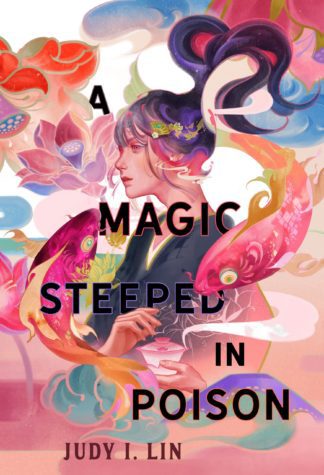 Rating: 8/10
Synopsis:
For Ning, the only thing worse than losing her mother is knowing that it's her own fault. She was the one who unknowingly brewed the poison tea that killed her—the poison tea that now threatens to also take her sister, Shu.
When Ning hears of a competition to find the kingdom's greatest shennong-shi—masters of the ancient and magical art of tea-making—she travels to the imperial city to compete. The winner will receive a favor from the princess, which may be Ning's only chance to save her sister's life.
But between the backstabbing competitors, bloody court politics, and a mysterious (and handsome) boy with a shocking secret, Ning might actually be the one in more danger.
Review:
Thank you to Titan Books for sending me a review copy!
Let's just say the second I finished A Magic Steeped in Poison I immediately pre-ordered the next one, and then debated if I could stand having non-matching editions, and therefore could get the US edition which is already released. I've decided to wait so my editions match but still… I need the next one now.
A Magic Steeped in Poison is a stunning YA fantasy, I loved that that magic is focussed around tea making and there's a whole section where Lin describes some truly heavenly-sounding foods. I can guarantee this book will have you desperate to try all the food it holds within its pages. It's safe to say Lin's writing is magical, and I found it so hard to put this book down.
Ning is a wonderful central character; she's breaking all the rules from the very start of the book and you're 100% behind her from that very first page. She's family-focussed and risks everything to try and save her sisters life. The friendships she creates at the palace, and the enemies she finds, are so central to why this book is so wonderful.
The ending is a cliff-hanger the likes I haven't seen in quite some time. You will be desperate to pick up the next one by the time you're finished. I highly recommend reading this beautiful book.