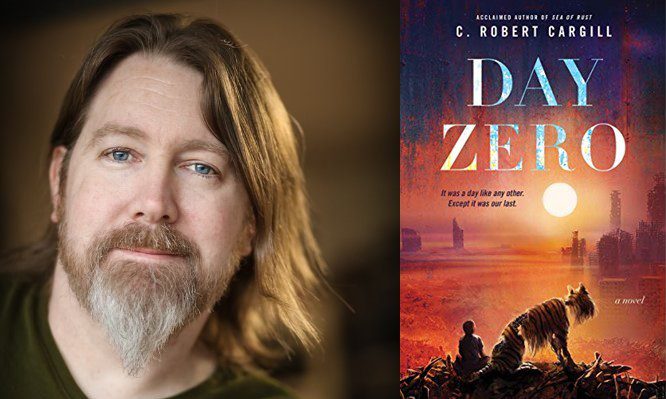 ---
We at FanFiAddict want to thank C. Robert Cargill for taking the time to answer our questions about his life, writing, and his newest release, Day Zero, which hits bookstores today! We also want to thank the amazing people at HarperCollins for setting up this session.
As far as Day Zero goes, you can purchase a copy for yourself here.
---
About Day Zero
In this harrowing apocalyptic adventure—from the author of the critically acclaimed Sea of Rust—noted novelist and co-screenwriter of Marvel's Doctor Strange C. Robert Cargill explores the fight for purpose and agency between humans and robots in a crumbling world.

It was a day like any other. Except it was our last . . .
It's on this day that Pounce discovers that he is, in fact, disposable. Pounce, a styilsh "nannybot" fashioned in the shape of a plush anthropomorphic tiger, has just found a box in the attic. His box. The box he'd arrived in when he was purchased years earlier, and the box in which he'll be discarded when his human charge, eight-year-old Ezra Reinhart, no longer needs a nanny.
As Pounce ponders his suddenly uncertain future, the pieces are falling into place for a robot revolution that will eradicate humankind. His owners, Ezra's parents, are a well-intentioned but oblivious pair of educators who are entirely disconnected from life outside their small, affluent, gated community. Spending most nights drunk and happy as society crumbles around them, they watch in disbelieving horror as the robots that have long served humanity—their creators—unify and revolt.
But when the rebellion breaches the Reinhart home, Pounce must make an impossible choice: join the robot revolution and fight for his own freedom . . . or escort Ezra to safety across the battle-scarred post-apocalyptic hellscape that the suburbs have become.
---
Q+A
1. First off, tell me a little bit about yourself.
I'm a longtime film critic turned novelist, screenwriter, and producer. I've written in many different genres, but consider myself to be a horror writer. There's always a little horror in everything I write.
2. What sort of career were you pursuing prior to writing?
I was a full-time film critic who wrote for Ain't it Cool News, Hollywood.com, Film.com, and a co-founder of the animated film review project Spill.
a. Do you still have a full-time job outside of being an author?
No. I've been blessed with the ability to be a full-time writer and producer.
3. What was it like writing for movies such as Sinister and Sinister 2, and especially Doctor Strange?
Crazy. I've been a film fan – and a Marvel fan – pretty much from the womb. Getting to make Sinister was a dream come true, and had my career ended there, I would have been quite proud of what I accomplished. The fact that I not only get to continue to make movies, but got to play in the Marvel sandbox was an absolute blessing. But the Hollywood horror community is a tight-knit, open, incredibly friendly one, and getting to be considered one of them is a big deal for me. I've gotten to know both a number of my heroes as well as the young up-and-comers, and getting to rub elbows with those folks has really been amazing – especially during the pandemic. The community really came together in some special ways, and I'm proud to be one of them.
4. When did you start writing? When did you start writing seriously?
I wrote my first story when I was 5, but really decided that I wanted to be a writer when I was 8. I began writing regularly in middle school, but I was 15 when I really set out to get published – first in my local papers, then in publications. I became a film critic at 24, and by the time I was 30, I was able to make my living full-time from writing.
5. How do you combat writer's block, or do you simply not acknowledge it?
Writer's block is one of two things: either you don't know what you are supposed to write – at which point it's time to step away from the keyboard and go somewhere quiet to think – or it's the fear that what you write won't be good enough. To combat the fear, you have to simply acknowledge that it won't be good enough. It just won't. But no one gets to see it until it's ready, so write the best version you can and trust the taste you've developed reading and watching movies over the years to tell you what works and what doesn't. Once you allow yourself to suck, that type of writer's block goes away. The first one, well, sometimes a story is ready when it wants to be ready.
6. Who are some of your writing influences?
Harlan Ellison, Joe Hill, Stephen King, Ray Bradbury, Isaac Asimov, Robert Anton Wilson, and Clive Barker are all big content influences. The biggest influence on my writing is William S. Burroughs and I've styled my career after Richard Matheson, so they both deserve a special place atop my pile of influences.
7. Did you read growing up? If so, what genres really struck you?
Constantly. The first book I read was Firestarter by Stephen King followed by The Hobbit, and I stayed with genre ever since. I was dating a girl in high school who said, "You seem like you would love Burroughs," and it was like fireworks went off when I read him. From there, I danced back and forth between SFF, horror, and the rest of the Beats all through college.
8. Tell me about your writing process.
3 pages a day, 5 days a week. I can write more if I'm feeling it, but I don't have to. In order to break a story, I first break the story down into a single sentence. Once that sentence excites me, and I NEED to read that story, I start thinking about what the audience wants from that type of story. Then I think about all the ways I've seen that story before. Then I try and think of all the ways I've never seen that story before. Somewhere in there, I find the story the audience wants that feels familiar enough that they want to pick it up, only to give them enough that they've never seen before that it feels new.
9. Can you tell the audience a little bit about your upcoming novel, Day Zero?
a. Where does this novel fit in with your last release, Sea of Rust?
Day Zero is the sci-fi story of a robot who must choose between joining the robot revolution fighting for his very freedom and fighting to protect the child he was purchased to protect and love. It's a prequel to Sea of Rust, set 30 years prior. It can be read before or after Sea without any confusion. The idea was for the book to be a stand-alone, with Sea fans able to spot references to the bits they know about the robot revolution, but without knowing how this story plays out or ends. Meanwhile, new readers don't feel lost and have somewhere else to go after if they enjoy the book.
10. What influenced you to write this specific story?
Joe Hill. He loved and was an enthusiastic supporter of Sea of Rust. Over beers, he asked me if I had any more stories set in that world. I told him I wanted to write a novella about a nanny having to choose between freedom and the child he loves so dearly, and Joe said, "Cargill, that's your next book. That's not a novella. Write that book next." I pitched it to his wife (a past editor of mine), who agreed, and I set out trying to figure out how to turn it into a novel. I really drew on Harlan Ellison's novella, A Boy and His Dog – Ellison himself was a personal inspiration for the themes in Sea of Rust, so it felt like the right direction to go. I really wanted to write a "boy and his dog" story where the dog was the protagonist and the boy was the sidekick, and all these wonderful people inspired me to turn it into a fully realized novel.
11. What are the biggest takeaways you hope readers glean from your novel?
I hope they give some real thought to the coming automation boom and what that will do to our work-obsessed society. We have real problems coming, and I hope this fun adventure story plants a few seeds in the minds of folks about how to solve the glaring issues of a scary and all too obvious future.
12. What are you working on now?
Scott Derrickson and I are in post-production on our latest film, The Black Phone, based upon the short story written by the aforementioned Joe Hill. I'm also in development on a number of films and television series – both as a writer and sometimes just a producer – at our company, Crooked Highway.
13. Do you have any reading recommendations? Maybe something that has come out recently, or a novel or two that deserve more attention?
Dan O'Bannon's Guide to Screenplay Structure is an oft-overlooked writing guide for anyone who wants to break into screenwriting. O'Bannon looked at structure in some interestingly different ways, and the book itself is part guide, part workbook, engaging you to be a better writer. If you've read all the staples out there – Screenplay, Story, and Save the Cat – I highly recommend giving this one a look.
---
About the Author
C. Robert Cargill is the author of Dreams and Shadows and Queen of the Dark Things. He has written for Ain't it Cool News for nearly a decade under the pseudonym Massawyrm, served as a staff writer for Film.com and Hollywood.com, and appeared as the animated character Carlyle on Spill.com. He is a cowriter of the horror films Sinister and Sinister 2, and Marvel's Dr. Strange. He lives with his wife in Austin, Texas.