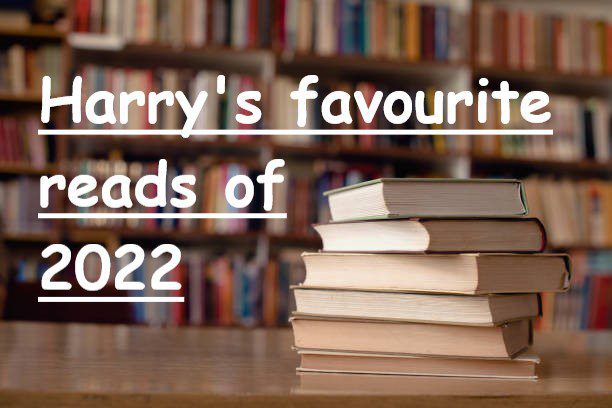 So 2022 was something wasn't it? It was definitely a year that has existed in the time space continuum. Anyway, before we finally say "buh-bye" to that shambles of trip around the sun, here are my 10 (technically 11!) favourite reads of 2022!
But first, let's look at some of my stats for the year:
I read 40 books in 2022, which for me is great as usually I get around 30. I wasn't able to read at all from the end of October until the Christmas break, so that hindered my reading/bookish time. I read 15,751 pages in total, and gave an average of 4.6 out of 5 stars to all books I read. In fact, with one exception, I thoroughly enjoyed my choice of reading materials this year!
Compare these stats to, say, Lord TBR himself, who read 9001 books, 8563912 pages and listens to books on 16x speed, it doesn't sound that impressive. By the time you've finished reading this sentence, he would have started & finished the entirety of the Wandering Inn series.
And now, some honourable mentions:
We Are The Dead by Mike Shackle was an action-packed, fast-paced, tense thrill ride through a grimdark land oppressed by an invading army of ruthless killers & demons. Blood, bodies and brutality are on every page, and I'm excited to get to the rest of the trilogy.
Senlin Ascends by Josiah Bancroft is a literary fantasy masterpiece set in (what I believe to be) a steampunk world of airships, top hats & one proper big tower! We barely scratch the surface of the Tower, it's wacky machinations & the crazy inhabitants that dwell within, but what we do see is both memorising & dreadful.
The Hunger by Alma Katsu is a retelling of the Donner Party tragedy with a supernatural twist. I was gripped by the slow burn, the creeping sense of dread & darkening atmosphere throughout, but the end was a bit abrupt.
Mexican Gothic by Silvia Moreno-Garcia does what all good gothic horrors do best; it succeeds in being creepy as hell, strange & almost ethereal at times; has an engaging mystery at its centre & a solid cast to boot.
Books of Blood (Vol. 1) by Clive Barker stands the test of time by being weird, cinematic, meaningful &, of course, bloody. It's a shame that, for whatever reason, Clive Barker seems to be mostly out of print in the UK, because I would have snapped up his whole bibliography by now!
Essex Dogs by Dan Jones is a book so hyper focused on its main crew of misfit characters that there isn't much of a plot. Instead, we follow along on this compelling march into 14th Century France as the titular team face the worse version of themselves, their superiors and those around them.
And finally…
THE TOP TEN(ish)
The Troop by Neil Cutter is body horror at it's absolute finest, full of so many disturbing twists, disgusting turns, and the best depictions of gruesome bodily mutilations & descents into madness I've ever read. Following a troop of boy scouts on their annual getaway to a remote island off the coast of eastern Canada, the thing that gets me with this one is it feels like something that could happen. Without spoiling things, the manner of being which causes all these horrific things to happen is something that could be plausible (as far as I remember), and it worms its way into your own psyche, making you paranoid that every itch on your own body is the infection manifest off the page.
Promise of Blood by Brian McClellan is what you get when you smash together the French Revolution, a brilliantly cinematic hard-magic system, and cocaine. The things that McClellan does in the first half of this book are what you would expect from the end of a story, or even an already established series; a high stakes novel in an second or third book. You're immediately thrown into this tumultuous world, this time of great upheaval and change, and when I say that it grips you from chapter one and refuses to let go until the end, I really mean it! Looking forward to getting to the rest of trilogy (and possibly the sequel trilogy) this year.
The Passage by Justin Cronin is a thicc end-of-the-world epic of unexpected scale. If you know me, you know I love apocalypse/post-apocalypse fiction (The Stand, Swan Song, Station Eleven, The Walking Dead, The Last Of Us; if the world is ending, count me in!). The back of the book barely gives away any information, but I found going in blind made the experience wholly enjoyable & surprising. Is The Passage slightly bloated? Yes it is, but only because Cronin likes for the reader to marinate with each character and experience their lives. But if you love The Stand, I think you'll find a lot to love here!
The Hunger of the Gods by John Gwynne is exactly how you do a sequel. You raise the stakes, increase the scale, develop the characters in new and interesting ways, make the fights bigger, better & more badass, and then you leave us in a pit of despair come the turn of the final page, hungry for just one more chapter. Gwynne does it like no other, and I'll be first in line for the final book of the Bloodsworn saga when it releases!
The Justice of Kings by Richard Swan & Xenos by Dan Abnett share this spot simply because, on paper, they have similar building blocks. Both follow high ranking lawmen in an imperialistic world who utilise their keen intellect & detective skills to get the job done; use supernatural powers including the ability to talk to the dead & compel the living to their will using their "special" voice, and, if all else fails, rely on their brilliant fighting skills to get the job done. Both men are accompanied by a clever bruiser & a young ward whom they'd saved and taken under their wing, and both stories follow them as they investigate a conspiracy that could lead to the heart of the Empire. They also share one other thing: both are bloody brilliant! I'm being a bit tongue in cheek with this, as both books are completely different experiences and both deserve to be experienced as their own separate beasts. The Justice of Kings was one of the biggest debuts of last year and made some big waves in the SFF bookish community, and due to the ever increasing popularity of Warhammer 40,000 (with help from Superman himself) it's about the right time for people to jump into the behemoth that is the 40K universe (Xenos being one of a few great starting points for those interested in that world). Both books go hand in hand, and if you like one, I'm sure you'll like the other!
Empire of the Vampire by Jay Kristoff is the Bloodborne book I always wanted. I love Bloodborne. It's dark, brutal, poetic, otherworldly, full of beasts, blood, the occult, gothic themes and an atmosphere that drips thickly drop by drop from each moment. The fights are amazing, writing top notch and characters enthralling! Anyway, Empire of the Vampire is also all of these things, told in a "Name of the Wind" style where our main protagonist, Gabriel de Leon, recounts his engrossing life story to a chronicler. It's a doorstopper of a novel and does take about 50 pages to gel with the storytelling style, but once it has its teeth into you, you simply won't stop reading!
Daughter of Redwinter by Ed McDonald came as a surprise to me. I had heard that it has heavy vibes to a popular author whose works I had never gotten on with, so I was tentative about it. I shouldn't have been, as McDonald's beautiful prose, along with one of my favourite and most "real" feeling protagonists I have read all year in the form of Raine, kept me hooked until the very end. An emotional tale of depression & mental health, self worth & becoming the best version of yourself, this is a must read for anyone looking for how to do mystical first person tales right.
Tender Is The Flesh by Agustina Bazterrica genuinely made me give up meat for a few months. To this day, it makes me cringe when I eat beef. This story is told so matter of fact, with some of the most disturbing images I've ever come across in horror, that it makes it all worse the whole read through. Go into this as blind as you can. It is a disgusting book but it's so well told that you can at least appreciate it. And once you're finished, that vegan diet won't look so unappetising any more.
Recursion by Blake Crouch is my favourite of his sci-fi works. I knew nothing about this one, other than I had enjoyed Dark Matter & Upgrade. For me, Recursion sits on top of this golden hill. Just please go and read it (or listen to it, the audiobook was fantastic!) if you like mind-bending sci-fi thrillers. An exciting novel that'll melt your brain.
Babel by R F Kuang is quite simply one of the best books I've ever had the pleasure of reading. It touches deftly on Imperialism, Colonialism, translation, race, racism, sexism, elitism, revolution, betrayal, language, philosophy and more. This is the type of book that they should be making people study at school, it's just that layered. A perfect novel and a must read for everyone!
So there you have it, my favourite books of 2022! What were some of your favourites? Please feel free to chat to me on Twitter about your favourite reads or anything else bookish!