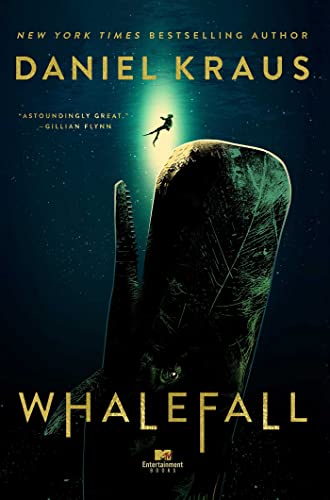 Rating: 9.5/10
Synopsis
The Martian meets 127 Hours in this "powerfully humane" (Owen King, New York Times bestselling author) and scientifically accurate thriller about a scuba diver who's been swallowed by an eighty-foot, sixty-ton sperm whale and has only one hour to escape before his oxygen runs out.

Jay Gardiner has given himself a fool's errand—to find the remains of his deceased father in the Pacific Ocean off the coast of Monastery Beach. He knows it's a long shot, but Jay feels it's the only way for him to lift the weight of guilt he has carried since his dad's death by suicide the previous year.

The dive begins well enough, but the sudden appearance of a giant squid puts Jay in very real jeopardy, made infinitely worse by the arrival of a sperm whale looking to feed. Suddenly, Jay is caught in the squid's tentacles and drawn into the whale's mouth where he is pulled into the first of its four stomachs. He quickly realizes he has only one hour before his oxygen tanks run out—one hour to defeat his demons and escape the belly of a whale.

Suspenseful and cinematic, Whalefall is an "astoundingly great" (Gillian Flynn, New York Times bestselling author) thriller about a young man who has given up on life…only to find a reason to live in the most dangerous and unlikely of places.
Review
I picked up Whalefall by Daniel Kraus anticipating a fast-paced, action-packed thriller of a horror novel set in the depths of the ocean, something in the vein of Jaws. While this book contains features of that expectation, I found so, so much more. Jay Gardiner, age seventeen, sets out to recover the remains of his father, Mitt, at sea after he commits suicide. As indicated by the title and cover of the book, Jay is faced with circumstances that defy the odds, being swallowed by a sperm whale. However, this is not the greatest adversary Jay faces; rather, it is the weight of the relationship he once held with his larger-than-life father.
Going into this book with minimal details beyond what's on the dust jacket, I was immediately thrown into the stormy seas of Jay's emotional battle. Kraus' atmospheric writing envelopes you (not unlike Jay in the belly of a whale) in the emotional turmoil left in the wake of Mitt Gardiner, a man who held his son under relentless scrutiny but refused to play by society's rules. I found myself experiencing such strong empathy with Jay who is trying to make sense of and measure up to his now-deceased father. This herculean task is not unlike that of escaping the bowels of a whale. I was expecting a hardcore creature feature, full of action and reckless abandon, but instead, this novel delivers an emotional punch almost as large as the sperm whale itself. The writing in this book truly grabs hold of you and does not let go. I felt physically "heavy" as Jay dons not only his diving equipment but the trauma he experienced in his family by returning to the ocean one last time to bring his father home.
The pacing of this book is wildly fast and gripping with most chapters titled as the PSI (amount of air) left in Jay's oxygen tank. This creates an increased sense of urgency and peril throughout the novel without much reprieve. Pages flew by. As a reader, you are running out of air with Jay. Other chapters are titled by year (not in chronological order) to revisit Jay's childhood, introducing the idea that time is not as linear as it seems. Could this be due to delusion under Jay's current situation or is it a nod to the essence of generational trauma? One of the most impactful quotes from this book (and there are PLENTY) is the following:
"A single life is nothing but a spark. The explosion is everything after death, the generations of reverberation. Every consumed morsel of your body, your wisdom, your kindness, your art, is another bid for perfection, a chance to get it right this time, or next time, or the time after that. There is no death."
This book is a horror novel that spans many subgenres and conflicts. If you're looking for a book that thrills you with the need for survival, it checks that box. If you're looking for an emotional journey to better understand your parents, this book also checks that box. If you want to ponder the vastness of the universe from the viewpoint of the belly of a whale, you guessed it, the box is checked. Daniel Kraus' gory descriptions that make you wince coupled with Jay's grit and determination needed to survive this whole ordeal, physically and emotionally, provide a dramatic tale that is not only entertaining but moving. There's no lack of predatory creatures, action, and "Oh my god, I can't believe this is happening," moments. The writing is superb, and this feels as though it's one of the best books released this year. It won't be leaving my mind for a very long time.