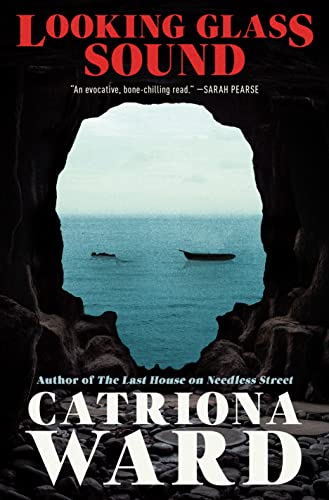 Rating: 10/10
Synopsis
16-year-old Wilder Harlow is determined to fall in love this summer. Friendless at school and bullied for his differences, Wilder hopes that a family holiday away will be the fresh start that he needs. Staying in a quaint little cottage overlooking the sea in Whistler's Bay, Wilder forges bonds that will impact the rest of his life. Yet Whistler's Bay is not all that it seems. The spectre of the mysterious 'Dagger Man' terrifies the locals and looms over Wilder and his friends Harper and Nat, threatening to ruin more than just their summers, but their entire lives.
Review
Where to even start with this one. Looking Glass Sound is such an intricate and slippery beast that I think the only way to describe it spoiler free is through imagery. Catriona Ward's novel has much in common with the setting at the heart of the story – the seaside. Looking Glass Sound is a vast landscape of mystery, darkness and danger. It is layered like the constant thrashing of waves that race to the shore, intermingling with each other to create something greater than the sum of its parts. There are so many different strands to the book that are difficult to discuss without revealing the answers, but Ward works best this way. Looking Glass Sound is a voyage through the unknown and that is exactly how it should be.
The main aspect of the book that really stuck out to me in reflecting on the story was its horror. Catriona Ward has never been one for shying away from the darkness but this book in particular really flexes her natural ability to frighten as well as disturb. Ward blends sea and body horror to create some truly ghastly images. If you were not afraid of the ocean (or degloving!) before reading this book, then you certainly will be afterwards.
Whistler's Bay is the perfect setting for the story that unfolds. It is quiet and it is beautiful, but it is not a great surprise to discover that it also has an underbelly of dark secrets. For every picturesque view there is a gust of whistling wind that sounds awfully like a scream; for every sunset there is a cluster of hemlock, poisonous and waiting. The first 50 pages or so very much reminded me of Stephen King's IT in the beginning of the story's 'coming of age' narrative. Ward wonderfully captures the feelings of freedom, longing and lost time attached to being an adolescent in the summer, and the wistful nostalgia and fragmented remembrance of childhood as you grow older. When Wilder and his friends meet, nothing matters but the present, everything fading into the background. The first 50 pages are about companionship and the escapism we feel when spending time with the people we love. It is a heartwarming opening in a stunning setting, but it is always bittersweet. Looking Glass Sound questions the reliability of memory and nostalgia, it leaves you with questions such as what do you do when the only time in your life when you felt true happiness ends in disaster? The story of Wilder Harlow throughout the rest of the novel is very much an answer to that question.
Looking Glass Sound is about grief and its lifelong process. 'Moving on' is not a simple process and at the heart of this book is a chronic inability to move on from the past, for better or worse. Ward's novel is a collection of stories within a story. It has memoirs and fiction novels all interweaving to create this final product, and yes, it is as confusing as it sounds, but it is also oh so rewarding. What each story (within the story) has in common is the power to keep memories alive, whether that be for the betterment or detriment of the characters involved, and we as the reader are dragged along for the ride, confused yet utterly entranced as the story's secrets reveal themselves.
Looking Glass Sound is a seaside painting charred at the edges. It is messy and yet it is beautiful in its own special way. You will feel helpless and dumb at times, as if you have missed something important or truly misunderstood what is going on. That is ok. As Wilder's friend Harper aptly puts it: 'books are cages for monsters', and this monster will lull you into a false sense of security, play with you, betray you, and just when you think you finally have it beat, it will pull you down into the depths of hell with it.