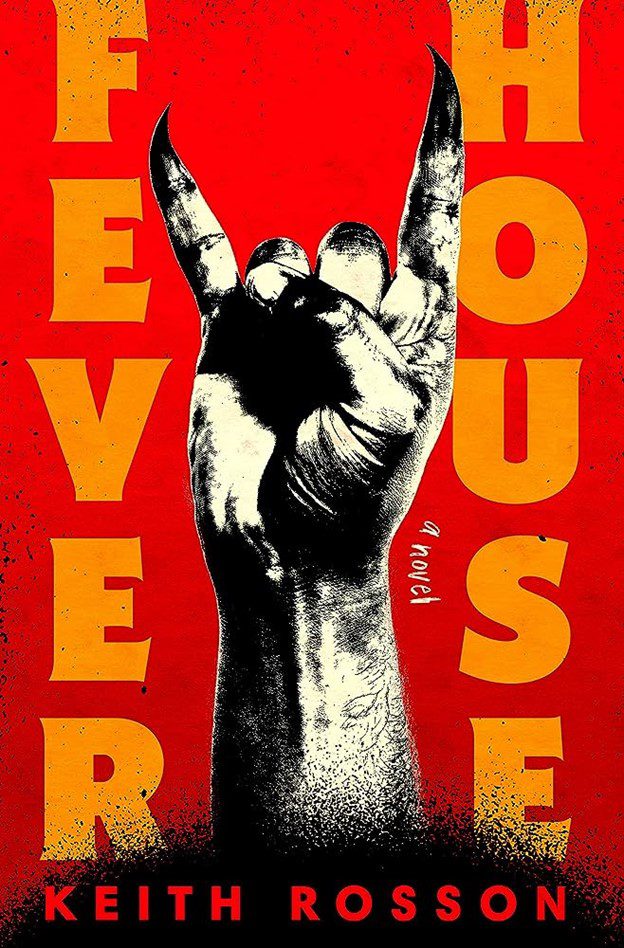 Rating: 9.0/10
Synopsis
A small-time criminal. A has-been rock star. A shadowy government agency. And a severed hand whose dark powers threaten to destroy them all.

"The unsettling darkness of Joe Hill meets the cryptic mystery of The X-Files, Fever House is a wild ride through a funhouse apocalypse that will stick to your mind like clotted blood."—Delilah S. Dawson, New York Times bestselling author of The Violence

One of NPR's Most Anticipated Books of the Summer

When leg-breaker Hutch Holtz rolls up to a rundown apartment complex in Portland, Oregon, to collect overdue drug money, a severed hand is the last thing he expects to find stashed in the client's refrigerator. Hutch quickly realizes that the hand induces uncontrollable madness: Anyone in its proximity is overcome with a boundless compulsion for violence. Within hours, catastrophic forces are set into motion: Dark-op government agents who have been desperately hunting for the hand are on Hutch's tail, more of the city's residents fall under its brutal influence, and suddenly all of Portland stands at the precipice of disaster….

But it's all the same for Katherine Moriarty, a singer whose sudden fame and precipitous downfall were followed by the mysterious death of her estranged husband—suicide, allegedly. Her trauma has made her agoraphobic, shackled within the confines of her apartment. Her son, Nick, has moved home to care for her, quietly making his living working for Hutch's boss.

When Hutch calls Nick in distress, looking for someone else to take the hand, Katherine and Nick are plunged into a global struggle that will decimate the walls of the carefully arranged life they've built. Mother and son must evade both crazed, bloodthirsty masses and deceitful government agents while exorcising family secrets that have risen from the dead—secrets, they soon discover, that might hold the very key to humanity's survival.
Review
When asked (I'm never asked), I'm happy to share that William Gibson is perhaps my favorite living prose stylist. Gibson's sentences are razor sharp, crystalline, and muscular, while still remaining beautiful. Gibson stacks these diamond sentences one atop the other and builds whole sprawling worlds.
There's more than a little of that Gibson-like prose in Keith Rosson's powerhouse novel Fever House. Many things propelled me through this awesome, violent wonder of a book, but I wanted to take a second to acknowledge that at least one of those things was the tight, unsparing, often beautiful prose.
The conceit of the book is simple enough on its surface. Two mob enforcers go to rough up a junkie for the money he owes their boss. The junkie won't leave without what he's got in the freezer. What he has in the freezer is a severed hand that affects everyone in its immediate radius with a "blood fog," feelings of anger and violence that might be turned against others or one's self. Our enforcers take the hand. Things go very, very badly.
It turns out that the hand is just one "asset" that was, until very recently, owned by a government shadow agency that uses any number of these supernatural items (and creatures) to gather intelligence. Or maybe it's all to consolidated the power of agent Lundy, the sadistic head of this organization bent on retrieving the hand before all hell breaks loose.
All hell breaks loose.
The opening chapters of Fever House give the reader a distinct feeling of being pulled roughly along by the hand. Short chapters, multiple points of view, and constant brutal action moves everything forward at a propulsive speed.
But about a hundred pages in, rather than being propelled forward, the reader is dropped down a hole. This hole is filled with deep characterization, lore, and intricate connections undreamed of in the opening of the novel. Characters introduced, one suspects, to move the plot forward, that is, to deliver a cursed hand to its next owner, becomes the center of the story, this story spidering out in a hundred directions, in a novel that contains plenty of violence but also family connections, riffs on punk music, psychics, fallen angels, and a city (Portland, Oregon) that has descended into violent chaos.
Rosson's similarities in prose is not the only connection to William Gibson either. In terms of world building, Fever House, just as much as a sci-fi epic like Neuromancer, drops us into a world that is alien and new, and just lets that world unspool before us. There also happens to be lots of espionage, hackers, and clandestine meetings with salt of the earth people who just happen to have their ear to the pulse of a shadow world that no one suspects exists.
All of this resolves, or refuses to resolve, into something like a zombie apocalypse, but this apocalypse looks eerily familiar. The moment that Portland police are firing at civilians with live ammunition, all while cracking jokes, the parallels to the real-world turmoil of recent years is cemented. The world of Fever House is much like our own: organized and policed by sadists and fools, while the populace is fed a thousand and one poisonous transmissions.
In the end, Fever House is a story about a family torn apart, about trauma and grief, all coated in a sticky-sweet coating of blood and gore. It goes down smooth.