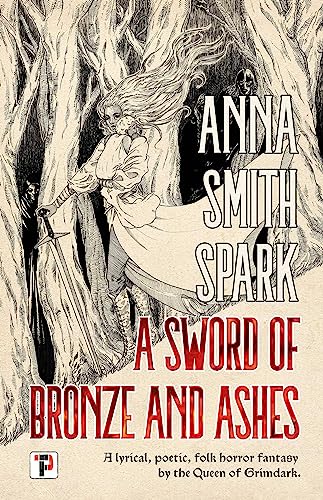 Rating: 10/10
Synopsis
Readers of Shauna Lawless and Thilde Kold Holdt will love this Celtic-inflected adventure by critically acclaimed, grimdark epic fantasy novelist, Anna Smith Spark.

A Sword of Bronze and Ashes combines the fierce beauty of Celtic myth with grimdark battle violence. It's a lyrical, folk horror high fantasy.

Kanda has a good life until shadows from her past return threatening everything she loves. And Kanda, like any parent, has things in her past she does not want her children to know. Red war is coming: pursued by an ancient evil, Kanda must call upon all her strength to protect her family. But how can she keep her children safe, if they want to stand as warriors beside her when the light fades and darkness rises?
Review
Can we talk seriously about books for a moment?
I love books. They take me on the grandest of adventures. They make me laugh and cry and wonder how it's possible for other people to live and endure in the most dangerous of places.
I am sure it is the same for you.                                  
But how often does a book truly take your hand and pull you down the rabbit hole?
How often do you land into new concept, a new world even, to somewhere that you previously could never have envisaged?
Seldom is my answer.
That is not to say that other books cannot be amazing and brilliant, because they are – but I'm not simply talking about brilliance, I'm talking about imagination.
When I read The Lord of the Rings for the first time, it was Tolkien's imagination that blew me away. Yes, it is inspired by various Celtic mythologies, but even so, the story of what he wrote is completely his own – and to weave all those threads together is a feat that still inspires readers, eighty years after first publication.
It is rare to find a work that gives such a tangible sense of newness these days.
Tropes are rehashed and reformed. Again – not complaining, I enjoy many of these tropes myself. All I mean to say is that finding something completely different and daring is a rare gem.
So, if anything I have said has struck a chord, this is the book you need to read.
A Sword of Bronze and Ashes, the next novel by Anna Smith Spark, is an epic masterpiece. Tolkienesque in its worldbuilding and literary in its voice, it is completely fresh. Don't expect mining dwarves or long-haired elves to take centre stage. No. This is a story of a woman, the greatest warrior of all time, who once lived in the most glorious of mythical realms. It is the story of a woman who became lost when evil arrived in her world. It is the story of the mightiest warrior of The Six… and it is the story of a woman who decided to become a mother.
Kanda is this woman. Living a simple life with her husband and daughters, she finds joy in the simple task of milking her cows and taking care of her family.
But then the evil that destroyed her past world finds her and threatens to destroy her new family.
Who are these evil beings? Why do they seek Kanda out?
I cannot spoil the story any further. All I can tell you is that a tale of wonder unfolds. You will see Kanda in her past life, the greatest of The Six of Roven, glorious and victorious. You will see her in her new life, with grey hairs and stretch marks. And you will understand why she fears this evil so much and what she will do to save her daughters from it.
The flashbacks to the great hall of Roven are simply glorious. Beautiful. Like falling into a childhood story book, only one filled with both radiance and horror. Indeed, there is a folkloric horror element to the entire story.
If you are not a literary reader, I would just encourage you to give it a few chapters to get used to the voice. Anna Smith Spark uses a stream-of-consciousness style that can both meander and be abrupt. It is the right voice for Kandra, a woman who has repressed a whole history in order to survive, and it is this voice that allows for her past life and new life to come together in her mind. What is the evil? What do they want from her? Kanda knows, but the story takes time to unfold, for Kanda to endure the weight of her own memories and to tell them to her family.
I do mention the stylisation of voice simply to state that for those unused to different prose styles, it might take a few pages to get into the flow.
Do not let this make you set the book down.
Remember. I've told you.
This book will take you down the rabbit hole.
But to reach the other side, first you must dare to fall.
Shauna Lawless
Shauna Lawless is author of the critically acclaimed The Children of Gods and Fighting Men. She is an avid reader of Irish mythology and folklore. As an Irish woman, she loves that Irish mythology has inspired so many stories over the years, however, she wanted to explore the history and mythology of Ireland in a more authentic way. She lives in Northern Ireland with her family. Follow Shauna on Twitter @shaunaLwrites, or on her blog at www.shaunalawless.com
Her new book, The Words of Kings and Prophets (the second book in the Gael Song series) is out in September 2023.