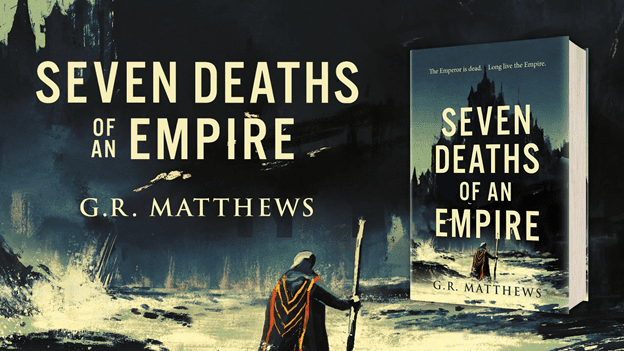 Okay, I'm going to be honest right out of the gate, and to spare all our blushes (especially mine) – I'm not a trained or qualified historian. My sole qualification in this area is a GCSE in History, which was all Modern History (WW1 to WW2, if I remember correctly) and therefore far too recent to really spark my interest (sorry to all those who love Modern History).
Which begs the question; why base Seven Deaths of an Empire in a world, or at least part of it, that takes such strong influences from the Roman Empire?
To which I have a simple answer; why not?
And a longer one which amounts to the same thing but with a bit more meat on the bones. So let's tackle the longer one – or this will be a very short article!
A bit of my own history first, for context.
I live in the UK and was raised in Wiltshire (a county in the west of England) which you'll know is the home of two great stone circles; Avebury and Stonehenge. It also contains an inordinate amount of Long and Round Barrows, Hill forts, Silbury Hill, and White Horses carved into the chalk hills (though not the giant with the rather large appendage, that's in Dorest – a bit further west). It is a county which screams ancient history. In addition, and more relevant, is the existence of at least 6 (by the last count) Roman Towns (including one which my mother now resides in – not through time travel, obviously, but her village is on the site of an ancient Roman town) and several Roman Roads along with some great finds which make their way into local and national museums.
Hard not to be influenced by all that history.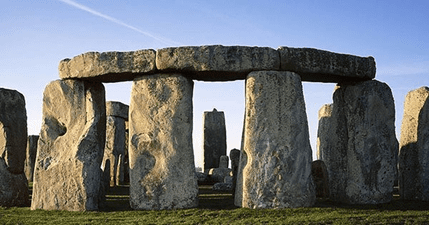 Now, every child in the UK is taught about the Romans (we're not happy with all the invasions, though the last successful one was the Normans in 1066 – which is almost an anagram of Romans). Sometimes it is done really well, and at other times not (usually just touched upon, especially with the drive of the new National Curriculum and the pressure on teaching time – that's a different article for a different audience).
So, there's background, but there are lots of influences in modern culture too. Films like Gladiator, Spartacus (a good name to give in a coffee shop, if nothing else to see how many people shout "I'm Spartacus" when the barista calls out your order), Carry on Cleo (I'm joking, mostly), Centurion, The Eagle, Ben-Hur, Life of Brian (um…), and others. TV shows like Rome, Britannica, Up Pompeii. There's a lot to explore, to base a novel around, and a lot for readers to base their own visualisations upon (see below). More than that, it is different to the Medieval or Viking setting – and that's a major appeal to me!
I knew the Empire was based on Rome years before I wrote "Seven Deaths" because, well there are two other books written in this world (not yet published) which reference it. Not wanting to write a ROMAN EPIC, I chose which bits to use, selected enough to give a flavour of it to the reader and to draw upon all those films, TV shows, and education to create the world in their mind. It seems a bit of a cheat to make the reader do some of the work, but we each create our own version of the setting in our own minds as we read – otherwise every author would describe every tiny detail (and boring the reader – a good sleep aid, but an awful story).
First, the Army – it is fantasy, there's going to be battles!
Everyone knows how the Romans marched to war. I don't have to say anything, you're picturing it already. Rank upon rank, bright steel armour made in bands which circle the wearer's torso, red kilts and cloaks, sandals, helmets with crested plumage, large rectangular shields and those short stabbing swords. There is something in that image that conjures the vision of epic warfare, of imposing, unstoppable force.
The soldiers in Seven Deaths of an Empire use those short swords (gladius), those large shields (Scutum), throwing spears (Pila) which famously bend on impact so that none can be thrown back. All of that had to be incorporated into the battles which take place in the story. No breaking the battle down into separate melees – which makes incorporating an apprentice magician or an old general into the battle itself something of a challenge. The Empire army fights as one, each soldier protecting the one next to them, those in the ranks behind ready to step into the place of the fallen. They could not break from that system, and don't. It is a theme throughout the battles, before and after; they are one, fighting for each other, this is their strength. The enemy crashing upon them as waves against a sea wall, repelled and turned back upon each other.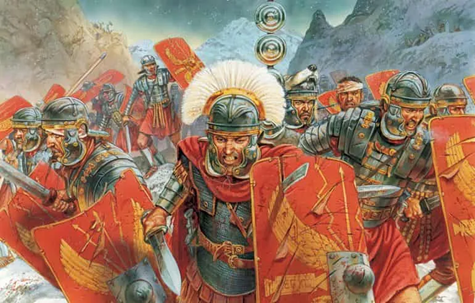 They are armoured in the Lorica Segmentata (that banded armour) and wear red cloaks (when not going into battle – too tempting to grab and pull a soldier from their feet if they actually wore them in fight). Against ranged weapons they use the Tortoise (Testuda) defence, raising shields above their heads, locking them together, protecting one another.
The army is a great way to give the flavour of the Romans to the readers (I hope). Some things stayed the same as history and some did not. I changed the names of the ranks (there's a glossary in the back – the editors and I thought this would be a good idea), both men and women fight in the army, but the camps as they prepared for a safe night in enemy territory; ditches, palisades, organised are as true as I could make them.
There are other flavours of Rome though perhaps less noticeable.
The buildings in the capital city of Sudrim, for instance. They are, for the majority of the citizens, "high rise" homes, we'd call them 'flats' in the UK. A shop on the bottom floor (tabernae), and apartments above, rising to three or five storeys, with families crowded into just one room – it was an idea the UK returned to during the Industrial Revolution with the massive influx of people from rural communities in the towns looking for work. These Insulae were built cheaply, getting the most living space, and therefore rent (wealth) for the land area because space was at a premium in the towns (the rich wanted to be richer) – and they collapsed upon the inhabitants more than once. Building on the cheap was a feature of Rome, or Sudrim (and continues to this day in many, many countries). You'll note there's a scene where this is mentioned in passing, when you read the book (a little drop of flavour).

Other homes are based upon the quintessential Roman Villa, there's one not far from my home that I've visited a few times. The open square, Atrium, which in warmer climes was open to the sky, where guests were greeted and I chose to cover it over as the Sudrim Empire is a little further north and staying warm was important. The Romans made changes to the villas in the UK too – they were no fools and didn't want to freeze!
Also the plasterwork, paintings, busts and decorations in homes and civil buildings drew their inspiration from the Romans. It wasn't a time when everything was in grey – the rooms of the rich would have burst with colour and paintings in the latest style (fashion was important to the wealthy – it still is). Statues are found throughout the city, a reminder of their history, a statement made by important people who wanted everyone to know who they were. There are fountains too which were the main source of drinking water in Roman towns – brought in via those famous aqueducts.
Education is mentioned too. One character is sent to a Grammaticus to learn his writing and reading, poetry, and mathematics. A little touch, a little favour. The Romans wrote – it is why we know as much as we do. Letters on papyrus or paper tend to rot away, but in stone, on lead tablets, and on buildings, tend to survive the centuries – at Vindolanda there are some of the earliest examples of Roman writing on wooden tablets.
Religion too. Yes, there is the Church of the Flame (a not too subtle allusion to the Roman Empire becoming Christian), but characters also have home gods (Lares) which they still worship, though quietly. And burials are mentioned, as are cremations, but the tombs and columns by the side of the road leading to the capital are things which the Romans did build – celebration of victory, and showing off the wealth of families (it all comes down to money!), and what a way to impress upon visitors to your city just how powerful you were.
It all hints, I hope, that there is change in the unchangeable Empire, a history of what was before. The Romans were rightly famous for their Empire, for conquering all who stood before them, but they also adapted and consumed other cultures – the expression of which can be read through the archaeology, histories, and festivals today.
There are few aspects of the Roman Empire which I chose not to use because they would have added too many complications and draw me, the writer, and you, the reader, away from the story. I wanted there to be some familiarity to hang the world upon – to make it easier for us to imagine and get on with the story. So we have an Emperor and a Council, rather than a Senate and voting. We have Dukes to indicate ranks, but we also have town governors and mayors (depending on how recently it was conquered, or how much of a garrison is stationed there).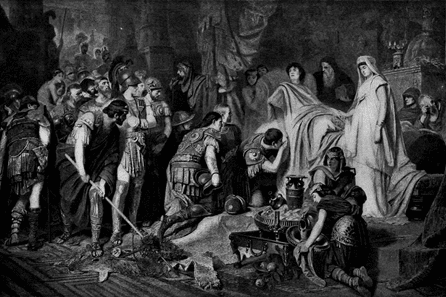 The initial pitch/idea for the book was; The Death of Alexander and the Rise of Nero. I think, I hope, I stuck reasonably close to those two ideas – using them as stepping off points, imagining what would happen if the Emperor died so far away from their capital city, what would happen to the heirs as they assumed power? Would others see it as a chance to grab power? How can those loyal keep it all together? Whether it worked as intended or not, is something only readers can judge.
For me, as a writer, it was a challenge and I believe we have to keep challenging ourselves. We have to keep learning as we write and read – every day there is some new knowledge to be gained. I'll never be an expert in Roman History; there is so much to learn and know, and I'm no spring chicken any more. However, just writing the book and the sequels have taught me a lot and continue to do so. In learning and acquiring knowledge there is something which I find deeply satisfying and worthwhile – plus, if I messed up a little on some details, I can always claim I was writing fantasy not history! Which really is the truth, so there.
Might have to go and watch Gladiator again… but I've still got Book 3 to finish!
---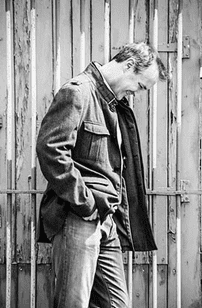 About the Author
After studying for a Diploma in Creative Writing, G R Matthews taught the subject at A Level and holds a BSc (Hons) in Geography. Currently working in education with a focus on Child Protection and Safeguarding, he finds time to write in the evenings between battles to get his children to go to bed and the desire to binge watch Eureka on Netflix. He has also studied (been hit a lot) the martial arts of Judo, Kung fu, Wing Chun, and Kickboxing – and is not particularly skilled in any of them (hence the being hit a lot).
A D&D enthusiast, G R Matthews prefers the rogue (stabby stabby… who me?) as it suits his imagination and allows him to hide from all the things that go (accidently) wrong during a dungeon crawl… (and no one can prove I set fire to that town… it was only a little fire, honest!). As a self-taught guitarist the best that can be said is that at least he doesn't sing along to the songs (all the time) and the few thousand (poor) people who've heard him play (and sing) are mostly fine (some, to be fair, are still in recovery, but we wish them well).
At night, he sits and dreams that Spielberg, Lucas, Keanu Reeves, someone, anyone, reads his books and thinks they'd make a great movie series (they would, that much is definitely true). With two children (where did they come from?), a wife (long suffering, caring, strong), G R Matthews is known for his self-deprecating sense of humour (true), his chiseled jawline (false), and his long career as a heart-throb film star (utterly false).
You can follow him on Twitter @G_R_Matthews or visit his website at www.grmatthews.com
---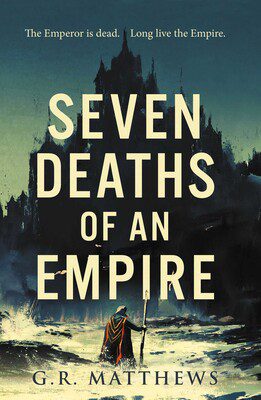 Book Blurb
The Emperor is dead. Long live the Empire.
General Bordan has a lifetime of duty and sacrifice behind him in the service of the Empire. But with rebellion brewing in the countryside, and assassins, thieves and politicians vying for power in the city, it is all Bordan can do to protect the heir to the throne.
Apprentice Magician Kyron is assigned to the late Emperor's honour guard escorting his body on the long road back to the capital. Mistrusted and feared by his own people, even a magician's power may fail when enemies emerge from the forests, for whoever is in control of the Emperor's body, controls the succession.
Seven lives and seven deaths to seal the fate of the Empire.
Review Quotes
"The plot's surprising twists and turns will wow fantasy fans." — Publishers Weekly
"Matthews delivers visceral descriptions of battle, the cut and thrust of gladius and pila, the shouldering of shields, the smell of blood and fear – and weaving through this, the delicate nets of magical constructs that can still snap, inflame or explode." — The Fantasy Hive
"This is fantasy at its finest." — Grimdark Magazine
"Refreshingly original" — SFX Magazine
"Both bloody, and bloody well written." — Fantasy-Faction
"Full of tension, intrigue, and action" — Fantasy Book Nerd
"Matthews has written an addictive page-turner full of magic and political intrigue" — Adrian Selby, author of Brother Red
"a book which gathers speed and past the half-way mark begins to thunder towards an exciting conclusion." — Mark Lawrence, author of Prince of Thorns
Reviews I've found or been tagged into (and thank you!) – I've added the links to these so you can read the whole of the review (should you want to – go on, you know you do.):
"its mix of magic and military prowess creates an engagingly epic read." — SFFworld.com
"It is full of death, ulterior motives, war, and betrayal." — mindysbookjourney
"This is a story about politics, faith, betrayal and the loss of innocence" – Setthetape.com
"Matthews delivers on the bigger picture stakes" — British Fantasy Society
"it's exciting at every turn with a wonderfully spun plot that keeps you guessing the entire time" — FanFiAddict
"A well crafted, epic, swords and sorcery story" — mugfullofbooks
" It's an astounding work of epic fantasy, a genius use of secondary creation with cinematic battle scenes." — The Swordsmith
"Seven Deaths is not a book that is easily pigeon-holed or dismissed. It neatly brings together the diverse threads of story and character and puts them together in ways we cannot anticipate." — FeministQuill
"It'll take one hell of a book to top this one in 2021." Benjawi.co.uk
"I'd definitely recommend this if you're looking for a well written, epic fantasy novel." — Off-Planet-Books.co.uk
"A cracking read that will burn the candle in the night. Matthews is worth reading" — Aurealis Magazine (143)