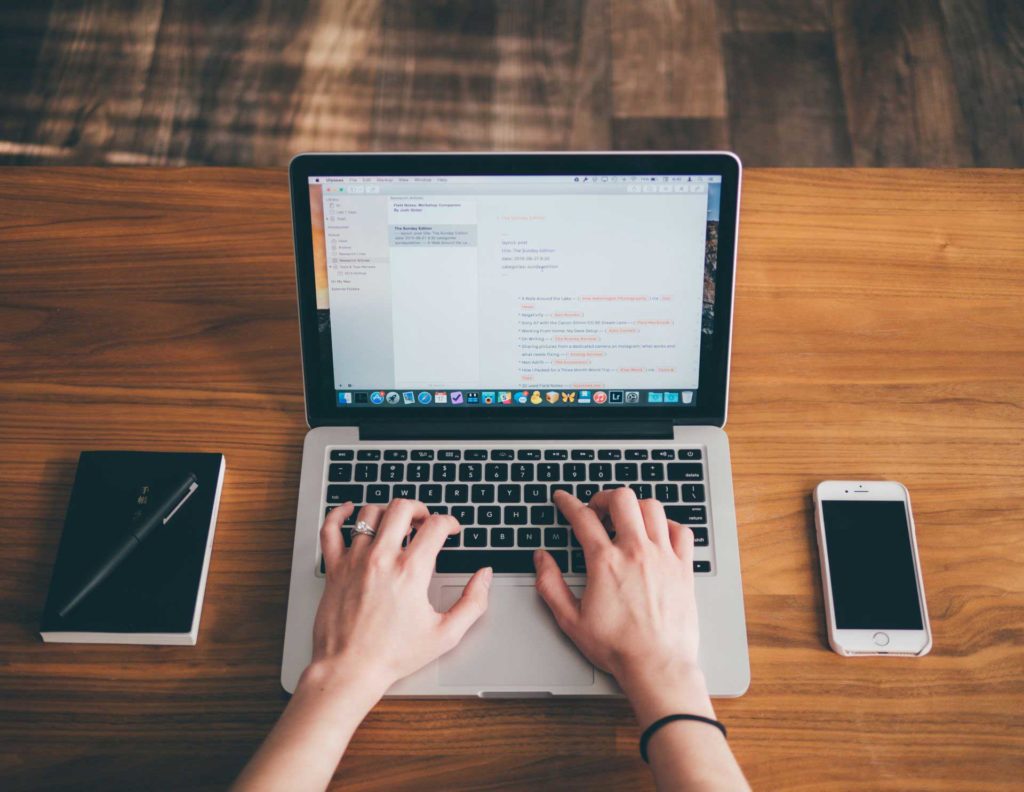 An unexpected bout of writer's block is always frustrating, no matter what stage you're at in your project or career. It can be brought on by a myriad of things, from stress in your personal life to simply not knowing how to plan your writing sessions, and makes it very tough to work — not to mention increasingly discouraging the longer it goes on.
Lucky for you, there are plenty of ways to overcome writer's block! To take a resource-based approach, this post will cover the best writing apps to get you back on track — starting with a couple of programs to help you organize your thoughts.
Apps for organization
Ever heard the phrase "tidy space, tidy mind"? Well, this applies to your digital workspace as well! Sometimes organizing your notes and ideas can help you think much more coherently about your project, and might be all you need to overcome your writer's block.
Evernote
Evernote is an intuitive, accessible note-taking app that's perfect for storing and organizing your to-do lists, schedules, and best-selling story ideas. The app syncs across all your devices, and can even be made collaborative with a fellow writer or editor.
With the ability to include links, to-do lists, audio clips, and PDFs, Evernote is an all-in-one solution to your note-taking woes. You'll never let an important thought slip through your fingers again — and it'll help organize not only your writing life, but the rest of your life too!
Plottr
If you're looking for an app in which to actually plot your book and get your scenes in the right order, Plottr could be just the thing. This incredibly useful program allows you to create multiple timelines for different plots and characters, then compare them all on one screen.
Different elements can be color-coordinated and moved around, making Plottr ideal for writers who prefer to visualize their stories. It might sound silly, but sometimes a bit of visualization is all you need to solve a pesky plot hole or character problem! By looking at your various threads, all separated out and lined up next to each other, you can clearly see where things are missing — and which elements are primed for filling them in.
Apps for productivity
After just a few listless days, it's easy to get stuck in a rut and feel like you'll never be productive again. Everyone needs a little motivation boost from time to time; luckily, setting up structured reminders and goals is a great way to achieve this!
Or if you're a chronic procrastinator (like me) and just need an app to help you stay focused, there are a number of options out there. Here are a couple of unique apps that will help you meet — nay, exceed — your productivity goals.
The Reedsy Book Editor
One thing that can really rocket-boost productivity is feeling like a "real" writer. The Reedsy Book Editor is just the app for writers looking to capture the feeling of imminent publishing success! Simply copy/paste your manuscript or write directly in the program, and the RBE will format your work as an actual book, complete with table of contents and back matter.
The RBE also allows you to set writing goals and reminders, with a weekly progress chart to keep you motivated. And when you're ready to work with an editor, you can collaborate in real time and track changes — a truly authentic publishing experience.
Forest
Writers who often struggle to focus may already be familiar with the Pomodoro technique. The idea is pretty simple: set a timer for 25 minutes and work solidly, with no distractions, before you take a five-minute break. Do this three more times, and that's one full Pomodoro cycle.
Of course, you can always do this sans app, but I personally like to combine this technique with an app called Forest. It blocks access to sites or apps of your choice for the duration of the timer, so you're much more likely to stay on-task — and for every session you complete, you plant a virtual tree to represent your progress! Sure, there are other perfectly functional app blockers out there (like Freedom and Cold Turkey), but Forest is definitely the most inspired.
Apps for inspiration
Sometimes the best thing you can do is take your mind off your main project and write something new. Whether you fold the piece into your main project later, use it to start another project, or ultimately forget about it, this kind of writing contributes vitally to curing writer's block; it gives you a new "why", helping to reset the brain and freshen the voice.
To that end, if you've organized your notes, blocked all your distractions, and you're still feeling stuck, you might as well give these writing inspiration apps a try!
Reedsy Prompts
In search of abundant, innovative writing prompts to get your creative brain in gear? Look no further than Reedsy Prompts. You can sign up for free to receive five writing prompts in your inbox every Friday, all based around a single theme — recent themes include "metamorphosis", "permission vs. forgiveness", and "connection lost".
If you like what you write, you can post your short story (1,000-3,000 words) for other users to read and give their feedback on. And if you really like what you've written, you can pay a small fee and enter it into the weekly contest for a chance to win $250! Yes, the prompts alone should help immensely — but when all else fails, nothing spurs a writer on quite like a cash prize.
The Most Dangerous Writing App
The Most Dangerous Writing App is a lot more intense and high-stakes than the other apps on this list — which makes it great for getting words on the page, but perhaps not ideal for your actual novel. How it works: you set a timer for up to 60 minutes, either with or without a prompt, and start writing. For every second that you pause, your words will begin to fade from the page… and if you stop writing for more than five seconds, everything will be erased!
If you're working on a project you don't mind losing, or you're super-confident in your ability to write constantly, then this app is an exciting way to put your skills — and nerves — to the test. If you're not quite up to it, that's absolutely fine; not every app works for every writer, and TMDWA is more polarizing than most.
It's also okay if none of these apps work and you just need some more time. Try not to put too much pressure on yourself! Writer's block or no writer's block, everybody works at a different pace and struggles from time to time. Take a mental health break, be patient, and remember that your writing will come back — as they say, the night is darkest just before the dawn.
---
Savannah Cordova is a writer with Reedsy, a marketplace that connects self-publishing authors with the world's best editors, designers, and marketers. In her spare time, Savannah enjoys reading contemporary fiction and writing short stories.