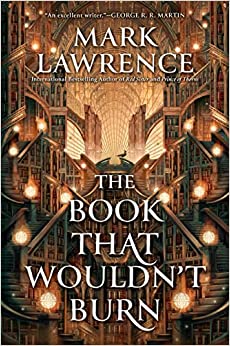 Rating: 9.0/10
Synopsis:
The boy has lived his whole life trapped within a book-choked chamber older than empires and larger than cities.

The girl has spent hers in a tiny settlement out on the Dust, where nightmares stalk and no one goes.

The world has never even noticed them. That's about to change.

Their stories spiral around each other, across worlds and time. This is a tale of truth and lies and hearts, and the blurring of one into another. A journey on which knowledge erodes certainty and on which, though the pen may be mightier than the sword, blood will be spilled and cities burned.
Review:
I'm going to preface this review with "This is Mark Lawrence's best book yet". Now having experienced the exalted highs of Jorg (Broken Ancestor Trilogy) and Nona (Book of the Ancestor Trilogy), this might sound like a tall claim to make, but one I stand by.
Welcome to Crath City! A city in middle of nowhere surrounded by dusty plains with monsters of all kind lurking over and under the sands. The only redeeming feature is that the city hosts a mysterious library. And this is the backdrop of the book, which is as fascinating, but entirely different from all his previous works.
We see the world through the eyes of Livira a girl in a dusty settlement whose life is thrown off kilter, when their homes are invaded by Sabbers, a race of violent and vicious "dog-men". By a twist of fate (or maybe not!) she ends up as a apprentice librarian setting her on a trajectory that will shake Crath City to it's foundations. Her story alternates with Evar and his siblings who were taken by the mysterious "mechanism" and spat out in another section of the library effectively imprisoning them. Inevitably, their paths cross each other leading to events that not only effect themselves, but ramps up severely in scale spanning the entire city not just here and now, but across time and the multiverse.
The library, it's mysterious "mechanism" and the assistants who service it, makes for one smashing backdrop for the story. Equal parts mysterious, manipulative and menacing, with secrets layered upon secrets, the Library switches seamlessly from just being a backdrop to a full blown antagonist that nobody can even fathom, far less fight against. Like a spider, it's subtle influence are strings that the rest of the world puppets to. The world influenced by the library is as fascinating as the library itself. A world where power is marked by knowledge rather than physical strength or magical might is not just intriguing but downright entrancing. Mark's artistry with words paints a vivid picture of the world in which the story takes place. The characters are well etched and realistic that I couldn't help falling for them, getting pulled into this wild ride ride sharing their tragedy, success and relationships as if they are my own.
And finally the climax is just unputdownable. I mean I physically couldn't. Like a addict craving one last hit, I was binge reading frantically wanting to get to the end, but still had to struggle and hold myself to not get lost in the total mayhem as each twist and turn just kept pumping more and more adrenalin. After the end, I had to take a breather, stared at the wall for some time, giving my mind to catch up to my current reality. I want the next book, right now!
Those who follow Mark's books are aware of the hints and Easter Eggs dropped through his various series establishing a hidden thread indicating that all happen in same world, separated only by time and that's the case here too. Don't be surprised if you see familiar names in places, epigraph authors and even in some title and contents of the books in the library. It's adds more fun to try and connect the dots and device conspiracy theories linking them.
This book is a tour-de-force that pushes the boundaries of the genre, a true page turner and a must read for anyone who appreciates great literature.