Thanks to William Morrow and Robert for allowing FFA to host an excerpt from his upcoming novel, Glacier's Edge.
Below, you will find information about the book, a link to preorder, and the excerpt.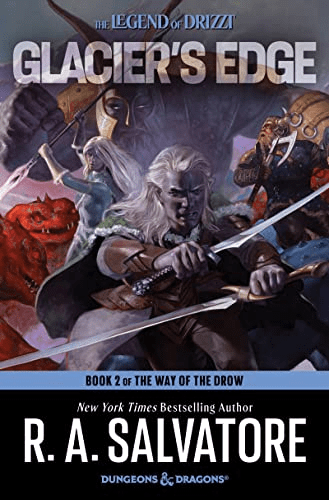 From New York Times bestselling author R. A. Salvatore comes the follow-up to Starlight Enclave and thrilling second novel in his newest trilogy, The Way of the Drow, expanding the Forgotten Realms through the adventures of Drizzt, Catti-brie, Jarlaxle, Artemis Entreri, and Zaknefein…and a society of drow unlike one any elf from Menzoberranzan could possibly imagine.

There's a lot that Jarlaxle doesn't know: is he the lone survivor of the raid on the slaad fortress, can he even find a way to get out, and beyond his immediate predicament, could he possibly escape the ice caverns and get help for his friends?
However, what Jarlaxle does know is that if he plans to come back—if Catti-brie, Entreri, and Zaknafein are to have any hope of surviving—he's going to have to bring back far more firepower. An army of aevendrow seems unlikely, so he must go home and pull together a team with great skill and unimaginable power.
But how will he get home? Will such a collection of warriors and mages come to his aid? And even if he manages all that, will it be enough? For Jarlaxle has seen the slaadi's power and their god in a most personal and terrifying way.
Trapped in the ice while the world is on fire, Jarlaxle is in a race against time—and burdened with a magical secret—to save a peaceful city and his companions.
And he's running out of tricks in his bag of holding…
Glacier's Edge releases on August 9th, 2022
Excerpt
Azzudonna tried to compose herself, but the world had gone so suddenly crazy that she wasn't even sure what that might mean. She collected her thoughts, focusing on the present moment, the seemingly dangerous situation, that she could fully realize and react to this sudden and unexpected reality before her.
Namely that she was in a room, a bedroom, facing an open door and a human woman she did not know. Sunlight streamed in through a window to her left – sunlight! And that's where her confusion—her questioning of reality—came in. Because Quista Canzay had passed and night had fallen.
So how could there be sunlight?
It was another trick of Catti-brie's cat – it had to be. But to what end? For Guenhwyvar was gone from her side, becoming insubstantial mist and floating away to nothingness, abandoning her in this strange place – perhaps in this different time? – without any explanation or grounding at all.
The human woman standing in the open doorway before her held her hands up, as if trying to not threaten, and kept speaking, but in a language Azzudonna could not begin to decipher – although it was certainly the same tongue she had occasionally heard used by the four travelers who had come to Callidae.
The aevendrow realized only then that she wasn't holding her spear. Fearing that she had dropped it back in the glacial ice hallway when she had been slammed from behind by Guenhwyvar – she started to glance around nervously. But her attention was abruptly stolen as an older man, another human, came up behind the woman who was still talking to her.
Reflexively, Azzudonna's hand went to the hilt of her white ice sword, which was sheathed at her right hip, and when she glanced down at the weapon, she saw, too, her spear! She hadn't dropped it back at the glacier, but here, in this room. Wherever this room might be.
The human woman pumped her hands at Azzudonna and pleaded with her, and she recognized that the woman was trying to implore her to remain calm. Behind her, though, the man in the hallway began subtly waggling his fingers.
A spell!
The aevendrow warrior dropped fast and scooped the short spear. She came right back up, the weapon spinning end-over-end before her, then rolled across to her right, and then back and out to her left. She ended the flourish with the weapon leveled in both hands, its magical blue-white ice tip pointing menacingly at the woman.
Azzudonna jabbed it forward, coming up well short, trying to force the woman back out into the hall, buying some room and some time as she searched desperately for an escape route. She didn't want to kill, but wanted to make it clear she could if she needed to.
The man in the hall extended his hand, index finger pointing at Azzudonna, then stopped the movement short and jabbed it at her from afar.
Azzudonna cried out, expecting a bolt of energy or some other attack. She threw herself to the left, out of line of the open doorway and out of sight of the man. She kept going, leaping upon the bed, running across it and springing for the wall or, more particularly, for the room's side door, which opened onto a balcony. At least that's what it seemed, from what she had noticed through the nearby window.
She crashed into the door, tried to push and tried to pull, but no, it was locked. Expecting some magical attack to slam her again at any moment, Azzudonna didn't slow, rolling along the wall past the door toward the back of the room, coming up before the window.
"No, we are not enemies!" the woman cried amidst the crash of shattering glass, with Azzudonna thrashing her spear all about to clear the way. She went through and was out on the balcony, to the rail, which she caught with one hand and rolled right over, throwing her spear to stick in the snowy ground some dozen feet below.
She dropped, landed in a roll and scooped her spear, already starting away before it even occurred to her that the woman's last words weren't gibberish, and that, perhaps, she had understood some of them, at least.
No matter, though. She could sort out that mystery later. She was outside an enormous house of amazing design – if it was even a design at all, rather than a hodgepodge of a dozen different towers and wings and dormered windows and roofs angled every which way. Smoke rose from a host of chimneys, winding grey lines dancing in the wintry wind. She was up on a high hill with few trees on this side at least. To her left and down the hill, she saw other buildings, a small town, while straight ahead loomed a forest.
She didn't hesitate. She needed to be away, to find some place to settle and sort this all out, to come back to these people, perhaps, but on her own terms.
"No, no! Who are you?" she heard the woman yelling behind her, having come out on the balcony.
She put her head down and sprinted down the slope.
"Beware!" the human woman warned. "Take care! Hold up! Oh… stop!"
The terrified Azzudonna didn't stop or slow, until she did, abruptly, brutally, painfully, smashing into an unseen and unyielding wall. Her spear hit it first, her face second, the weapon going up and across so that when she fully slammed in, its barbed side drove hard and deep into her left shoulder.
But she barely felt it, caught fully in the white flash of shock and pain in her nose, her face, her head. She bounced back. She tried to hold her footing, but all the world had gone soft and uneven, and she didn't know which way was up.
She felt a hot burn in her shoulder.
She felt the warm blood in her mouth.
She felt the cold against her and somewhere deep in her mind understood that she was lying in the snow.
Then she couldn't see. She couldn't think. She couldn't feel…anything.
*****
"Get a cleric!" Penelope Harpell yelled to those coming down the hill. A couple of the Harpells rushing down the snowy hillside skidded to stops, talking and jostling for just a moment before two ran off toward the village of Longsaddle below the Ivy Mansion, with three others scrambling and slipping back up the hill toward the great house.
"There's none in the house or the town who'll be fixing these wounds," said Dowell, Penelope's husband, as he rolled the wounded drow over onto her back and pressed the area about the embedded spear, trying to stem the bleeding.
Looking at the sheer amount of blood coloring the snow nearby, Penelope feared that he was right.
A magical door appeared right beside the three, then, startling Penelope and Dowell for just a moment, until old Kipper Harpell stepped forth, bearing a healing kit. He handed it to Penelope, who began fishing through it for some bandages and salves.
"This won't be enough," she told Kipper.
"Get her comfortable," Kipper, the oldest member of the Harpells, replied. "Enough to get her in the house. The cold will kill her with these wounds and so much blood already spilled. Let's fix what we can, and then worry about the rest."
"We need a priest," Dowell insisted. "We need a powerful priest."
"As I said," Kipper replied.
Penelope glanced up as she handed the bandages to her husband, and noticed the ghostly imprint of the drow woman's face on the invisible fence that surrounded the Ivy Mansion. The Harpells were not unused to picking up dead birds that had flown into the barrier, but now with this tragedy, perhaps the debate over adding some greater opacity to the fence would take on greater urgency.
"Go to the teleport gates," she told Kipper. "Go to Gauntlgrym and see what priests King Bruenor can send."
The old man nodded and began waggling his fingers and chanting the arcane words of a spell to create a new dimension door to get him back up into the house.
"Then to Luskan with all speed," Penelope decided. "Find the priestess Dab'nay and bring her. This must be one of Jarlaxle's associates."
"She didn't act like any member of Bregan D'aerthe," Kipper replied. "I mean, they know of us. An assassin, perhaps, sent from Menzoberranzan to be rid of Jarlaxle?"
"Or Zaknafein, more likely," Penelope reasoned. Yet she shook the notion out of her head, though – it just didn't seem correct to her. This one was well-armed and could have attacked her back at the house, after all.
Behind her, Kipper was "hmm'ing" repeatedly.
"Go!" Penelope bade him.
Kipper started, then nodded, and stepped through the gate, disappearing instantly.
"Can we get the spear out?" Penelope asked Dowell.
"Only if we want her to bleed to death right there," he answered. "It's in deep and it's hooked tight with those barbs."
"What is it?" Penelope asked, for she had never seen such a weapon, the long and large spearhead etched with beautiful and intricate designs, and fashioned of some material she did not recognize.
"I don't know," Dowell admitted. "It doesn't feel like metal, but… I just don't know."
Penelope reached over and touched the exposed part of the broad spear tip. It had a little sting to it, a sensation of coldness. "Ice?" she asked. "Can we melt it out of her?"
"How can it be?" Dowell asked, and he shrugged, having no answers. "How could a weapon of ice have such strength and resilience? And if it is, I doubt it would melt so easily."
Penelope angled her hands so as to not strike the fallen woman with her spell, and blasted forth fingers of magical fire that shot out beyond the woman and across the snow, melting some, lifting a slight burst of fog into the sky.
She felt the spear tip when she was finished, seeking wetness, searching for some malformation. But there was none. Her spell had done nothing to the weapon.
"No ice that I know," she said.
She took the offered end of a long bandage and rapped it under the embedded weapon, then under the fallen drow's shoulder and up the back, where Dowell tightly tied it off. Other Harpells reached them, then, with one man pulling off his large cloak and setting it out on the ground as a litter. Carefully, the group got the drow onto it and hoisted her, then began the climb to the Ivy Mansion.
"We shouldn't have dismissed Kipper so soon," Penelope lamented, for that one always had minor teleportation spells at the ready, and they could have walked the poor woman through a dimension door instead of bouncing and staggering up the hill with her.
Almost as if Penelope had summoned him, a doorway appeared in the air right beside the group, Kipper poking his head through.
            "Come along, quickly," he told them, then, as he disappeared back into the Ivy Mansion on the other end of the magical tunnel, he called to them. "I'm away to Gauntlgrym!"
From Glacier's Edge by R.A. Salvatore. Copyright © 2022 by Wizards of the Coast LLC. Reprinted by permission of Harper Voyager, an imprint of HarperCollins Publishers.