Hello again dear reader or listener and welcome to FanFiAddict's turn to reveal the amazing cover for Stacey McEwan's upcoming debut novel, Ledge. Thank you to Angry Robot and Caroline Lambe for once again giving our team the opportunity to promote new books, you know we love doing it!
But first, what is this book going to be about?
Book Blurb
If she has to cut her own fouled toes from her feet, she will. She will crawl to the bottom if she must. But even so, as the frost steals through her clothes and claims her by inches, she wonders if it wouldn't be wiser not to follow him any longer. She wonders if it would hurt less to lie here and let the cold take her.
Dawsyn does not know what it is to live below. She was born on the Ledge—a prison with no need for walls and chains, an icy mountain shelf. When an opportunity to escape the Ledge presents itself for the first time in half a century, Dawsyn must take it. All she has to do is trust the very creature who kept her captive in the first place.
This story will appeal to fantasy lovers who also enjoy survivalist themes and a good enemies to lovers trope with spice.
Are you itching for the cover yet? I know I am, so I happily present to you this silver foiled beauty:
.
.
.
.
Cover Designer: Kate Cromwell
Release Date: September 13th 2022
Publisher: Angry Robot
Amazon US
Quote from Stacey: "I like to think a book's cover gives the reader the benefit of forewarning. It can convey the same tension or energy you can expect from its story. Our cover for Ledge encapsulates this so well. In it, I see the ever-present danger, the division of worlds and species, and the delicate precipice of which the characters of Ledge grip to."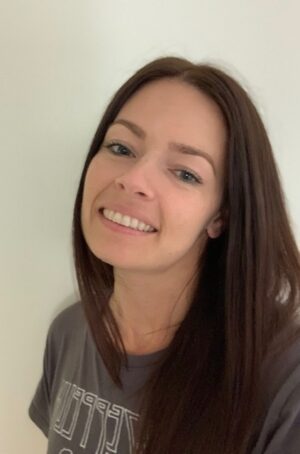 About the Author: Stacey McEwan is a schoolteacher by day and fantasy writer by night. She is a book influencer on multiple platforms and began writing Ledge after book lovers of the internet begged her to share her story ideas. Stacey lives on the Gold Coast, Australia with her husband, two children and one questionable dog. When Stacey isn't writing, teaching, or making ridiculous tiktoks, you'll find her playing with her children, reading, annoying her husband, or possibly all three at once.
You can find her on
Instagram | TikTok: @stacebookspace
(I heartily recommend her 'Off to Turn My Husband Into a Fictional Man' series of vids, they are a delight.)