It is with great pleasure that FanFiAddict, in addition to Nick at Out of This World SFF and Fantasy Book Critic have come together to bring you an exciting announcement and cover reveal for an EXCLUSIVE EDITION of Adjacent Monsters: A Duology of Nightmares by author Luke Tarzian. This will be sold exclusively through Silverstones Books.
Here are all of the important details:
-422 Pages
-Black sprayed edges
-Numbered (50 copies)
-Sold EXCLUSIVELY through Silverstones Books (https://silverstonesbooks.com)
-Preorders launching October 1, 2022
Before I reveal the cover, I wanted to say a couple of words about this duology. Adjacent Monsters is what's created when an author pours everything they are into their writing. Original and beautifully written, Adjacent Monsters brings together the best of dark fantasy and breathes new life into the genre. As the saying goes, "the devil is in the details," and Tarzian has mastered this. Deliciously dark and sinister, while focused and delicately structured. He gives you just enough information for the moment while setting up a wholly encompassing atmosphere. As the stories are interconnected in many ways, an entire world is fully realized in its sum and I love adding more depth with every new story. The World Reaper Odyssey was a perfect companion story, aligning in its dark nature and unpredictable path. I personally cannot wait to own another copy — this time numbered, with sprayed edges, and a stunning new cover.
Here is his author bio and contact information: "Luke Tarzian was born in Bucharest, Romania. His parents made the extremely poor choice of adopting him less than six months into his life. As such, he's resided primarily in the United States and currently lives in California with his wife and their twin daughters. Somehow, they tolerate him. Unfortunately, he can also be found online and, to the dismay of his clients, also functions as a cover artist for independent authors."
Twitter – Instagram – Website (Author) – Website (Book Design)
Without further ado, the reason why we're here and the moment we've been waiting for… here is the COVER REVEAL for the EXCLUSIVE EDITION of Adjacent Monsters. It's fantastic and designed by Luke himself to be sold exclusively through Silverstones Books.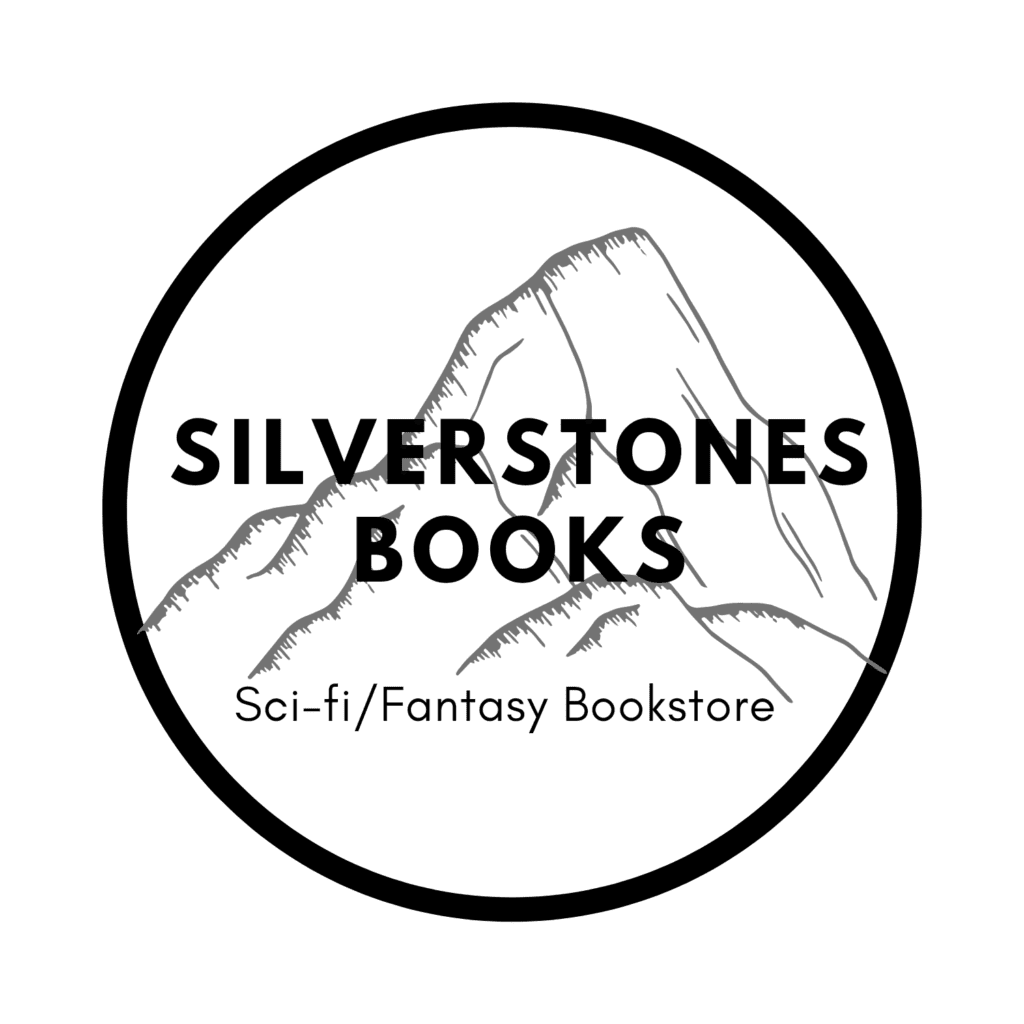 .
.
.
.
.
.
.
.
.
.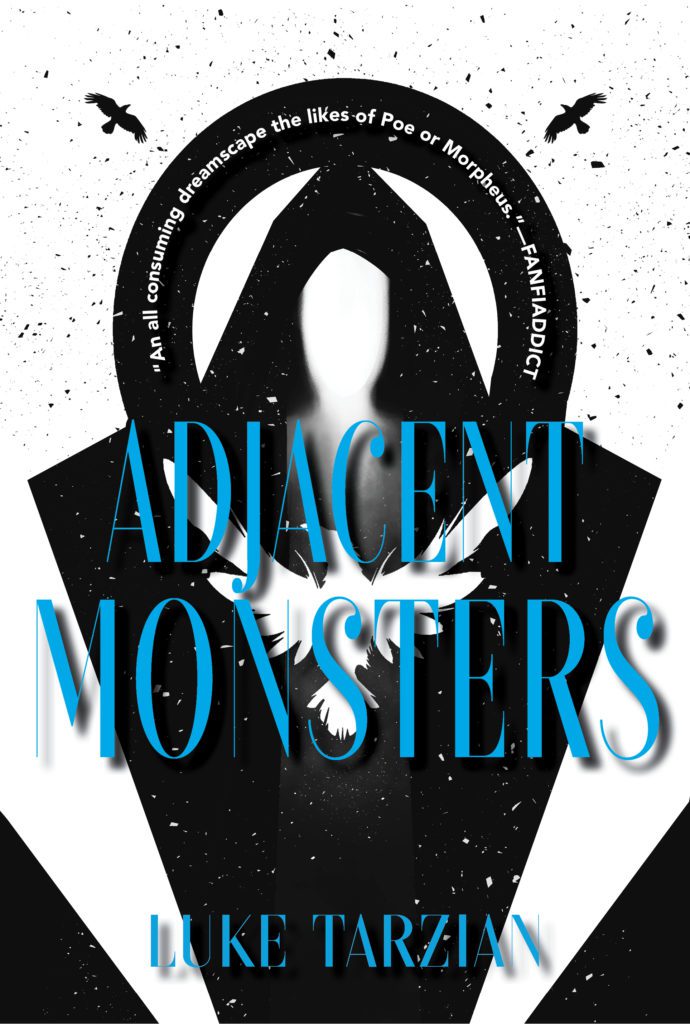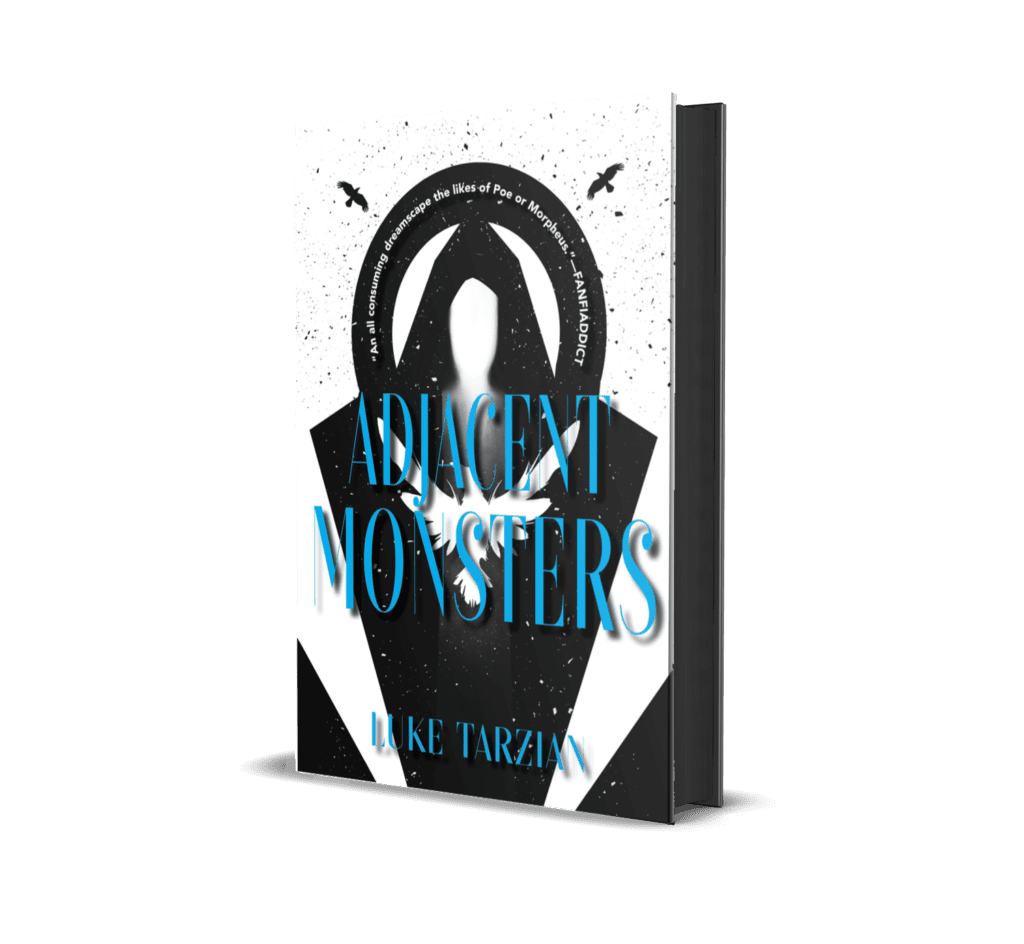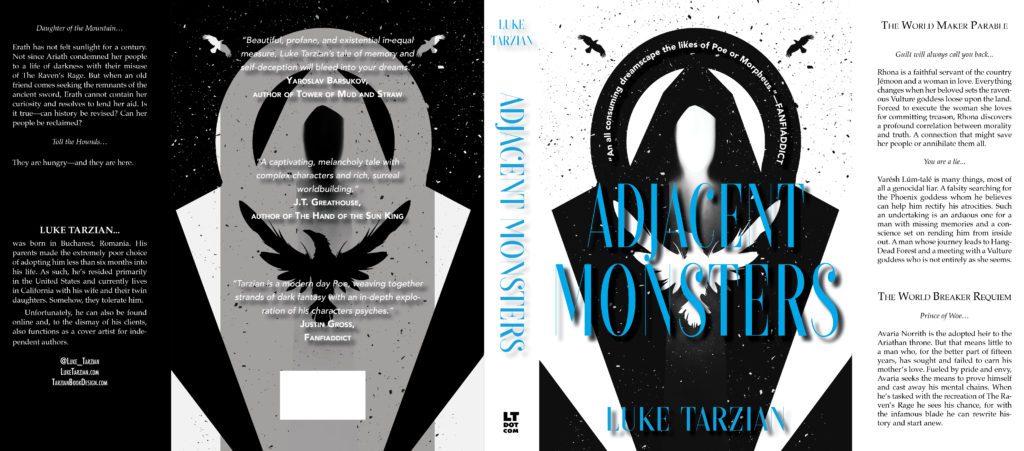 Blurb
The complete Adjacent Monsters duology, including a bonus novelette, compiled in hardcover.
"Beautiful, profane, and existential in equal measure, Luke Tarzian's tale of memory and self-deception will bleed
into your dreams."—Yaroslav Barsukov, Nebula-nominated author of Tower of Mud and Straw
"A captivating, melancholy tale with complex characters and rich, surreal worldbuilding."—J.T. Greathouse, author of The Hand of the Sun King
"Tarzian is a modern day Poe, weaving together strands of dark fantasy with an in-depth exploration of his characters' psyches."—Justin Gross, FANFIADDICT
"An all consuming dreamscape the likes of Poe or Morpheus."—Ashley Brennan, FANFIADDICT
BOOK 1: THE WORLD MAKER PARABLE
Guilt will always call you back…
Rhona is a faithful servant of the country Jémoon and a woman in love. Everything changes when her beloved sets the ravenous Vulture goddess loose upon the land. Forced to execute the woman she loves for committing treason, Rhona discovers a profound correlation between morality and truth. A connection that might save her people or annihilate them all.
You are a lie…
Varésh Lúm-talé is many things, most of all a genocidal liar. A falsity searching for the Phoenix goddess whom he believes can help him rectify his atrocities. Such an undertaking is an arduous one for a man with missing memories and a conscience set on rending him from inside out. A man whose journey leads to Hang-Dead Forest and a meeting with a Vulture goddess who is not entirely as she seems.
BOOK 2: THE WORLD BREAKER REQUIEM
Prince of Woe…
Avaria Norrith is the adopted heir to the Ariathan throne. But that means little to a man who, for the better part of fifteen years, has sought and failed to earn his mother's love. Fueled by pride and envy, Avaria seeks the means to prove himself and cast away his mental chains. When he's tasked with the recreation of The Raven's Rage he sees his chance, for with the infamous blade he can rewrite history and start anew.
Daughter of the Mountain…
Erath has not felt sunlight for a century. Not since Ariath condemned her people to a life of darkness with their misuse of The Raven's Rage. But when an old friend comes seeking the remnants of the ancient sword, Erath cannot contain her curiosity and resolves to lend her aid. Is it true-can history be revised? Can her people be reclaimed?
Toll the Hounds…
They are hungry-and they are here.
Preorders launching October 1, 2022. Thanks again for joining me in the cover reveal and announcement for Luke Tarzian's upcoming exclusive edition.