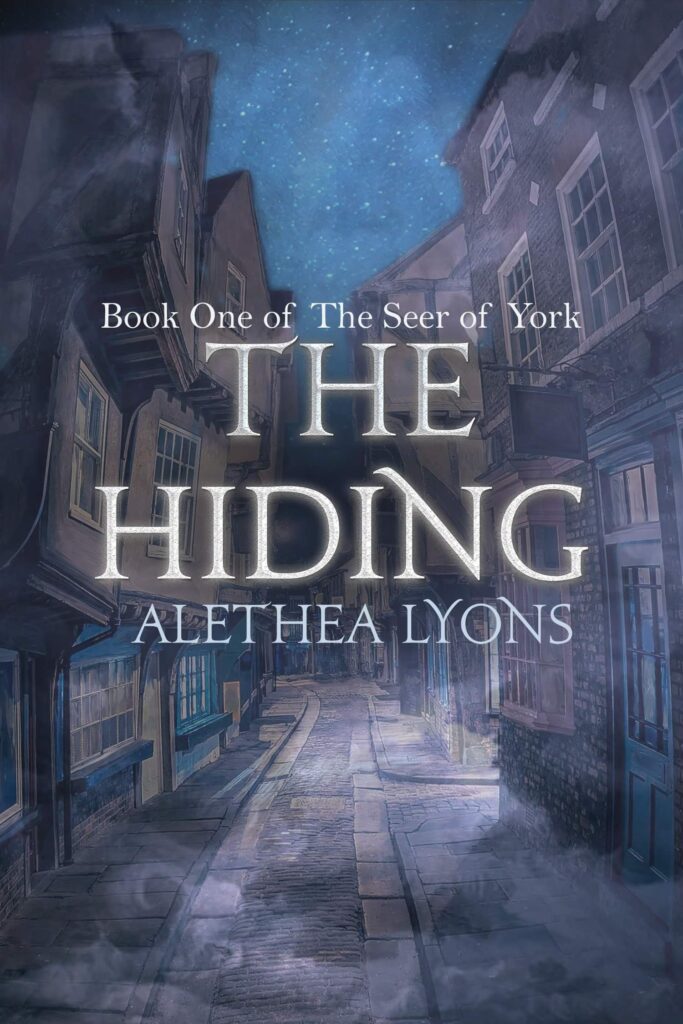 About the Book
Title: The Hiding
Series: The Seer of York, Book 1
Author: Alethea Lyons
Cover Artist – Elizabeth Leggett | Website
Publisher – Brigids Gate Press | Website
Release date – March 5th, 2024
Genre – Dark Fantasy
Various preorder and ARC options – https://linktr.ee/alethearlyons
Blurb
Arcane archivist Harper has always been plagued by dreams of grotesque creatures and bloody deaths. When she bumps into a ghostwalker in the Shambles and has a visceral experience of his execution, she knows it's a foretelling. Yet fear of the Queen's Guard stops her speaking out. When her vision indeed comes true, the unusual markings on the ghostwalker's corpse, combined with his neatly excised vocal cords, send a ripple of terror through York.
The witch hunt is on. As the body count rises, Harper knows her magic is the only way to find the killer – if she can avoid being hanged as a witch. To protect both human and supernatural, Harper walks the thin line between their worlds. She and her demonhunter foster-sister form a multi-faith team with a forensic scientist, a spirit Harper accidentally summoned, and a techno-witch, to catch the killer before more people die."
About the Author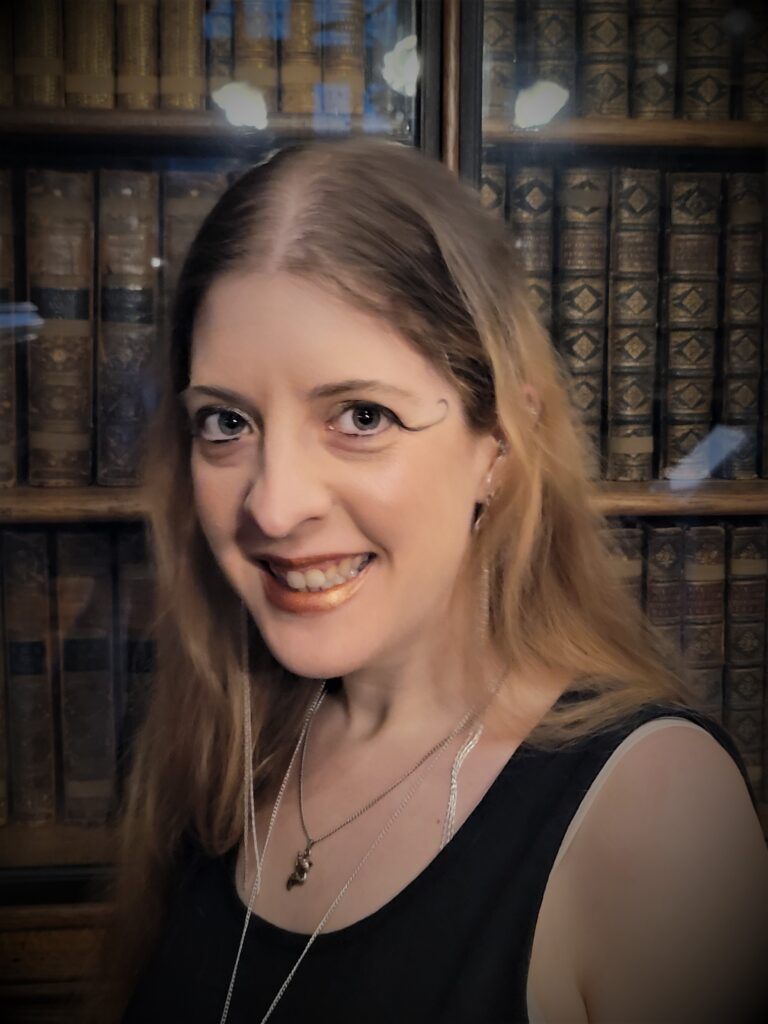 Alethea (she/ze) writes various forms of SFF, with a particular love for science-fantasy, dark fantasy, dystopias, and folklore. Many of her works take place at the intersection between technology and magic. She enjoys writing stories with subtle political and philosophical messages, but primarily wants her stories to be great tales with characters readers will love. She also has soft spots for found family, hopeless romances, and non-human characters. Her short stories can be found in a variety of publications and links for these are on her website.
Alethea lives in Manchester, UK with her husband, little Sprite, a cacophony of stringed instruments, and more tea than she can drink in a lifetime.
Bonus content for The Hiding & other works can be found on her website: https://alethealyons.wixsite.com/stories/seerofyork
Socials:
@AletheaRLyons on all platforms (linktr.ee)
Excerpt
The ghostwalker left the sanctuary of the shadow and headed downstream. His head turned, back and forth like an oar, but he did not see her. For millennia, Usa lived among the people of York and none ever truly saw her. Her brethren, less powerful than she, were not so fortunate. Hunted, tortured, killed by humans. Humans who listened to stories like this one and believed all the Folk evil.
Usa studied the ghostwalker as he passed. For many years, she watched him wander this same path home. Different stories on different nights, but always the same off-key tune grated in his throat. The mists parted before him, and Usa trailed in his wake.
The calls of her kin grew more insistent with every step.
Usa, hide us.
Usa, protect us.
Usa, save us.
Their plaintive cries drove her on. They were hers. She ruled them. She served them. The duty of the Hiding fell to her. The honour. The shame.
Usa, hide us.
She followed the ghostwalker into the deepening night, her eyes hard and clear as diamonds. Frost filled her. She was a harpoon, a knife, nothing more. A small piece of a ritual more powerful than the ocean.
As Usa approached him, the ghostwalker's steps faltered and he turned to look behind. The world was silent save for his humming and the soft lap of waves against the shore. His gaze swept over her without perceiving. He tugged his cloak tighter around him as he resumed his walk, his pace quickened, head bowed. When he reached the end of the path, he paused again to search the surrounding trees. His eyes passed through Usa as though she were glass.
Usa, protect us.
She stretched out her hand to touch him, then hesitated. The voices cascaded through her, but she stopped, centimetres from his trembling throat. This wasn't natural.
He hurried on again, not taking the bridge to safety as she expected. Instead, he descended the few steps to stand at the edge of the path, where the Foss paid its tribute and flowed into the Ouse. As he watched the twin rivers, he was one with the night, as though he became less human, more of her Folk.
Usa, save us.
But he was not of the Folk. He was a threat. Usa hardened herself, cold and unfeeling as Morimaru, mockingly called 'the North Sea' by irreverent humans. She would do her duty.
The moment she touched him, he froze as though ice bloomed. Reality bent to her will and her hand phased through his skin, his spine, the cartilage of his neck. His larynx and vocal cords vibrated as he struggled to speak. The life drained out of him and into her. A scream died in his throat.
Usa, save us.
She wrenched her hand free and his lifeless husk fell to the ground.
The Hiding's first victim. Her first victim.
Usa stood over him, eyes dark as the new moon, face still as a doll's. The only colour was the bloody mess of cartilage and muscle dripping from her closed fist.
The crumpled body at her feet held no more value. Taking his organs had been like fishing, the skin as undisturbed as water closing over a sinking hook. She had done what was demanded of her.
Yet she could not leave.
She crouched next to him to arrange his body as she had seen humans arranged before, their corpses laid along this same path, row by row by row, driven into the water to drown, rejected and pushed back to the shore in death.
For a while, she observed the soulless form, still as a prayer. Then she washed her hands in the river and released the stolen vocal cords into the dark water.
She stayed by his side until the sun rose then forsook her human form and retreated as the bells rang and humans stirred. When they found his shell, they screamed and water leaked down their faces. Then more shouting, sirens wailing, more humans. Other humans shied away from the newcomers, whose auras buzzed with dark energy. They took him away, the man she killed.
None who came saw her for what she truly was.
As the sun rose high, she withdrew, until all that remained was the lapping of the river against the shore and a whisper dissipating on the autumn breeze.
"Never scream…"