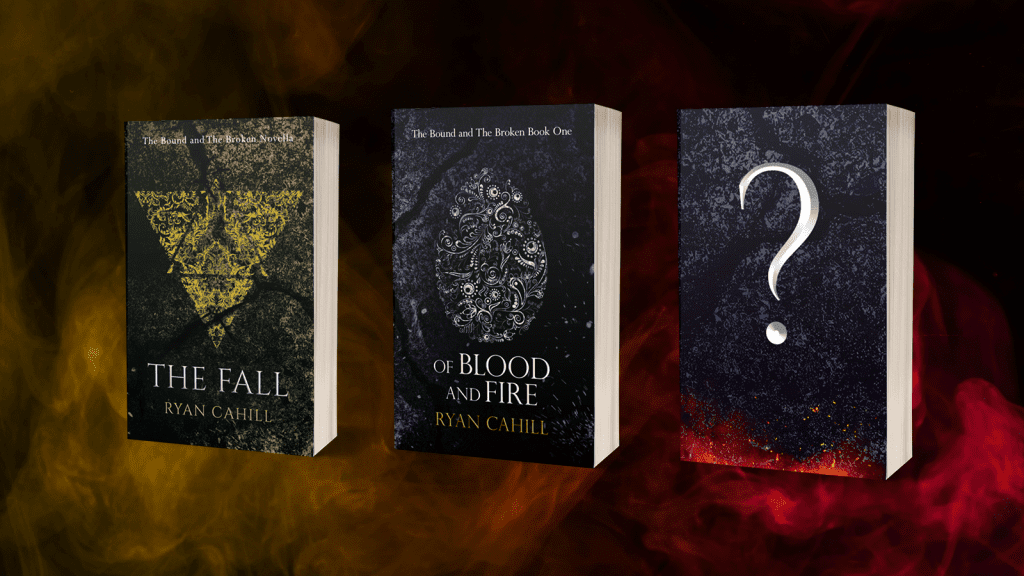 ---
Hello all and welcome to another cover reveal! Today we're excited to give the first look at Ryan Cahill's return to The Bound and the Broken with the cover reveal for the sequel to Of Fire and Blood, Of Darkness and Light. Ryan has provided us with all kinds of goodies to share today, so be sure to stick around through the end of the article to get a good look at everything we have to show off.
---
Author Q&A
Before we get into the cover reveal proper, Ryan was kind enough to answer a few short questions for us so take a look at the short Q&A below.
What do you think characterizes your writing style?
I think it can be incredibly hard for an author to characterise their own style. Because it is often the subtle things that we rarely even notice ourselves doing. For me, the key factors of my writing style are characters and immersion.
I try to write a character driven narrative within an Epic Fantasy world, breathing life into even the most insignificant of characters. I want you to believe them, cry with them, hurt with them, and love with them.
I have always loved beautiful evocative prose. When I read a book I want to step into a world and feel the breeze drift over the mountains and down into the rolling valley, tickling my skin as it moves. I want to smell the freshly cut grass and know what it feels like to run your hand across the coarse, almost stone like, texture of a dragon scale. But the key thing here is doing it without dragging the reader out of your world. That is very important to me. Fantasy has always been my escape from the real world, and that's what I want to give my readers.
Describe your book in 3 adjectives.
Passionate. Immersive. Dragon. (In this case, yes, dragon is an adjective – fight me)
What do you think is the overarching theme?
In Of Blood and Fire, the first in the series, the overarching theme was friendship and determination. It was showing that the ties that bind us are also what give us our greatest strength.
I think Of Darkness and Light continues that theme, if in a different way. I try to explore the inner grit and determination of the characters, while also showing how the bonds and friendships they make will help to shape and mould them, for better or for worse.
Were there any specific challenges with writing Of Darkness and Light? Or, did you find anything to be easier?
I think the challenges in writing this book were very different to the first book. It's natural in Epic fantasy that as you move through the books the world expands and more characters reveal themselves. One challenge I've had for this book is reeling in the sprawling plot threads as this happens and the characters' paths diverge.
There are so many interesting characters, some with hundred of years' worth of stories to tell, it can be difficult to reign them in. In some cases some of the more interesting characters take a back seat so that the story to stay on track, and making those decisions has been very tough.
Also, whether or not to kill certain characters. By the gods that was agonizing.
I love the style of your covers so much! What was the inspiration for your covers and can you tell us anything about the symbols in each of them?
Thank you so much! There will never be a point where hearing that will not bring an enormous grin to my face. I think, particularly for Indie Authors, covers are so critical. There are about a thousand different guides to tell you how you should create your cover, and everyone will have their own opinion.
For me, in my particular genre, a lot of it boils down to whether you want to go down the custom illustration route or with a simpler iconography style. You only have to take a glance at the illustrations produced by the likes of Felix Ortiz and Tommy Arnold to see exactly why this style of cover is so popular. I regularly get a visit from the green eyed monster when I see the incredible covers produced by Felix and his incredibly talented partner in crime, Shawn T. King. The jealousy is real, and it is powerful.
But in the end, my heart went with simplicity. I have always loved the beauty of the iconography style covers that are very "in" right now in trad fantasy. Covers like Neil Gaiman's Norse Mythology, the US versions of Joe Abercrombie's recent releases, and of course the Game of Thrones covers. The symbols on each of my covers represent a major point or theme within the respective books. And I think it's safe to say that Of Darkness and Light is going to have dragons. It is most definitely going to have dragons.
---
Synopsis and Cover Reveal
Heroes will rise. Nations will fall.
Behind the towering walls of Belduar, Calen Bryer and his companions stand in defense of the city and its new king. In over a thousand years, Belduar has never fallen. It has stood as a bastion of hope. But the Lorian empire are at its walls once more, and the Dragonguard are coming.
In the North, with Faenir by her side, Calen's sister Ella arrives at the port of Antiquar, her only compass, a letter addressed to her fallen love. But she holds no fear of the unknown. She will see this through, no matter what – or who – gets in her way.
Meanwhile, at the embassy of the Circle of Magii in Al'Nasla, Rist Havel hones his newfound powers in preparation for the trials of Faith and Will. Unbeknownst to Rist, he is being watched, measured, and judged. He was not taken into the Circle by chance. There is greatness in him. But great men can do terrible things.
As Lorian forces land on southern shores and Aeson Virandr's letters of rebellion find their way to the right hands, only the Knights of Achyron see the true danger. The danger that stirs in the darkness. The coming shadow will not stop. It will consume all in its path. It wants for nothing but blood and fire.
---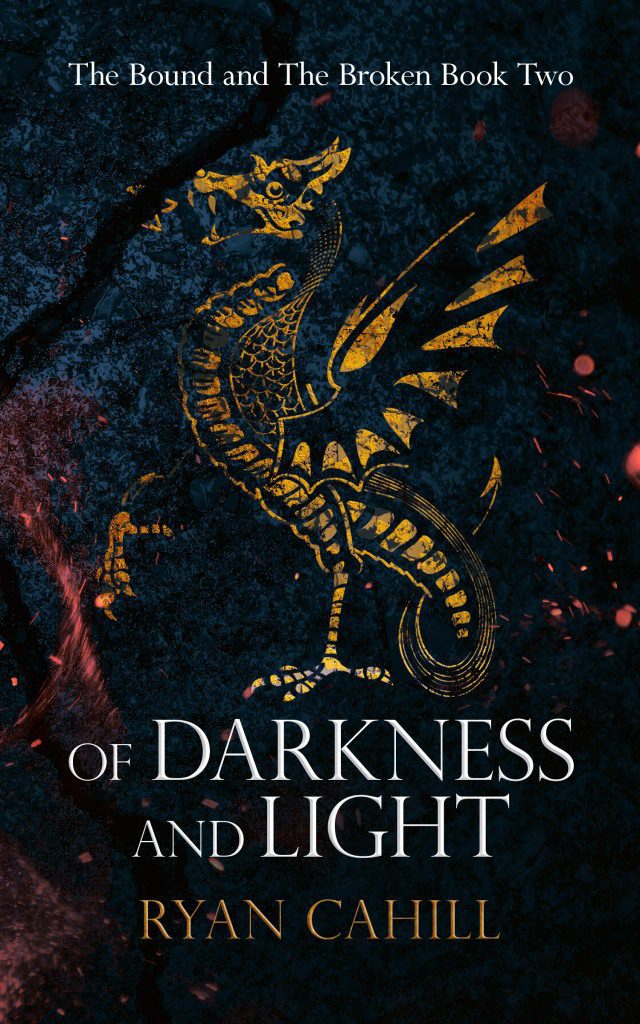 ---
Welp, there it is and isn't she lovely? I really enjoy the iconography look that Ryan is going for. In a genre that has been filled with covers featuring Sword Guy and Swoon Girl for decades, a simple iconographic image is a little refreshing. Honestly, I can't wait to bury myself in this book. Who doesn't love a good dragon? And, with Ryan's (ominous) promise that Of Darkness and Light will feature the big scaly murder lizards, I am stoked to read it. I've been told that we'll be able to get ahold of the book this winter and that is something that I am going to personally hold the author to. It's written in stone now, Ryan. No takesies backsies.
Anyway, hang around after the next bit to the end of the article to get a look at the killer reveal trailer that Ryan put together for Of Darkness and Light. I love it when authors are willing to take the effort to put out all kinds of cool content for their books, even if it means that they're taking a little time away from writing. (Winter, Cahill. You promised.)
---
About the Author
---
Ryan Cahill is an epic Fantasy author from Dublin, Ireland. Raised by parents who cherished books and adored stories, he has always been fascinated with the art of storytelling. There are three things Ryan has always told himself about writing. Write the books you want to read. Write the books that your younger self would be proud of you for reading. Make sure they have dragons.
Links:
Website: www.ryancahillauthor.com
Facebook: www.facebook.com/ryancahillauthor
Instagram: www.instagram.com/ryancahillauthor
Twitter: https://twitter.com/RCahillAuthor
Goodreads: https://www.goodreads.com/author/show/21101646.Ryan_Cahill
Amazon: https://www.amazon.com/Ryan-Cahill/e/B08ZDTC4CW?ref_=dbs_p_ebk_r00_abau_000000
---
---