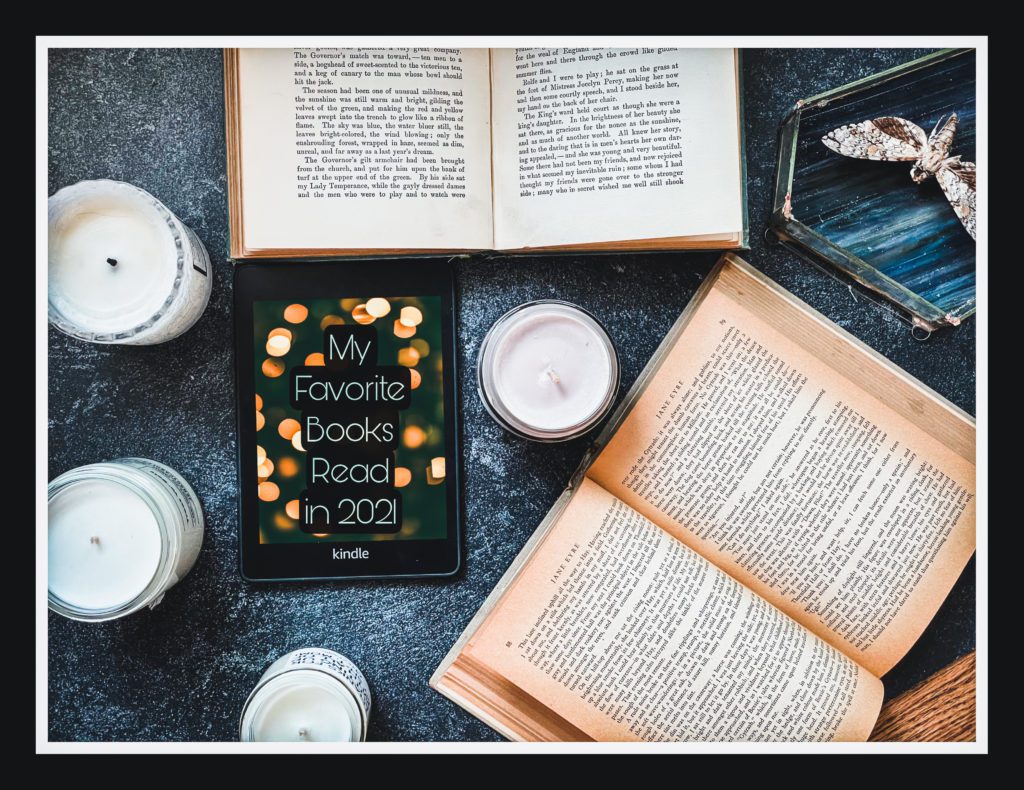 It's that time of the year that I go over my 'Best of' list for 2021! With moving, pregnancy, illness, a cracked rib, and having my baby… I'm a little bit late. Better late than never, though! My favorite genre is fantasy but I read many other genres, so these picks will encompass any book I read in 2021 year that were among my most memorable. Many of these reads could go under multiple genres that I'm featuring so I picked the genre that I felt was most prominent. I read 162 books in 2021 and at times I had to check to see if I really read these books in the last year because it had felt like SUCH a long year. With having read more than I have in past years, there's quite a few that stood out! I hope you enjoy this list.
BEST OF FANTASY
•The Wisdom of Crowds by Joe Abercrombie. This third book in The Age of Madness trilogy absolutely demolished me and was my favorite read all year. I actually read The Trouble with Peace this year as well, and you also can count that as one of my favorites. If you like gritty, dark, humorous fantasy and haven't read Abercrombie yet, what are you waiting for? Make sure you start with The First Law trilogy, though. This second generation trilogy is my absolute favorite so far–it is some of Abercrombie's best and most brutal writing.
•These Violent Delights Duology by Chloe Gong. This Romeo and Juliet retelling in Shanghai was absolutely delightful. If you like a little bit of non-graphic romance in your fantasy, this one will be for you. I think I enjoyed the second book (Our Violent Ends) even more than the book one. Violence, scheming, enemies-to-lovers-to-enemies, beautiful cultural descriptions, and engaging writing equals perfection. Roma and Juliette are both such multi-facted, dimensional characters and I had no trouble falling for them individually and as a couple from the very beginning.
This could also be classified under the retelling category down below.
•The Shadow of the Gods by John Gwynne. Gritty, Norse-inspired fantasy. Gwynne is a master at writing multiple POVS and creating characters that you can care about. He's also a champ at breaking hearts. I loved the immersion in Nordic culture while also creating a world that has its own unique characteristics. I can't wait to continue this journey and learn a bit more about the vaesen in this world.
•The Rhythm of War by Brandon Sanderson. This is the fourth book in the Stormlight Archive series and is actually my least favorite in the series. That being said, it's still wonderfully written and adds to the complexity of the SA world. The last chapter itself was enough to solidify this book in my top reads and even the weakest installment in a Sanderson series is a notch above most books.
•The Witch's Heart by Genevieve Gornichec. Mythology fans, this is for you! This is in my top two favorite reads all year. I love that so many authors are writing about the women that are often a footnote in the mythology histories, and The Witch's Heart is one of the best out there. We all know about Loki being the trickster Norse god, but we hear less about Angrboda, the mother of his three children. Ahem, the children that brought about Ragnarok, that is. This is just a completely phenomenal read that took my breath away. I've said it once and I'll say it again, people will look to this book as the ultimate guide to learn more about Angrboda.
•For The Wolf by Hannah Whitten. If you like fantasy with a bit of romance, For The Wolf is for you. Dark, moody, and compulsively readable. This has retelling aspects of The Beauty and the Beast and Red Riding Hood but still manages to be completely its own. The Wilderwood setting is eery and unique. It will leave you wanting more and thankfully, book two comes out this year.
•Ariadne by Jennifer Saint. Another one for mythological retellings! It's evident I love books where it allows women to reclaim their own stories from underneath the feet of the men that previously dominated them. Ariadne was famously betrayed by Theseus and we get her perspective in this tale. It's a book about lessons in love, resilience, about Gods among men. If you enjoy writing in the same vein as Madeline Miller, this is a good one.
•The House in the Cerulean Sea & Under the Whispering Door by TJ Klune (not part of a series). Klune writes cozy but emotive fantasy that lies within the realm of realism. In a previous review, I said Cerulean Sea in the feeling of a warm hug, while Whispering Door is the feeling of a cathartic cry. Set in worlds that feel like our own but are far more magical, they both utterly charmed me with their insight. Klune has a way of making you laugh right after he makes you cry.
BEST OF DYSTOPIAN FICTION
•The End of Men by Christina Sweeney-Baird. This might be hard to read as we are going through a pandemic, but I like to be hurt by the books I read. This book follows a virus that breaks out and only affects men, spreads quickly, and is almost always fatal. It was fascinating and scary at the same time, especially reading it as a mother of two boys, and following POV characters who were also mothers of boys. This was marvelous, brutal storytelling that was also filled with a degree of hope.
•Anna by Sammy HK Smith. A collapsed society that leads to the enslavement of women. You get some Handmaid's Tale vibes from this one but it manages to be a bit more hopeful AND more brutal than the written work of HT. This book will make your skin crawl and ponder how quickly basic rights can be taken away if our society were to collapse. It will be hard to follow Anna and watch her make waiver between saving her life and rebelling against her captor but I felt very satisfied by the end of this novel.
•The Phlebotomist by Chris Panatier. Can a dystopian novel be fun? This one manages to be. It's a world where your blood type makes or breaks you, and our characters slowly unwrap the secrets of this world. I was actually quite surprised and delighted by where this novel took us. It was nice to have some older protagonists, too!
BEST OF RETELLINGS
•Sistersong by Lucy Holland. This novel could have easy been in the fantasy or historical fiction genres, but as it was a FANTASTIC retelling of The Twa Sisters murder folk ballad, I had to put it in this category. I had never heard of this murder folk ballad, but it did not disappoint! The prose was gorgeous and if you listen to the audiobook, the songs were chilling and beautifully sun. This novel is heartbreakingly beautiful and has stayed with me since I read and listened to it.
•Beautiful Little Fools by Jillian Cantor. The Great Gatsby, but make it into a murder mystery based on the women in the novel. This took Daisy, Jordan, Myrtle, and Catherine to complete new depths instead of making them flat, vapid, foolish characters. I can see people who loved AND people who hated the original novel enjoying this one.
HISTORICAL FICTION
•Legends of the North Cascades by Jonathan Evison. A heart-wrenching and harrowing tale of a man and his daughter escaping the prying eyes of their hometown to go live in the wilderness of the North Cascades. This book describes the loneliness we can feel while surrounded by others and the depths that we will go to escape it.
•The Social Graces by Renee Rosen. An enthralling read about New York in the Gilded Age. The Vanderbilts are new money and are trying to find their place against the old money families like the Astors. It focuses on the gossip and extravagance that followed the wealthy of New York while also highlighting the beginning of a feminist movement. This was an entertaining novel that went from fun to serious smoothly and efficiently.
BEST OF ROMANCE
•The Charm Offensive by Alison Cochrun. Like its name, The Charm Offensive is completely charming! It's based on a reality tv show meant to make a tech wunderkind fall in love with one of the many women on the show, until he starts vibing with his male show producer. There's a whole lot of representation of the LGBTQ+ community here and got knee deep in gender identity, sexual identity, and more. The journey between the two protagonists felt organic and sweet!
•Eight Perfect Hours by Lia Louis. A book about connections! When two strangers are caught in a blizzard that shuts down a road, they find themselves talking until the road clears. From there, their paths keep crossing and they must decide whether they're meant to be in each other's lives or not. I was smitten with this cozy novel!
•The Gilded Age Heiresses series (The Heiress Gets a Duke/The Devil and The Heiress) by Harper St. George. I'm a huge fan of romance books set in an older time and the Gilded Age is an extremely fun time for things to be set in. It's on the cusp of change while still being set in old school values. The two heiresses in these books are daring and forward thinking for the times. The romance is spicy but not over the top for those who are a bit shy.
•Beach Read/The People We Meet on Vacation by Emily Henry. I loved both of these books by Emily Henry! It doesn't hurt that they're set in the Midwest, so they call to a Midwestern girl like myself. Emily Henry knows how to write flawed characters that you can still fall for. The romance gets a bit more on the heavy side and was well placed! These books have been all over so I was hesitant that they'd be overrated. I adored them and will definitely read any book she puts out from here on!
•One Night Only by Catherine Walsh. A one night stand, or so our lovely character thinks. She's used to their hook ups not wanting more, but she has to shove her latest one out of her bed so she can get to a wedding in Ireland in time. When he shows up at the wedding, it seems like a cruel twist of fate. From there, they can't stop running into each other and their chemistry keeps building. This is a closed door romance for those that like to skip over the steamy parts.
•To Love and To Loathe (Regency Vows #2) by Martha Waters. I've enjoy all of the books in this regency era romance series but book two is definitely my favorite. It follows a group of friends that are navigating love in the world of the men that try to control their lives. The heiress in this novel is the most feisty and hilarious. The romance is steamy and detailed. If yo like regency era romance, these are fun ones.
•The Intimacy Experiment (The Roommate # 2) by Rosie Danan. This series is one of the most explicit series I've read yet without being cheesy kindle romance quality (not that there's anything wrong with those if you enjoy them). This one actually has a lot less spicy moments than the first book. It revolves around a pornstar but it actually has really good lessons on femininity, body positivity, and sex positivity. Highly recommend reading book one first!
BEST OF NOVELLAS
•Comfort Me With Apples by Catherynne M. Valente. A gloriously weird and eery little novella about a perfect wife and a perfect husband with some dark secrets. This is a novella that just needs to be experienced because any description I try to put forth will only ruin the surprises it has in store.
BEST OF THRILLERS
•Verity by Colleen Hoover. I actually read a decent amount of thrillers each year but only one made my list. I am famously hard to please with thrillers and mostly read them because they only take a few hours to fly through usually. This book is about a writer who is hired to finish her favorite author's series when the author falls critically ill. She starts living with their family so she has access to the author's office whenever needed and starts uncovering some pretty creepy things. The ending will leave you reeling!
BEST OF NONFICTION/MEMOIRS
•A Fatal Thing Happened on the Way to the Forum by Emma Southon. A conversational and fun book exploring how murder influenced politics in Rome. I thought this was super interesting because Rome was one of the first republics and foundational to democracy, yet so much revolved around perfectly planned murder. A time and place where you could kill someone on the senate floor and get away with it! A fascinating and enlightening read for any history or politic lover.
•Nowhere Girl: A Memoir of a Fugitive Childhood by Cheryl Diamond. A vivid recanting of life as a child on the run. Her father's selfish motives keeps her constantly moving without any sort of stability. Whenever she feels she is putting down roots, he will do something to ruin it. This book shows how we deal with the reckoning of realizing that her parents are doing things to actively hold her back and harm her. Her dad is complete narcissist and this is the tale of how she got out of his grasp and created a life for herself despite her parents giving her fake names and fake passports since birth, thus making her nonexistent as a person in the eyes of the law. This is a heartbreaking and unbelievable book with a lining of hope.
•Finding Freedom: A Cook's Story; Remaking Life from Scratch by Erin French. Erin French owns famous restaurant The Lost Kitchen, but her life was anything but easy leading up to it. She tells us about addiction, toxic love, her son, and the food that led her to the life she has created. This memoir features a luscious Maine background and beautiful descriptions of food set against a grueling fight for survival.
CONTEMPORARY FICTION
•This Close to Okay by Leesa Cross-Smith. This book was so close to perfection for me. Two strangers spend a weekend together after one saves the other from jumping off a bridge. The savior is dealing with the loss of her marriage and infidelity, but takes this moment to bond with this troubled man. It's a weekend of revelations, soul-baring, and tenderness. This was an emotional and beautiful novel that lasted with me long after I put it down.