Massive thank you to Escapist Book Co. and Jonathan Latt for the opportunity to host an excerpt from Jonathan's novel, Starlite, on this tour.
Book Information
Starlite by Jonathan Latt
Series: Starlite
Genre: Sci-Fi
Intended Age Group: YA/15+
Pages: 360
Published: December 8, 2022
Publisher: The Chapel Perilous (Self Published)
Book Blurb
Bevil Cyrex, adrift in space on a ship determined to kill him, stumbles across an ancient and abandoned
space station called The Starlite.
Once on board the station he sets about repairing it, with the goal of opening up for business.
Along the way he befriends a possibly sociopathic, all powerful nanite swarm, who has decided to take on the appearance and mannerisms of his grandmother.
He must also contend with being hunted by an ex-mob enforcer looking for revenge, a handful of pirates and various threats of invasion, marriage and death.
All in all, Bevil would have to admit, things were really looking up.
Book Links
Amazon: https://www.amazon.com/Starlite-Jonathan-Latt/dp/B0BHLDVSSW/
Barnes & Noble: https://www.barnesandnoble.com/w/starlite-jonathan-latt/1142978981
Kobo: https://www.kobo.com/us/en/ebook/starlite-2
Apple Books: https://books.apple.com/us/book/id6445530471
Goodreads: https://www.goodreads.com/book/show/63107723-starlite
Author Bio & Information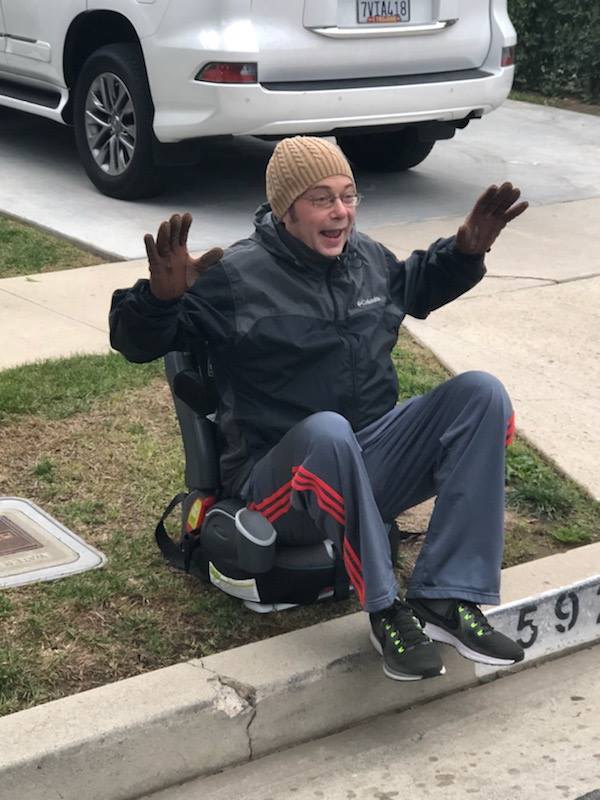 Jonathan Latt was born and raised in Los Angeles, California. He has lived overseas, traveled the world and has seen and done many wonderful and stupid things. He currently resides on a small farm where he spends his days writing and his nights tending to his sumptuous crop of memes. Jonathan believes in the inherent goodness within all people and that Han shot first.
He also likes pie.
Twitter: https://twitter.com/JonathanLatt
Instagram: https://www.instagram.com/jonathan_latt/
Excerpt
Chapter 1
The phone was ringing. It would not stop ringing. Bevil
knew that if he did not pick up the phone it would continue
to ring. Then it would stop. Then it would ring again. The
flashing name on the screen to his left sent dread throughout
his entire body; it was one word, one name, MOM.

Bevil answered, "Hi, mom!" he said with as much gaiety
as he could muster.

"Bevil, dear, it's mom."

"Yes mom I know." Bevil's mom had been calling
everyday for the last two weeks. Usually he would speak
to his parents once a week, maybe once every other week,
but with the big Jamboree coming up things were getting
a little intense.

"I wanted to talk to you about the Jamboree if you have
time, dear," said his mother in that lilting yet authoritative
tone that made it very clear that she didn't care if he had the
time, they were definitely going to talk about it.

"What's up?"

"Well, we just got word that both the Majere and the
Fireforge will be able to attend."

"Uh huh." Bevil braced himself for what was coming
next.

"I have spoken to the captains of both ships and they
are very interested in having you meet a couple of very eligible
young ladies," said his mother.

"Okay, mom." Bevil needed to phrase this next bit carefully.
"But are you sure we want to ally ourselves with the
Majere or Fireforge?"

"Bevil Cyrex! You know good and well that we have
been allied with those ships for generations. Now you listen
to me, young man. I am very happy you've been having fun
out there, but you are going to come home and we are going
to find you a wife!"

Bevil knew his mom wasn't really angry, she simply
missed him and was worried about him. As the ship's Executive
Matron she was also obsessed with keeping the genetic
makeup of the Cyrex as diverse as possible, which meant
pairing people up at functions such as the one upcoming.

Bevil was not close to being ready to get married. He
also wasn't brave enough to tell his mother that, so he most
likely was going to get married. The brave live beautifully
but cowards live long, as the old saying goes.

He'd been on his own now for going on five years, just
him and Bethany. There were times he was lonely and lots
of times he missed his family, but at twenty two, Bevil just
did not want to go home yet, if ever. The idea of taking a
respectable position on the Cyrex and starting a family filled
him with absolute dread.

From a lifetime of experience Bevil knew he could never
win an argument with his mother. There was only one thing
he could do, lie and fake it. "Okay, mom," he said. "But, I'm
not just going to settle down with someone because she's
from a ship you think is good for us. If I don't like her I'm
not doing it."
"Of course, dear, I would never want you to marry
someone you didn't want to marry, just to make me happy,"
lied Bevil's mother.

"Thanks, mom. Can I talk to dad?"

A second later he heard the familiar words in that
booming happy voice "Hey boy!"

"Hey pop."

His father's voice turned to a conspiratorial whisper,
"How's Bethany?"

"She's good," replied Bevil. "I'm taking good care of
her."

"You know the saying, you keep her happy and she'll
keep you safe."

"Yup. So dad…"

"Yes son what is it? Whatever, is on your mind?" asked
Bevil's father sounding incredibly amused.

"I'm not ready, pop." Bevil waited for a response,
there was none. "I'm gonna need you to cover me at the
Jamboree."

"I'll make you a deal, son. If you sincerely do not meet a
young girl that you like, I'll make sure you escape the Jamboree
unencumbered."

Bevil let out a relaxed breath. "Thanks, dad, I—"

"But," his dad interrupted. "If you meet a girl and you
like her, you have to promise me you'll be honest about it."

"Yeah of course, pop. I promise."

"Swear on the hull, boy," said his dad with utmost
seriousness.
Shit, thought Bevil.

"Swear to me, son."

Bevil had walked into a trap. To swear on the hull was
no joke. He was basically taking an oath to avert a curse. To
swear on the hull meant he was swearing on the integrity
of the Cyrex itself. To swear on the hull of a ship and then
back out could bring about all manner of karmic disaster.
"I swear on the hull," said Bevil reluctantly, but sincerely.

"Good." His father changed tone back to his usual jovial
self. "Now, you take care of yourself and Bethany and we'll
see you here for the festivities. I'll send you the coordinates
when I have them."

"Okay, pop. I love you. Tell mom I love her too."

"Will do, son." His dad hung up the phone.

Well, that didn't go anywhere near as smoothly as I
expected, thought Bevil.

Bevil's navigational computer started beeping slowly.
He was approaching the solar system designated EA-90048.
The system's sun grew brighter, its light beginning to block
out the distant stars around him. Bevil cut his engines,
extended the solar sails and began sailing Bethany toward
the asteroid belt he planned to spend the next month mining.

He had recently been on Gardena station, looking for
work, when he ran into a friend of sorts named Corbin.
Corbin told Bevil about the mining opportunity in exchange
for some fresh greens, coffee and eggs.

Bevil knew a few men and women during his time
roaming, and traded information back and forth with the
ones he trusted. Corbin wasn't a friend as much as a friendly
associate, but he'd proven his trustworthiness over the years.

He sealed the deal by offering to buy Corbin dinner
if the mining panned out. The two men spent the rest of
the night gaming before each retired to his own ship. Bevil
woke up the next morning and departed Gardena for this
uninhabited solar system.

Mining was mind numbingly dull, exhausting and even
in zero gravity could be back breaking. A week of mining
could feel like a month. Bevil smiled slightly. If he was really
lucky, the next month would feel like a year.