Rating: 8.5/10
Synopsis
What if spilling your own blood was the only way to save yourself?
Masako escapes the Lord Council with only her life intact, her clan shattered and master dead in wake of disaster she wrought. It is her cursed blood that cries out, and a godsborne that answers.
By the power in her blood, and a promise made with it, she's given a second chance. With it, she must unite the outer clans, move past old rivalries and worse, or face annihilation at the hands of a foreign sect of sorcerers, the Taosii, and their silent invasion.
Only, Masako was executed, she's meant to be dead. Demonic rumours and a destructive past sow doubt in her campaign before it is begun.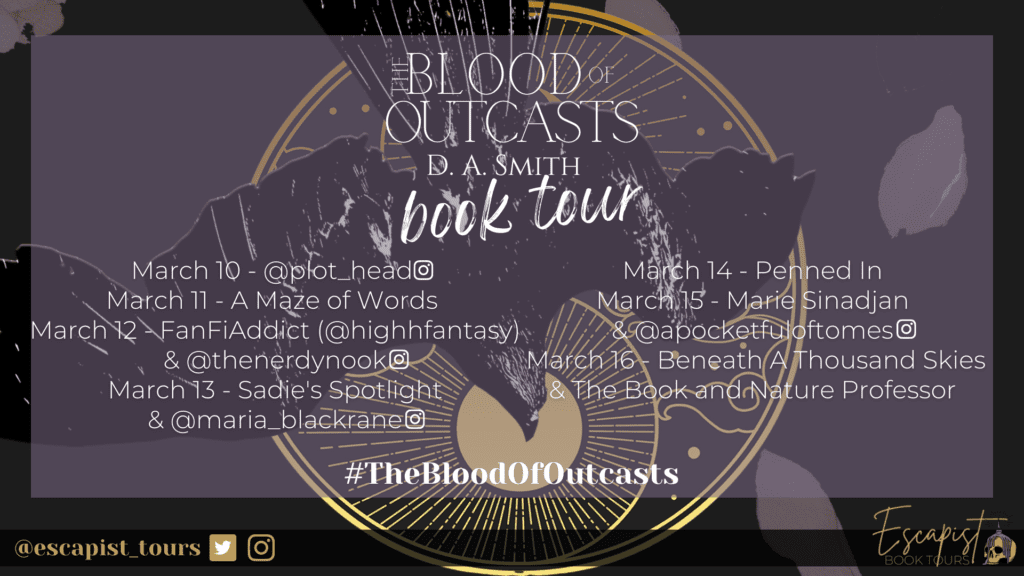 A special thank you to D.A. Smith and Escapist Book Tours for putting this whole thing together.
Review
D.A. Smith's debut novel, The Blood of Outcasts is a bloody, gritty tale of revenge and a cautionary tale of it's consequences. A little out of my wheelhouse, my experience with samurai stories is limited to Kill Bill and Wu-Tang Clan. Regardless, I thoroughly enjoyed this book.
Smith has crafted a world with rich history and vibrant cultures. Throughout the narrative we travel all over the map, meeting different clans and learning their history and customs. One of my favorite things in fantasy is when two opposing ideologies clash and characters are forced to re-examine their core beliefs. That is a major theme in The Blood of Outcasts, and was one of my favorite aspects.
The story is told in first person, from the perspective of Masako, a disgraced warrior determined to redeem her name and clan, as well as avenge her Master's death. But she also has a secret hidden in her blood that could destroy her completely if it got out. Her drive and attitude often lead to conflict and Masako has a habit of getting in her own way, which can be frustrating but ultimately makes her more real.
The pacing is perfect, flowing from action to drama and back again seamlessly. Every scene felt necessary and gripping, propelling the story forward. The twists keeps you guessing with every betrayal and revelation.
Although heavily inspired by samurai history, you do not need to know about it to enjoy the story. A fast paced, and gripping tale of revenge, The Blood of Outcasts is sure to pull you into bloody grasp and not let go until the final page.