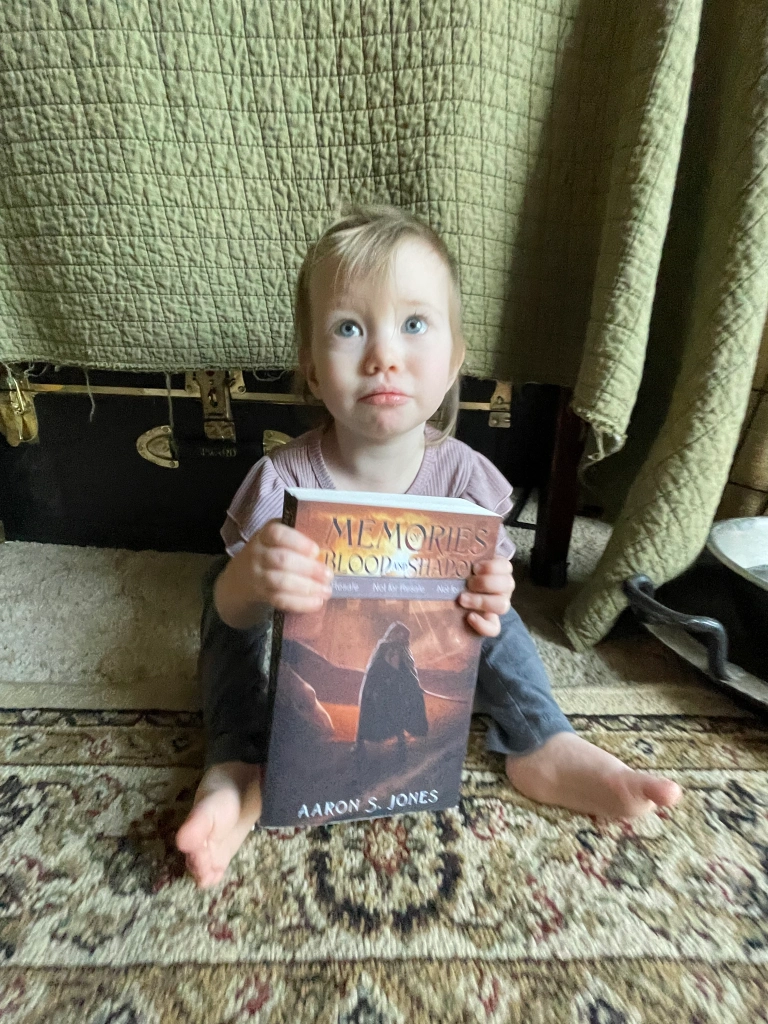 Rating: 9.75/10
Synopsis
Guilt cuts deeper than the deadliest of blades.
Tavar Farwan lives alone past the Undying Sands. During a violent storm, he is attacked by two young warriors claiming a need for vengeance for pain from ages past. Tavar defends himself, killing one of the intruders and leaving the other to bleed on the floor. Weary and filled with regret, Tavar offers to tell the young man his story: a story of how, in a world of Naviqings, Leviathans, and Shadow Warriors; a poor, nomadic orphan rose to inspire a kingdom, and kill a God.
A special thank you to Aaron S. Jones for sending me a advanced reader copy and Escapist Book Tours for putting this whole thing together. All thoughts and opinions are honest and my own.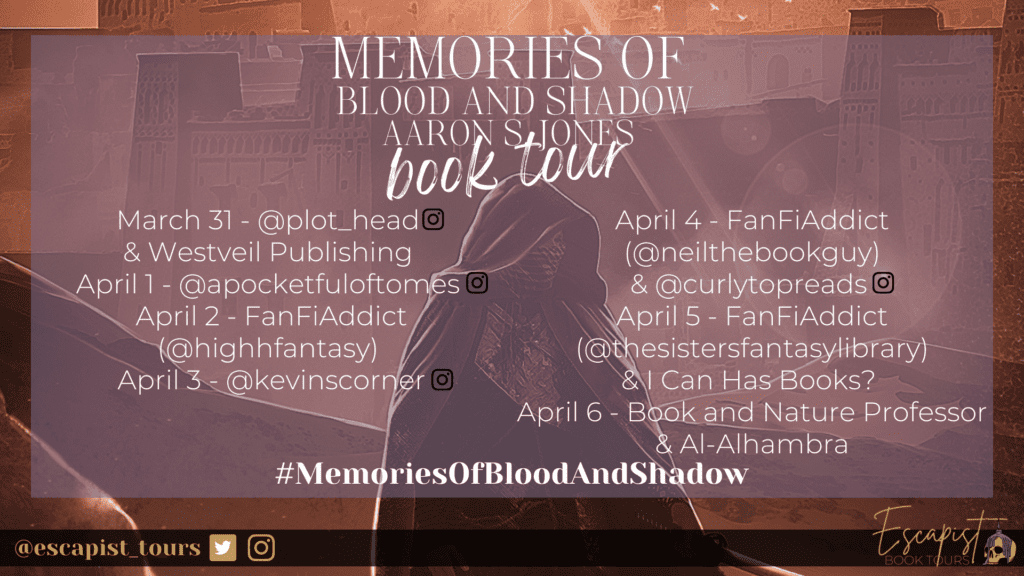 Review
Memories of Blood and Shadow is character-driven epic fantasy at it's finest. It dedicates it's over 600 pages to the protagonist, Tavar Farwan. We begin with him as an old man, seemingly hiding away. His seclusion is interrupted by two unexpected guest and a moment of violence, leading to the death of one and the injuring of the other. What follows is a broken man detailing his sordid past as a slave, soldier, traitor and hero.
Many have pointed out the similarities between MoBaS and The Name of the Wind by Patrick Rothfuss. Although the framing technique is similar, that's where the similarities end, in my opinion. Tavar is very much an original character with his own unique story to tell. I'd honestly compare it to Blood Song by Anthony Ryan before NotW.
The world is set in a middle-eastern inspired world, full of beautiful settings and unique world-building. It's very refreshing to find stories in non-European cultures, especially for an ignorant American like myself. The world is full of depth and nuance that lends a realism to the text that is palpable. Every city and village is vividly realized and beautifully described.
The pacing of MoBaS is blisteringly fast but never leaves you in the dust. Betrayals, twists and revelations in nearly every chapter, Jones had me on the edge of my seat, white-knuckling the pages and holding my breath.
The key to any great novel though, is the characters and their relationships with each other. In this, MoBaS nails it. The friendships and love interests are believable and heart-warming/breaking. Tavar is man very much committed to his family and friends, and his relationships with them drive the story and his motivations.
Memories of Blood and Shadow blew me away. I couldn't put it down. I found myself completely immersed in Aaron S. Jones's world and Tavar Farwan's story and after that ending, I am DYING to read book two. If you enjoyed Name of the Wind and/or Blood Song I highly recommend this book to you.