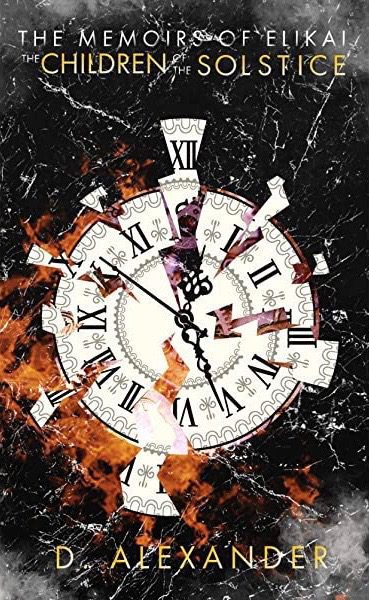 Rating: 8/10
Synopsis
"The Fall of Free Will begins at sundown. The Generals of Destiny will rise at the height of the Winter Solstice. Come, King of Free Will, to the place where you allowed true love to perish and bear witness to the end of Free Will."
Danny Elikai is a teenage boy who lost his family in a devastating car accident. He finds himself in a swirling depression in the mystical city of Grenoff as horrific events begin to unfold. He learns of an ancient conflict between the two philosophies that seek to rule humanity: the individual liberties of Free Will and the predetermined peace guaranteed by Destiny. The agents of Destiny have risen and threatened life as we know it. Danny must choose to find the King of Light and fight for Free Will or leave humanity to the iron grip of the Emperor of Darkness. The Final War is coming, and soon we will need to pick a side. Will you fight for the freedom of choice offered by Free Will or the harmony promised by Destiny?
Review
When the darkness threatens to consume Danny Elikai after he loses his family, only the love and support of friends and family can remind him of the truth and bring him back to the light.
Children of the Solstice is an urban fantasy thriller that takes the reader on a journey for truth that is filled with complex philosophical and ethical questions that are ultimately the stars of the novel. D Alexander has written a beautiful contribution to the world of philosophical fiction that really had me thinking deep about my own opinions of the questions he raises throughout his book. I usually save the themes of the novel for the end but I think in this books case I need to discuss them first for you to really grasp how important these ideas are to the story.
As you can tell from above, the themes in this book really stood out to me as a primary factor for its' purpose. While the story was still entertaining and interesting to read, the ideas presented were very up front and center to the reason. The main theme being, is mankind held bound to destinies grip on our lives making every action and decision determined for us? Or is mankind free to choose and make their own individual decisions by means of our innate free will (if we have it at all)? Would it be better if someone else determined our lives so that we don't have to experience pain and suffering due to the bad choices we make on our own? Or should we be allowed to live and die by those decisions because they make us who we are? This is the big over arching theme I was drawn to and considered throughout the story. You'll also see ideas such as loyalty, personal acceptance for who we are, LGBTQ+ struggles, vengeance, friendship, family, consequences for our actions, love, and good vs evil. I'm sure that there were more but these are what stood out the most to me.
This novel is certainly character focused. Danny, the MC of the story, is a 17 year old who loses his family and is trying to pick himself up out of depression because he's still alive when they aren't. What I think Alexander did really well with this novel is make Danny a truly lovable person. You are rooting for him the entire time and hurt for him when he hurts. Not only that but the bonds between Danny and his friends really come through the writing and you have no doubt how others feel towards Danny. Whether good or bad! Sometimes the descriptions of the characters would come across a little strong which became distracting overtime but not in any true detriment to the story.
When it comes to world building the story focuses almost entirely on the city of Grenoff. While I never fully got a good grasp on how the city looked overall, I don't think it was really necessary because of how the story focuses on the characters and philosophies more so. You'll find some world building but it falls mostly on the history of the world rather than the features of it.
Other elements I enjoyed were the magic system, the surprises, and the thriller-esk elements! While I still don't quite know how each individual comes by their magic abilities and learns them, it was exciting to read the action sequences as Danny would fight the crusader using his fire and many other fun things that happened. I also really enjoyed the surprises that would happen. I won't give them away but Alexander did a great job throwing in twists. Finally, the thriller element. I'm not sure if this will be a surprise to the author that I called his book an urban fantasy thriller or not but I found myself nervous and even horrified at times with his descriptions of dreams and things the darkness would do. They were just very dark and thrillery to me! Let's just say eating an apple might not be the same for awhile for me after reading this. Haha
I did have a few comments of things that bothered me a little bit. While I enjoyed the ideas of the story, the execution grated on me a little bit. I don't know if it was just me or what but I found that the villain being literally Destiny and the hero being literally Free Will to have come across a little cheesy in it's presentation. I almost wonder if it would have been better to make them gods and one wants to control the everyone's fate while the other wants people to be free would have come across less abrasive. It was very in my face throughout the story and it got a little old to me as I read. That to say, I enjoyed the story a lot. The execution just didn't work for me as a reader.
Overall, Children of the Solstice was an exciting story with a really unique style that will definitely have you thinking while also enjoying the magical fights, friendships, and discoveries that happen throughout!
Let me end by saying thank you to the author, D Alexander, for sending me his novel to review! It was a pleasure and I'm excited to read book 2!