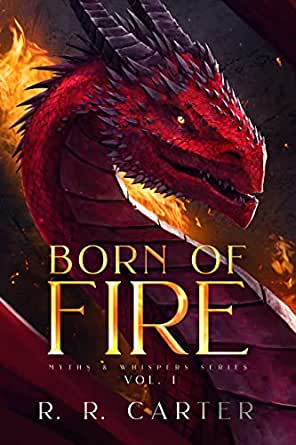 Rating: 8/10
Synopsis
The nightmares are back.
Years after the deaths of his parents, the dreams that haunted Jax have returned.
He's about to discover why, by being burned alive, just like they were.
When the flames subside, the man left standing isn't the same one who burned.
The Numen allows him to see the Whispers.
Jax is a Myth, a descendant of a lost bloodline, born to fight the darkness hunting humanity.
Guided by others like him, he reaches Mythaven, a magical sanctuary cut into the Colorado mountains.
His new friends need his help, but Jax must conquer the demons of his past before he can save the future.
Fantasy and reality are two sides of the same page.
The lore is real, witches, werewolves, nymphs, and even dragons exist amongst us.
Hidden throughout time, they've been fighting, dying, for humanity.
When myth becomes truth, can Jax make it through his own story?
Review
Born of Fire is a beautiful gem of a fantasy that reminds the reader that love, friendship, and kindness are the foundation humanity needs to stand against the evil in this world. Surprisingly, it does this with dragons, werewolves, angles, evil darkness and college kids! R. R. Carter has done a fantastic job with book one of her Myths and Whispers series setting the stage for an exciting journey ahead.
What I loved about Born of Fire, was that this novel maintained a loving energy throughout the entirety of the story. While there were certainly parts that were sad and suspenseful, Carter was able to dispel those moments by showing how they can be handled without resorting to hate or anger. (Well.. anger towards other people anyways)
The main character Jax is a character that you want to root for. He's been through a lot and you know it from the very beginning. I wanted him to succeed and I wanting him to get what he desired most. Answers and family. Plus, the side characters, if you can call them that, really help build the story out and it wouldn't be the same without them. My only critique about them is they sometimes came across as cliche character types but honestly I found this to be part of the stories charm.
When it comes to world building, there isn't a lot of it but what is there is great to imagine. Multiple hidden paradises filled with all the things that youth and young adults desire. I would absolutely love to visit Mythaven. It would have been the ultimate hangout place for me and my friends in college. So I found that fantastic!
The plot of BOF (don't worry, no spoilers) I found to be really fun to read. It was a little predictable but I kept being reminded of the old cartoon show "Captain Planet". Not because the group of friends had rings that would summon a superhero which helps them save the world, but because these characters are banning together to help protect human goodness, nature and the ultimately the world. I think if you enjoy reading more light fantasy or just need a break from grimdark like me, this is a great story to read and will certainly have some surprises in store!
Finally, I want to talk about the ideas and philosophies brought up throughout this novel. While I have definitely mentioned some above, because it would have been impossible to talk about this particular book without doing so, here is a more specific and condensed list for you. Born of Fire's primary theme, in my opinion, is that love for one another can defeat any evil. Other themes includes: friendship begins with trust, we can choose to make a better world for ourselves if we work together, kindness is key to saving humanity, and not all anger is unjustifiable. There are a lot more but I think these are a great start to helping you decide if you think you'll enjoy this book or not.
I just want to end by thanking Carter for sending me a copy of Born of Fire to read and review. If you want to read a book by an author who's actions match what they speak then this is definitely a book for you! Go check out this wonderful indie book!